12:37 AM ET 08.07 |
In 2008 Green Bay struggled to a 6-10 record, and posted only their second losing season in the last seventeen years. It was a tumultuous season that saw a defense fall apart and an offense stall in key situations. Not to mention, the alarming rate at which the injuries piled up on a young team.
There were; however, some bright spots, as GB found their QB of the future in Aaron Rodgers. Last year he became only the second QB in NFL history to throw for 4,000 yards in his 1st full season under center (the other being Kurt Warner in 1999). He also finished in the top 10 of every major passing category.
CMP ATT CMP % YARDS TD INT QB RATING

Aaron Rodgers - 341 536 63.6 % 4038 28 13 93.8
For the season Rodgers had 32 overall TDs, and quickly showed GB that there is a bright future after Brett Favre. It will be imperative that Rodgers stay healthy; with unproven backups Matt Flynn and Brian Brohm five career regular season passes between them.
Starter: Aaron Rodgers
Backups: Flynn, Brohm

The offense coming into this season is only losing 1 starter, as they have not yet decided on if Mark Tauscher will return after tearing his ACL last season. Without Tauscher, Green Bay will be looking to replace their RT for the first time in eight seasons.
Besides RT the line is very solid. At LT Chad Clfton has been the anchor of this line for the past eight seasons. Playing guard and center; both Darren Colledge and Jason Spitz have put on some extra weight this season to be more properly perpared to combat Minnesota's Williams Wall. Josh Sitton and Allen Barbre are the favorites to win the RG and RT positions, but that is subject to change depending on how well rookie TJ Lang plays.
Starters: Clifton, Colledge, Spitz, Sitton, Barbre
Backups: Giacomini, Wells, Preston, Lang

Despite all the injuries and shuffling of personnel, the offensive line was still able to pave the way for Ryan Grant to run for over 1,200 yards. With a healthy Grant in training camp on time this season, and with the return of both Brandon Jackson/Deshawn Wynn from the injury bug that slowed them, Green Bay is looking for their run game to become more reliable than it has been the past two seasons.
Starter: Ryan Grant
Backups: Jackson, Wynn

At wide receiver Green Bay has one of the most dynamic duos in the NFC. Last season only Arizona and GB had more than one receiver go over a 1,000 yards receiving in the NFC. Both Donald Driver and Greg Jennings are exceptional in GBs west coast offense. Over the past 3 seasons Jennings has had an increase in receptions and yards, as he has emerged as one of the leagues top wideouts.
The battle for the slot receiver should also be well contested. Jordy Nelson will compete with James Jones for the spot. While Nelson showed slow improvement last season; Jones should still win the position. Jones, when healthy, has shown big play ability which garnered him comparisons to Sterling Sharpe (a strong WR with soft hands). Green Bay will again have one of the more dependable receiving groups in the league.
Starters: Jennings, Driver
Backups: Jones, Nelson, Martin

Things will get interesting at TE this season. Jermicheal Finley is having another solid training camp, and is looking to unseat Donald Lee as the starter. Finley is a great athlete and has been compared to Antonio Gates with his size, quickness, and jumping ability. Getting him to hone these skills and become a contributor could greatly affect this offense. Teaming Lee and Finley could give GB some serious red zone threats for Rodgers to rely on.
Starter: Jermicheal Finley
Backups: Lee, Humphrey

Green Bay was exceptional on offense last year, finishing the season ranked 8th overall (17th rushing, 8th passing) and 5th in PPG (26.2). This season they will look to close out games better as they let SEVEN games slip away in the closing moments, losing by a combined 21 points in those games. Rodgers may take most of the heat for not being able to perform some late game heroics, but the defense also gets its share of the blame for giving up plenty of leads.
This season Green Bay is taking a leap of faith and revamping their entire defensive scheme. Head coach Mike McCarthy fired defensive coordinator Bob Sanders and his predictable man to man 4-3 defense; in favor of Dom Capers and his pressure bringing hybrid 3-4. Capers brings the much needed experience of converting 4-3 teams into successful 3-4 teams.
From 1999-2000 Capers was the defensive coordinator for the Jacksonville Jaguars. In his short stay in Jacksonville; Capers, took a 4-3 team ranked 25th in total defense and took them to 4th in total defense and 1st in scoring defense. In 2007, Capers went to the Miami Dolphins and took them from 18th in overall defense, and once again turned it around making them the 4th ranked overall defense. With this kind of proven track record GB should see a jump up from the 20th ranked defense (26th against the run, 12th against the pass) that gave up 23.8 PPG (22nd in the league).
In this years draft GB selected pieces to their 3-4 puzzle. At the ninth overall selection they got BJ Raji a defensive tackle from Boston College. Raji is going to be looked upon to contribute immediatley. Moving back up into the first round, GB was also able to take Clay Matthews an outside linebacker from USC. Clay has a great pedigree; his father played 19 seasons in the NFL, and his uncle is Hall of Famer Bruce Matthews.
The switch to the 3-4 is mostly due to their ineffectiveness at getting to the QB. GB ranked 25th in the league only registering 27 sacks. The new scheme should make GB a terror, as the only team in the division running it. With unfamiliarity playing against the 3-4 GB could sneak up on some teams this season; who aren't accustomed to seeing it.
The defensive line, GBs weakness last season needs to improve for the transition to go off smoothly. The return of Cullen Jenkins from a season ending pectoral tear should re-energize the line. Jenkins was having a stellar season up until the injury; he had 2.5 sacks in 4 games, and was considered GBs most consistent line man against the run and rushing the passer. Playing at NT Ryan Pickett has the size and strength to handle the double teams and free up the LBs, and with Raji splitting time he should be fresher to make plays in the backfield. GB hasn't fully decided where to play Raji; rather they want to rotate him at LDE, NT in their base 3-4, and play him at DT in nickle and dime situations when they'll play some 4-3. With Justin Harrell/Johnny Jolly healthy they have added depth across the whole defensive line.
Starters: Jenkins, Pickett, Raji
Backups: Montgomery, Jolly, Harrell

Aaron Kampman switching from an elite DE to OLB has been one of the headlines coming into this season. If Kampman is able to adjust to having to drop into pass coverage he should have no problems playing the position, but that is easier said than done. From reports he has looked stiff in coverage, but his natural athleticism should eventually win out and help him become more comfortable with the change.
When ILB Nick Barnett went down in Week 9 against Minnesota with a season ending ACL tear; it's no surprise that GBs run defense also went down with him. Barnett has been one of the defensive leaders since joining the team in 2003, and without him the defense looked lost at times. Making the switch from OLB to ILB AJ Hawk is looking to become more of an impact player. Hawk played MLB last season in Barnetts absence and filled in admirably, but wasn't as fluent to the ball out of his natural position. Both guys will have to be effective at shedding blockers; not just moving sideline to sideline to make this scheme work. Brandon Chillar has made his presence felt this off season, and if he continues his solid play could steal snaps from Hawk in passing situations. Chillar has been praised as the teams best blitzer from the inside, as well as the teams best linebacker in coverage.

Clay Matthews will battle Jeremy Thompson for the other OLB position. Thompson was considered a "tweener" coming out of Wake Forest; he has made an almost seamless transition to OLB from DE. Matthews has been bothered with a hamstring injury throught OTA's and into training camp, but has slowly worked his way onto the 1st team. With Thompson's size and length GB has someone who can push Matthews for the starting spot, and be a solid backup in the event of injuries.
Starters: Kampman, Barnett, Hawk, Matthews
Backups: Thompson, Chillar, Bishop, Poppinga
The secondary coming into this season is the strength of this defense. Both Al Harris and Charles Woodson are coming off Pro Bowl caliber years, and with safety Nick Collins becoming one of the leagues best ball hawks this is as good a secondary GB has seen in quite sometime. Atari Bigby is back from nagging injuries that limited his time and effectiveness last season, and will look to become the big hit playmaker he was two seasons ago. Tramon Williams has steadily grown into a solid nickle corner, and GB has added insurance at the safety position acquiring Anthony Smith from Pittsburgh via free agency to go along with Aaron Rouse; who filled in well at times last season.
Starters: Woodson, Harris, Bigby, Collins
Backups: Williams, Blackmon, Smith, Rouse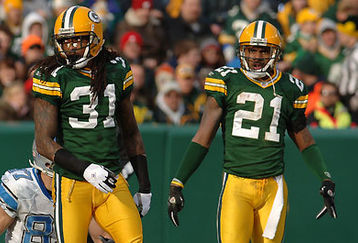 Green Bay has a favorable schedule this upcoming season, and has all the talent to make a run at the NFC North crown. They will have the 3rd easiest schedule in the league (according to last seasons records); with it setting up to be easier in the beginning of the season should only benefit GB if they do struggle with the 3-4 transition out of the gate. This is a make or break season for GM Ted Thompson, as all the players he has drafted are now getting their shot at significant playing time. If GB falls on its face it could have Thompson on thin ice, but lets hope it doesn't come to that.
GO PACK GO!