08:43 PM ET 08.11 |
Alright, I'm kind of bored so I'll give my ten keys to building a perfect MLB team. Use these tips when you become an MLB GM or play franchise mode on MLB: The Show, whatever works.
1. You need at least TWO great starting pitchers to contend
Starting pitching couldn't be more important in MLB. It's basically the heart and soul of your whole franchise. That's why the first step to building a perfect MLB team is making sure you have two great starters.
Josh Beckett and his partner in crime, Jon Lester, are a big reason why the Red Sox are so good.
Look at all of the teams that are currently leading their divisions. New York Yankees (C.C. Sabathia, AJ Burnett), Detroit Tigers (Justin Verlander, Edwin Jackson), Los Angeles Angels (Jered Weaver, John Lackey) and that's just the American League. The Philadelphia Phillies, St. Louis Cardinals and Los Angeles Dodgers all have great 1-2 punches as well.
Here is a simpler way to view this. Your two best starters will start 40% of your games. You probably have about a 70% chance of winning those games. If your team is decent, you'll have at least a 50% chance of winning the other games as well.
Is it a coincidence that the Washington Nationals, Kansas City Royals and Pittsburgh Pirates have the three worst records in the league? Well, their offense does suck. But neither of these teams have great 1-2 punches. You would think that Kansas City, having the best pitcher in the league, would have at least an average team. You're wrong.
2. Don't rely on power that much, rely on contact hitters
Power hitters are great. They can produce their own runs by hitting the ball out of the park at any given time. If you have Albert Pujols on your team than there is no problem, but I'm sure you have noticed that most power hitters strike out a lot and don't hit for high averages. Take a look at the top five HR hitters in the league (other than Pujols):
1. Mark Reynolds, .290 BA, 151 SO
2. Adam Dunn, .281 BA, 127 SO
3. Adrian Gonzalez, .251 BA, 81 SO
4. Carlos Pena, .214 BA, 141 SO
5. Mark Teixeira, .288 BA, 80 SO
It's not very surprising that only one of those players are top five in the league in RBIs. Just one of those players are top 15 in the league in runs.
I'm not saying that you should just forget about HR hitters on your team and fill it with contact hitters. It's always nice to have at least one big power hitter in your lineup but not too many.
13 of the top 15 players in the league in runs scored are hitting at least .290. Nine of those players are hitting over .300. It should be noted that other than Albert Pujols, only two other players in that top 15 have at least 25 runs.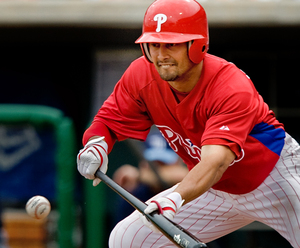 Logic says contact hitters like Shane Victorino will help you score more runs.
I'm suggesting to you that it's good to have one or two good power hitters. But more than that will just hurt your team, unless they are Albert Pujols.
3. Speed kills and never slumps
What's the point of having a player that can hit doubles and triples when you can have a player that will hit singles and then steal second and third base eventually? As the old saying goes, speed never slumps. Even Albert Pujols slumps but base stealers will be trying to steal a base every game.
For example, some people would say that B.J. Upton has been of the worst hitters in baseball this year. He's hitting .237 with a .312 OBP and seven home runs. He still has stolen 35 bases, which has helped him score 66 runs. That's as many as Ichiro Suzuki and more than top hitters like Joe Mauer, Jason Bartlett and Miguel Cabrera.
Players who can hit but can't run, like Pablo Sandoval, are no-no's on a team looking for offense.
I can also go into the other prespective of this as well. Chipper Jones is top 10 in the league in OBP with a .411 OBP and Pablo Sandoval is fifth in the league in average with a .331 BA. Both are decent power hitters, they have hit 31 HR between themselves. Both of them are also slow, they've stolen seven bases between themselves. Both of them have scored under 60 runs.
Speed isn't only stealing bases though. Players like Michael Young and Robinson Cano are fast enough to go from first to third on singles, although they do not steal bases. Players like Curtis Granderson and Torii Hunter have good speed and they are both some of the best centerfielders in the league because of it.
Bottom line, would you rather have a great hitter who can't run for nothing or a decent hitter who's a great runner and his fielding, base running and base stealing is great because of it. I'd rather have the speedy guy.
4. The bullpen is just important as everything else
Some teams act as if the bullpen is just a place to put pitchers who can't make the rotation. The bullpen could very well be one of the most important things on the team.
Here's a good example from two years ago. In 2007, the Cleveland Indians were one of the best teams in the league. They also had the two best relief pitchers in the league, Rafael Betancourt and Rafael Perez. They advanced to the AL Championship series. The next year, the Indians came back with virtually the same roster but they didn't contend at all the whole season. They had the Cy Young award winner and the best centerfielder in the league. Why didn't they contend? Betancourt and Perez sucked the whole season and nobody else in the bullpen stood up.
You could ask how important the bullpen is to the 2007 Detroit Tigers. Ask the 2008 New York Mets why every team needs to have strong relief pitchers to hold leads. Both of these teams had great starting pitching and a great offense in their respective years. Both had terrible bullpens and both missed the playoffs.
The Minnesota Twins have looked like just a mediocre team for the past few years on paper. The only reason why they have had great teams is because they have arguably the best relief pitcher in baseball, Joe Nathan. The Los Angeles Angels won 100 games last year simply because their closer, Francisco Rodriguez, broke a single season save record.
The bullpen is usually the thing that either makes or breaks the team. You NEED to have a great bullpen.
The year Francisco Rodriguez saves 62 games, the Angels win 100 games. Coincidence? No chance.
5. One or two power hitters are must haves
Like I said earlier, you want to fill your lineup with speedy contact hitters for the most part, but you absolutely need a power hitter in your lineup. Out of the six worst run producing teams in the league (Padres, Reds, Royals, Giants, Mariners and Pirates), all six of them are in the bottom third of the league in home runs. The only power hitter that I can name off the top of my head on any of those teams is Russell Branyan. Not surprisingly, the Mariners have the second most runs out of the teams I listed.
I will use the Los Angeles Angels for my next example. They are leading the whole league in runs and look at their players. They have two players with at least 18 home runs and the rest are players who are either really good contact hitters or really fast (the formula to prefection, as I mentioned above). Another example, the New York Yankees have three players with over 18 home runs and they are second in the league in runs.
One or two power hitters like Alex Rodriguez (along with Mark Teixeira) is a great way to anchor any lineup.
Like I said before though, do not go overboard with the power hitters. The Arizona Diamondbacks are top eight in the league in home runs, yet they are ranked just 20th in runs scored.
Do the math, one HR equals one easy run.
6. One good fielder isn't enough to have a great team
This key is kind of geared towards MLB: The Show franchise managers but there are still at least half the teams in the league who haven't figured out this rule either.
Sure, adding a great fielder to a bad fielding team is a good way to improve your overall fielding percentage but think about it this way, that fielder will only cover 1/9 of the diamond. So how are you going to improve the other 8/9?
Last year, the five worst fielding teams in the league were the Texas Rangers, Washington Nationals, Florida Marlins, Cincinati Reds and Detroit Tigers. Each team tried to fix this problem by just doing one thing. The Rangers added Omar Vizquel, the Marlins got rid of Mike Jacobs, the Reds added Willy Taveras, the Tigers added Adam Everrett and the Nationals did nothing. All five of these teams remained in the bottom half of the league in fielding percentage this year.
The Rangers adding Vizquel improved their SS position - but what about the others?
In other words, every time you add a slick fielder and expect your defense to improve imediately, there's still 8/9 of the field that needs to be addressed. You're playing defense for half of the game, it is very important.
7. Sometimes, the best moves are the ones that aren't made
Every star in MLB right now, every player pretty much was once a prospect in the minor leagues. Prospects are the future All-Stars of the MLB so why trade them unless you really have to?
Take the one of the biggest moves at the trade deadline, the Tigers traded pitching prospects Mauricio Robles and Luke French to the Mariners for Jarrod Washburn. Before the trade, Washburn had struggled against top offense teams and pretty much said that his plans are to go back to Seattle after his contract is up after this season. French and Robles are both great prospects the Tigers gave up. The Mariners are 2-0 in games French starts and Robles is almost major league ready. The Tigers are 0-2 in games Washburn starts and his ERA is over 8.50 with the Tigers. The prospects that they gave up may be future All-Stars. The Tigers pitching staff was fantastic before the trade and French was pitching great for them. They didn't need to make this trade.
Why give up multiple prospects that will be great in the future for one player when you don't have to?
Although it may have seemed like a good trade at the time, Johan Santana was traded from the Minnesota Twins to the New York Mets shortly before spring training last season. The Twins recieved top prospect Carlos Gomez and others who are still in the minor leagues but have bright futures. During Johan Santana's time with the Mets, they have been nothing but an average team.
Don't risk the future trading for the present.
8. Nobody likes being cheap but you have to be
It's great to sign a big star but why pay all that money? I would even be hesitant to resign a fan favorite if it meant paying him over $15 million per year. Well, unless you're the Yankees.
Let's take Johan Santana for example (although I hate to keep picking on him). Santana will be making about $19 million this year. With that money, you could have Edwin Jackson, Adam Wainwright, Tim Lincecum, Joe Mauer, Russell Branyan, Jason Bartlett, Raul Ibanez, Jacoby Ellsbury and more. Is Johan Santana worth all of that?
Johan Santana is good . . . but is he worth over eight great players?
I'm no MLB GM but I like to play franchise mode on MLB video games a lot. What I notice is if you sign five or so decent all around players with high ceilings for about $15 million combined, that is a much better bargain than signing someone like Alex Rodriguez, one player, for over $20 million per year. MLB GMs have picked this up too, especially teams like the Minnesota Twins, Florida Marlins and Oakland Athletics.
9. Don't be safe when figuring out a lineup order
The easy thing to do when making a batting order is put your fastest guys at first and second, your best power hitters at third and fourth and everyone else ranked in order of how good they are from fifth to last. Yep, because great MLB teams are made by being unoriginal and safe, right? Sense sarcasm.
Tony La Russa has been managing the Cardinals for a long time and he comes out with crazy lineups that have you scratching your head. The pitcher batting eighth? The weakest hitter on the team batting second? Tony La Russa may be a little crazy but the Cardinals have had a very good team for a while and it weighs heavily on him.
The pitcher batting eighth? Is Tony La Russa drunk? No, he's a genius.
Another one of the creative minds in baseball has been Jim Leyland. He has a tendency to bat struggling players up in the order. He also has placed rookies and unproven hitters in the leadoff spot many times. Look where the Tigers are today. They don't have the greatest pitching or hitting but because of Jim, the Tigers are first place in their division.
10. Follow rules 1-9
I hope this was a good blog and that everybody liked it.