02:08 AM ET 08.13 |
Im sick of them and all the cookie cutter modern rock bands. Which record label was like i like those guys but lets make 8 more bands that sound the same?
Can their lead singer lay off of the smokes. Man he sounds like he is taking a dump in every song.
They suck so mutch that the have to steal there own songs.

here is one of nickebacks safe songs lol

Nickelback is one of 84 bands that sounds the same.
Theory of A Deadman
3 Doors Down
Black Stone Cherry
Crossfade
Shinedown

Fuel

Chevelle

Hinder

Grey Daze

Daughtry

Axium

Creed
Staind

Silver Chair

Collective Soul

Saliva

Stone Sour

Seether

Thornley
Saving Abel
godsmack

Metallica.....not

and more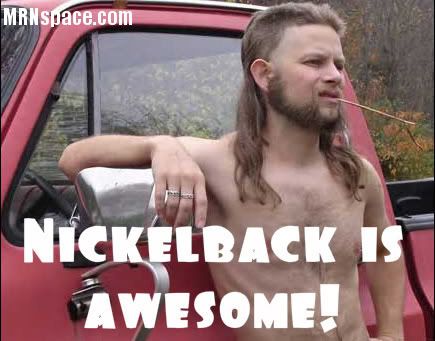 Their new cd is more like the best of the worst. Every cd there sound gets worse and so does their songs. Every time i hear their new single i want to change the radio station. If there is a god he will make chad kroeger fall in love with yoko ono.
why cant all bands sound like this
Hmmm this need something sports, here is a picture of king brett.