01:38 AM ET 07.21 |
"Ouch!" is for Roy's previous outing last Saturday in which he lost 8 to...not enough.
"Ouch!" is for what Lidge was headed for in Friday night's game.
"Ouch!" is for Roy and his ailment.
And "Ouch!" is for me truly misjudging Phil for once...realizing only a few minutes ago that pulling Roy after only 84 pitches was purely precautionary for the ace's health.
Fortunately, "Ouch!" is not for the outcome of Friday's Bucs-Stros game...for the Astros anyway. It's not every day a guy hits the game-winning home run in the first inning. I have to be completely honest, I hadn't watched an Astros game in its entirety since...July 8th. I almost made it through last Saturday's Cubs game, but home plate umpires are so frustrating these days. Anyway, needless to say, it was the first "game-winning" Astros home run I did not witness this season. Add another million to Carlos' "earned" column. I'm beginning to think he just might earn every penny by the end of his contract. Speaking of worth every penny, Oswalt sure knows how to bounce back...then again, it was just the Pirates who have now scored a total of TWO runs off of the Wizard this season...at least he won this time.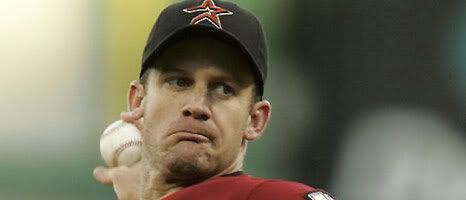 So, Roy leaves in the 7th with "chest irritation" according to Footer on mlb.com. Considering how I'm now only making it a point to watch games in which My Boy Roy pitches, if this chest pain is persistent, I could be watching a lot less baseball in weeks to come. But we all know Roy doesn't like spending a whole lot of time on the DL, so then again, maybe not...
Get well Roy.
P.S. Did I mention the Astros actually eked out their first win in 8 games against the Pirates this season? A miracle, I know!
Agree? Beg to differ? Comment.