03:44 PM ET 11.14 |
The Baltimore Orioles finished the 2009 season with a 64-98 record which put them in last place in the AL East and 39 games out of first place. In fact, they were 11 games out of 4
th
place. The record went down as the worse one for the Birds since 2001 when they only won 63 games. However, you can not blame them seeing as how they made the motion toward the future in the middle of the season; but that is a topic for another time.
Obviously, since they lost 98 games, the Orioles have some issues to address in the offseason. But, there are not as many as you think. For example, the starting pitching is not in drastic need of a superstar arm with Matusz, Bergesen, Tillman, Hernandez, and Berken developing at the MLB level and Arrieta on his way up in the minors.
But, there are two spots that the Orioles need help in and one of those spots is first base.
Since the Orioles traded Aubrey Huff to the Detroit Tigers midseason, they never really had a everyday first baseman. Ty Wigginton and Luke Scott both saw times at the position but it was never permanently theirs. Many fans hoped that they wouldn't have this issue anymore and the club would have signed Mark Teixeira, but that didn't work out.
Right now, there are 21 first basemen on the free agent market. All of which the Orioles should be looking at.
Rich Aurilia - Former San Francisco Giant - 38 years old
Back in his day of around 2001, Rich was a solid baseball player. He could put twenty balls out of PacBell every season and went as high as 37 one year. But that was going-on 9 years ago when ole' Rich was 29 years old. Ever since 2007, Rich has been nothing but a role player for the Giants. His low point was last season where he only played in 60 games, got 130 plate appearances, and batted .213 with two homeruns.
It is safe to say Rich Aurilia is done and will probably retire soon - if not this season, the one after. Because of that, he does not fit into the Orioles' scheme. The Orioles want to get younger and build for the future. With his skills deteriorating, he should be far down on the Orioles' list. Maybe if he was 38 and still hitting around 15 homeruns a season, the club might be interested. But this is not the case.
Kevin Barker - Former Cincinnati Red - 34 years old
Many people probably have not heard of Kevin Barker and for good reason. In five major league season, Kevin has played 126 games and batted .249 in those games. His five season span from 1999-2009 with the years of 2001, 2003, 2004, 2005, 2007, and 2008 being void on his MLB resume.
The Orioles would be better off letting Luke Scott or Ty Wigginton play at first over this guy. He is barely a major league talent and could barely find starts for the Reds.
Hank Blalock - Former Texas Ranger - 29 years old
It was not too long ago that Hank Blalock was an All Star player and an MVP candidate. In 2004, was an All Star and finished 18th in the MVP voting. Since then, he has been solid overall. Just last season, he hit 25 homeruns but batted .234.
This is an interesting thought for the Baltimore Orioles. Blalock can put the ball out of the ballpark and with him being a left handed batter, he has the benefit of the short porch in right field. However, he lacks fundamental contact as he batted only .234 last season and had an OBP of .277. Another problem with Blalock is his streaky play. During the 2009 season, he had a streak of 32 games where he did not draw a walk, struck out 38 times, and batted .198. Besides his offense, his defense is a little shoddy. He has started to make the switch already from first to DH. In 66 games at first for the Rangers last season, Hank field .989 and his career percentage at first is at .992. The league average at first during that time is .994.
The Orioles may not have a problem with his streakiness, low on base percentage, and weak defense if they can get power from him. It would be like another Aubrey Huff. Maybe Hank just had a down year last year and he can get back to the form he had in 2008 where he batted .287. Then again, the Orioles do not want more clogs at a position they will have issues at - DH.
Russell Branyan - Former Seattle Mariner - 34 years old
Russell had a huge break-out season last year for the Mariners as he slugged 31 homers. But that is basically where the praises stop as he batted .251 and struck out 149 times. But, he did have a OBP of .347 which is solid for the batting average he had.
The Orioles have to be loving the left handedness of Branyan as a fixture in their line-up. As mentioned with Blalock, Branyan can use the short porch in right to his advantage. His 30 homerun power can provide protection for Jones, Markakis, and Wieters.
But a few things might keep the Orioles away. For one, his age of 34 is not appealing to the Orioles. They could always sign him for one or two years and make a move toward a superstar or prospect later on. That could just be a waste of money though.
Another thing is his contact. His career batting average is at .234 with a solid .331 on base percentage. The Orioles may not be attracted to his swing-for-the-fences mentality. Then again, they might be seeing as how they have stated their need for a power hitter. But is a rally killer really what the Orioles need?
Also, Branyan is basically new to the first base position as last year was his first full year at the spot. His .990 fielding percentage proved his rookie status. As the world saw the the Yankees and Teixeira, you kind of need a good defender at first.
Tony Clark - Former Arizona Diamondback - 38 years old
If I copied and pasted the entire piece on Rich Aurilia to here and just changed "Rich Aurilia" to "Tony Clark," it would be valid.
The Orioles do not want a 38 year old has been at first base for them. It would be a waste of time and money.
Tony Clark was released by the Diamondbacks last season. I'll pass and so will the Orioles.
Bobby Crosby - Former Oakland Athletic - 30 years old
So who remembers when the A's parted ways with former MVP Miguel Tejada basically because they thought Bobby Crosby to be a better option at short? They thought Crosby would be a younger Tejada and maybe even better. That worked out well for them as Tejada went on to the Orioles to have a 150 RBI season and set the franchise record for hits in a year. Oh, and Crosby hasn't been a shortstop since 2008. Since then, he has seen time in right field, second base, third base, and his new home - first base.
Crosby only started 24 games for the A's at first base. He has basically fallen from a super prospect to a warm spot on the pine. Last year for the A's, he batted .223 with a .295 on base percentage. He basically did nothing and is just another disappointment for the A's.
The Orioles probably won't be interested as Crosby lacks one thing the Orioles want - power. Sure, he put 22 balls out of the park in 2004, but someone look at me and tell me that wasn't because of steroids. Since his 22 HR year of '04, his highest single-season total is 9. NINE! And don't forget his .238 career average.
A veteran at the first base position is also what the Orioles need. Not a player who has been so crappy that the Athletics had to play him at five different positions in 2009 to see if he could play any of them.
Carlos Delgado - Former New York Met - 38 years old
Another interesting option is Carlos Delgado. At 38 years old, Carlos can still hit. Before getting injured early in 2009, Delgado was batting .298 with a .393 on base percentage. In 2008, he finished 9th in MVP voting with 38 homeruns and a .271 batting average.
Carlos could tear things up in Baltimore since he is left handed. 38 homeruns in a season at Shea could translate to over 40 in Camden.
A few issues with that, though. Is Delgado now injury prone? After last year's injury, he could be done as a premier player. At 38 years old, baseball players don't heal well from injuries.
Another thing is, does he still have it? Does he still have the stuff to put out 38 homeruns? 30? 25? Even 20? Missing last season didn't help any. Maybe he just had a good season in 2008.
He is also used to making 8 figures a year as he made as high as 16 million during his time with the Mets. The Orioles ARE NOT willing to pay ANYONE 16, 14, 12, or even 10 million dollars at the age of 38, after coming off an injury, to play first base for them. Peter Angelos wouldn't even do that for a 25 year old player who is hitting 40 homeruns a season.
The Orioles tried to sign Delgado during their spending spree after the 2004 season. He did not want to sign with the Orioles, citing weather and location of the city relative to his home country as reasons why. You could say they are on sour terms.
Nomar Garciaparra - Former Oakland Athletic - 36 years old
Nomah! He is of Boston fame and that is about it. Since leaving Boston in 2004, he has done absolutely nothing. His highest average not in a Boston uniform is .303 in 2006 with the Dodgers and his highest homerun total is 20 in that same season.
But after that, he has struggled to find a place to start. He only started 35 games for the A's last season and only 44 for the Dodgers in 2008.
He is a solid player off the bench but not for a team's starting first baseman. As stated earlier, the Orioles are looking for a little pop and you won't get that from Nomar. He has hit 18 homeruns over the past three years.
Once again, his age coupled with his talents are an issue.
Jason Giambi - Former Colorado Rockie - 39 years old
Giambi's name was praised toward the end of last season and during the playoffs for the Rockies as a clutch hitter off the bench. But, the facts still remain that he will be 39 years old, batted .201 last year, and his body is falling apart from years of steroid use.
But, as some of the other players so far, he is a left handed power bat. Despite batting just above the Mendoza line last year, he slugged 13 homers in 102 games.
At this point, he is more of a DH player, though. His age has killed his range and fielding ability.
Also, if he wasn't batting barely .200, the Orioles would be more interested. A younger Giambi for the Orioles would be great.
He would be a cheap option at around maybe a million for a season, but it probably isn't worth it.
Ross Gload - Former Florida Marlin - 34 years old
At 34 years old, Ross would be a nice option for the Orioles. He is batting a solid .270 for the last three seasons with an OBP over .300. Its nothing spectacular but its also nothing that would cost them a large amount of money.
The only issue with Gload and the Orioles is that his power is lacking. He only has 28 homeruns over his 8 year career. He averages 7 HRs every 162 games.
His defense is solid, though, with a .997 percentage last year and a range of 8.74 that was well above the league average.
I am liking Ross Gload at first for the Orioles. He may not have the power, but the Orioles can make up for it elsewhere - like at third.
He is also a lefty which is good news for him and the Orioles.
Aubrey Huff - Former Detroit Tiger - 33 years old
Here is probably the best option for the Orioles. Aubrey Huff is at a younger age compared to almost everyone available. He is also familiar with Baltimore, the stadium, the team, and the fans. There would be no issue in him not wanting to play here. After all, it appeared as if he was upset when he had to leave after his trade to the Tigers.
With the Orioles in 2008, he was a Silver Slugger at DH while batting .304 with 32 homeruns.
The Orioles just need to convince themselves that last year was just a down season for him. His .240 batting average and 15 homeruns are not appealing.
But because of that down year, his asking price may be lower. He may not be looking for the 8 million dollars he was being paid in Baltimore.
Nick Johnson - Former Florida Marlin - 31 years old
I am loving Nick Johnson as an option at first base in Baltimore for next season. At the age of 31, he is one of the youngest player mentioned so far and fits into the Orioles' gameplan.
Last season between the Marlins and Nationals, Nick batted .291 with 8 homeruns, .426 OBP, and 24 doubles.
Despite only hitting 8 bombs last year, Nick has shown some power over his career. He averages 19 homeruns per 162 games and hit a high of 23 in 2006. He can also hit the doubles as he averages 35 a season. His career slugging percentage is at .447.
The left handed Johnson could thrive in Baltimore for maybe even three seasons. He would be a great add for the Orioles and give them another good hitter.
The issue of whether or not he would want to play in Baltimore is moot. Johnson has no problem playing for losers as he has spent three and a half years with the Nationals and one other season with the Montreal Expos.
Adam LaRoche - Former Atlanta Brave - 30 years old
Adam LaRoche is another good option for the Orioles at the age of 30. He has the power that the Orioles are looking for as well as a decent batting average and on base percentage.
Last year, between the Red Sox, Pirates, and Braves, LaRoche hit 25 homeruns and batted a collective .277.
For his career, he is a .274 hitter with a .343 on base percentage. He averages 26 homeruns and 91 RBIs every 162 games.
He would be great in a line-up behind Jones, Markakis, Wieters, Scott, and Reimold.
His defense is also great as he was a .999% fielder last season between those three teams. He is a career .995 fielder at first base.
The only problem would be getting him for cheap. Last year, he made 7 million dollars. That is a little on the high end of the Orioles' price range.
Doug Mientkiewicz - Former Los Angeles Dodger - 36 years old
Doug Mientkiewicz is basically the Bruce Bowen of the MLB. He is a defensive guy and thats basically all he does right now. Teams put him on their bench for those times when they need great defense out on the field.
Last season for the Dodgers, he played in 20 games and got 20 plate appearances. He started in only one game at first base.
His power is now gone as he has only hit 22 homeruns since 2005 and 11 since 2006.
The Orioles aren't interested in a bench/role player. They want a player who can produce in the line-up and on defense. Doug isn't their man at the age of 36.
Kevin Millar - Former Toronto Blue Jay - 38 years old
Kevin Millar wouldn't mind a return to Baltimore and Baltimore wouldn't mind a return of Kevin Millar. In his final season with Baltimore, Kev hit 20 homeruns but batted .234.
The one thing that could keep Millar out of Baltimore is his horrid batting average. He is a career .274 hitter with the highest in the last three seasons being .254.
Do the Orioles really want a 38 year old player who is struggling to hit .230 just for around 15 more homeruns and some personality?
He could be a cheap option but I'd rather just throw Luke Scott or Ty Wigginton there.
Brad Nelson - Former Milwaukee Brewer - 27 years old
YES! 27 years old! But wait, he has 28 games at the MLB level and is a minor league free agent.
He played 19 games for the Brewers last year and was 0 for 21.
The Orioles want a starter, not a AAA level player.
Greg Norton - Former Atlanta Brave - 37 years old
Norton could have left teams with a sour taste after his horrible 2009 performance where he batted .145 in 95 games.
If that doesn't do it for the Orioles, then his career .249 average very well could.
At best, he is a role player.
His best season in recent memory was way back in 2006 when he hit 17 homeruns and batted .296. Since then, his high in homeruns is 7 and his high in average is .262.
Jim Thome - Former Los Angeles Dodger - 39 years old
Jim Thome could work in Baltimore ... if he wasn't 39 years old.
The left handed super-power of Jim Thome would be perfect for Baltimore and their field's dimensions. But the Orioles need an everyday first baseman and Thome cannot give them that. At the age of 39, his everyday playing days are over unless it is at DH.
Maybe even retirement this offseason for Thome if no one is interested.
Chad Tracy - Former Arizona Diamondback - 30 years old
Chad Tracy could be a decent option for Baltimore as his age is on the low end end his numbers are solid.
On a 162 game average, Tracy hits 18 homeruns and bats .280. Throw in a little more homeruns and that is all the Orioles are looking for.
But, he could be on the tail end of his career as he batted .237 last year with only 8 homeruns.
Defensively, Tracy is solid with a .994 percentage over 6 seasons at first. His range factor is at 9.43 which is well above the league average.
Tracy is one of the better options for the Birds but not the best. I believe his career is on the way down and his 18 HRs and .280 average won't be achieved again.
He was making 5 million for the Diamondbacks last season ... definitely don't want to pay that much for Chad Tracy.
Javier Valentin - Former Cincinnati Red - 33 years old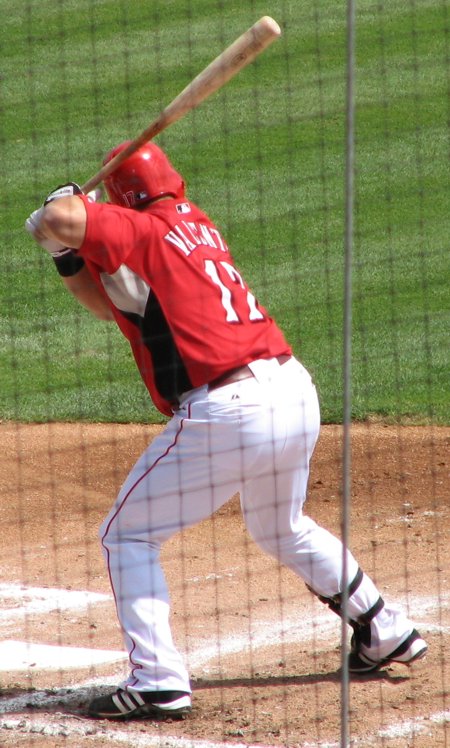 Javier is not the type of first baseman that the Orioles are looking for. His career .250 average is not appealing nor is his .400 slugging percentage.
He is aging and his numbers are dropping ... they weren't high to begin with.
Last season with the Reds, he batted .256 with 4 homeruns in 94 games.
Dmitri Young - Former Washington National - 35 years old
It wasn't long ago when the Nationals saw Young as their big bat, their power man in the middle of the line-up. They gave him 10 million over two seasons to prove it to him. But, after his first season of hitting 13 homeruns and batting a great .320, his numbers fell into an abyss in 2009. Thanks to injury, Dmitri batted .280 and hit only 4 homeruns. He did have a .394 OBP though.
On offense, he can be the power bat for the Orioles. He can start swinging for the fences and turn that 18/.320 into 25/.280 and the Orioles would be content.
But there are three problems with Dmitri Young.
One is his defense. In 13 seasons at first, he has fielded at .987%. Not good.
Secondly, he has had a little off the field issues. I don't think I should shorten this, so I'm going to throw it over to wikipedia:
"In 2006, Young went through a divorce, was treated for alcohol and substance abuse, and depression. He pleaded guilty to assaulting a young woman after an argument in Birmingham, Michigan.[3]
On May 17, 2006, the Detroit Free Press reported that Young faced a misdemeanor domestic violence charge, stemming from a heated argument with a young woman.[4] Young subsequently spent 30 days in the rehabilitation facility, Promises Malibu, and three weeks working out with minor league teams. On June 13, 2006, Young failed to appear for a pretrial hearing on this matter and a bench warrant was issued for his arrest.[5]. Ten days later, he pleaded no contest to the domestic violence charges.
On June 30, 2006, Young revealed that he had been battling alcoholism[6], which limited his physical fitness and kept him from appearing in all but a small fraction of Tigers games during the season. He made a statement to the press in which he asserted that he had been making progress overcoming it with the help of Alcoholics Anonymous, whose logo has been tattooed on his hand as a gesture of thanks. He returned to action on July 21, 2006, versus the Oakland Athletics, starting at designated hitter and ending the game with 2 hits and 2 RBI in the Tigers' 7-4 win. Before the game started, FSN Detroit aired a video of Young apologizing to the fans and saying how he will continue to struggle against alcohol and drugs for the rest of his life.
On September 6, 2006, with less than a month to go in their American League Championship season, the Tigers gave Young his unconditional release in a move that surprised both teammates and fans alike.
The day after Thanksgiving, "an ambulance took him to a hospital, where he endured a three-day stay in the intensive care unit as his doctors diagnosed diabetes."[3] Since then, Young has taken steps to get his diabetes in control and is encouraging others to do so. He has recently appeared on dLife to talk to people about how he has lived with diabetes."
The Orioles do not need that on a young team. That is honestly the LAST thing they need.
And lastly, Young is coming off an injury season. The Orioles need someone who can play healthy for the year.
So, after reviewing the 21 current first base free agents for the 2010 season, it appears as if there are some slim pickings for the Orioles. However, there are some players that are worth looking at. The top five, in my opinion, would include (in no order) Nick Johnson, Adam LaRoche, Aubrey Huff, Ross Gload, and Hank Blalock. The bottom five would be (excluding the two minor leaguers - Barker and Nelson) Rich Aurilia, Dmitri Young, Greg Norton, Javier Valentin, and Tony Clark.