07:14 PM ET 12.03 |
Baltimore Ravens vs. Green Bay Packers

Monday Night Football - 8:30 ET
@ Lambeau Field, Green Bay, Wisconsin
Background:
The Ravens come into Green Bay with their minds in the game, their eyes on the scoreboard, and their hearts set on the Wild Card. They enter with a 6-5 record, wins in three of their last five, and outscoring their last five opponents 88-58. In fact, Baltimore has only lost by more than a touchdown once. Baltimore has only played Green Bay twice and split those games. The one game Baltimore has played at Lambeau, they won 48-3 in 2005. Kyle Boller found the endzone three times and passed for 253 yards. 2009 is a little different though. No Brett Favre, no Kyle Boller, and the Packers aren't a lowly 4-12 team.
The Packers come in with one more win and stand at 7-4 and second place in their division but tied for the lead in the Wild Card. They have won their last three in a row with Aaron Rodgers passing for over 340 yards in the past two. The last time they played was against the Lions on Thanksgiving afternoon. They have had tons of time to prepare for Baltimore and would have an 11-day rest before gearing up on Monday night.
Key Match-ups:
The Packers' Offensive Line vs. Baltimore Pass Rushers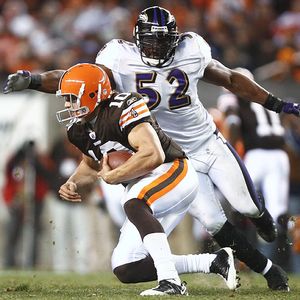 Aaron Rodgers has already been sacked 44 times this season. Whether it is because of the weak Packers' pass protection or because of Rodgers holding on to the ball for too long is up for argument. But, one thing is certain is that the 44 sacks leads the league and so do the 260 yards lost.
The Ravens are known for bringing multiple players on pass rushes and in different kinds of schemes. They will be bringing players like Ray Lewis, Tavaris Gooden, and the team leader Jarrett Johnson in on blitzes. They also hope to be able to bring Terrell Suggs as his status is up to questionable this week.
Of course, the key to this plan would have to be covering the receivers for long enough so where Rodgers is forced to hold the ball for an extended period of time. The Ravens will be starting LaDarius Webb and Domonique Foxworth against Donald Driver and Greg Jennings.
Ray Rice vs. The Packers' Defense
First in yards per game, sixth in passing yards per game, and fourth in rushing yards per game. That would be the Packers' defense as they are one of the best in the league.
Ray Rice leads Baltimore in rushing yards and is second in receiving yards. He has had 100 yards from scrimmage in eight straight games. In total, he has 1,403 yards on the season. So, basically, he single handedly carries the Baltimore offense. He is a frequent target on check down passes and is the number one running option.
The Packers have allowed some big games on the ground as Cedric Benson and Steven Jackson both ran for over 100 yards. But, they also held both Adrian Peterson and Matt Forte to 55 yards on 25 carries.
Players to Watch:
Charles Woodson - Cornerback - Green Bay Packers
At 33 years old, Charles Woodson may be the best cornerback this year. He has seven interceptions on the year and two touchdowns. This past Thursday, Woodson was able to hold Calvin Johnson to two catches for ten yards.
This week he is in charge of covering Derrick Mason with Joe Flacco not having thrown an interception since that mistake late against the Colts.
Jarret Johnson - Linebacker - Baltimore Ravens
Johnson is Baltimore's best pass rusher and he will be depended upon heavily in this game. He already has six sacks on the season to lead the team.
His pressure on Rodgers will be key to a Ravens win. He will need to take Rodgers out of his comfort zone and throw the ball before he wants to. Then that is where Ed Reed comes into play. Nothing but a chain of reactions. But, of course, Johnson could just drive Rodgers to the turf.
Donald Driver - Wide Receiver - Green Bay Packers
Driver is Rodgers' favorite target with 53 catches on the season for 845 yards and five touchdowns. He will be covered by Domonique Foxworth for the game with, of course, safety help from Ed Reed. The safety help hasn't really worked this year, though, so Rodgers will be looking to Driver a lot.
Greg Jennings - Wide Receiver - Green Bay Packers
Of course, if Foxworth is able to shut down Driver or Baltimore places too much focus on him, the Packers still have Jennings.
For the season, Jennings has 47 receptions for 722 yards and three scores.
Billy Cundiff - Kicker - Baltimore Ravens
32 Degrees, Low of 21
40% chance of snow flurries
5 MPH winds
That is the current forecast for Monday in Green Bay. The snow flurries and the cold could cause a problem for quite a few players but most especially Billy Cundiff.
Baltimore will need to put a lot of weight on Cundiff as they never know when their red zone offense locks up and refuses to score. With a few of Cundiff's kicks barely making it through the uprights, bad weather isn't the greatest thing.
Predictions:
Another tough game for Baltimore in a schedule that gives them no breaks. From Indianapolis, to Pittsburgh, to Green Bay - there just hasn't been any time for a breather.
But, on Monday Night in prime time, the Ravens will play tough. Their main game will be applying pressure to Rodgers and they will get to him. Pryce, Lewis, and Johnson will have multiple sack games.
Driver and Jennings will get their yards and receptions but only when Rodgers doesn't have the defense breathing down his neck.
Ray Rice with the help of Joe Flacco and lead blocker Le'Ron McClain will crack the tough Packers defense and find the endzone atleast once.
Its also been a while since the last Baltimore defense touchdown. Who's feeling one of those this week?
Baltimore wins a close one 27-21.