03:12 PM ET 01.21 |
It's the ultimate credential, the universal pass into FanNation. Readers, if you've never taken the plunge and gone to a baseball fantasy camp, here is your chance to do so vicariously. It was the time of my life. In the words of Ferris Bueller, "if you have the means, I highly recommend it."
It was something I was determined to do before I turned 40, a milestone I assumed would mark the immediate cessation of all baseball ability (I'm not in the same shape as Julio Franco, trust me on this one). So in my 39th year of this life, when the word came down that my same-aged cousin Mark Mersel, a lawyer in SoCal, was also raring to go, the preparations immediately began. I was determined to pitch, to relive a vestige of my high school semi-glory days, before chronic elbow tendonitis had consigned me to law school and the softball diamond. It had been 20 years since my last start, after all - surely that kind of rest was something an elbow joint stockpiled, right? Besides, after 20 years, who says I even had the same elbow? "Fantasy" camp, indeed. So I bought a catcher's mitt, and for weeks before, Saturday after Saturday, I dragged my still-spry 70-year old father out to a local park to get in a crouch and catch my gas. I was lucky. I lived in South Florida. It was winter, but I could get ready. I was getting stronger, better, the slider was sliding, the control was there. I was ready. So I thought.
The camp we signed up for was billed "The World Series of Fantasy Baseball" by a company called Diamond Dreams. It wasn't affiliated with a particular team - just baseball. It promised a variety of former pros, ranging from Hall-of-Famers (Brooksie, Rose, Yaz), to the near-great (Tony Oliva, Ken Griffey) to the tons-of-fun (Spaceman, Soup Campbell), to the barely serviceable (Dick Drago, Bob Johnson). It advertised guys who were late arrivals (Dave Parker), and others who were no-shows altogether (Frank Robinson, Mookie). Dodgertown was the site - a fantastic venue, because you lived right there "on campus" in little apartments, as opposed to other camps, where you would stay at a hotel off-site and get bussed in and out every day. You could play for one of six teams, and Mark and I chose the Mets - we were both fans before moving on, he now an Angels season ticketholder, me now a Marlins season ticketholder and still a year or so short of penning my 336-page application for citizenship in Red Sox Nation. I picked Mark up at the Ft. Lauderdale airport, and we made the 2-hour trek to Vero Beach.
We entered the clubhouse, and when I found my locker and spied the nameplate on the one next door, I knew this was going to be fun.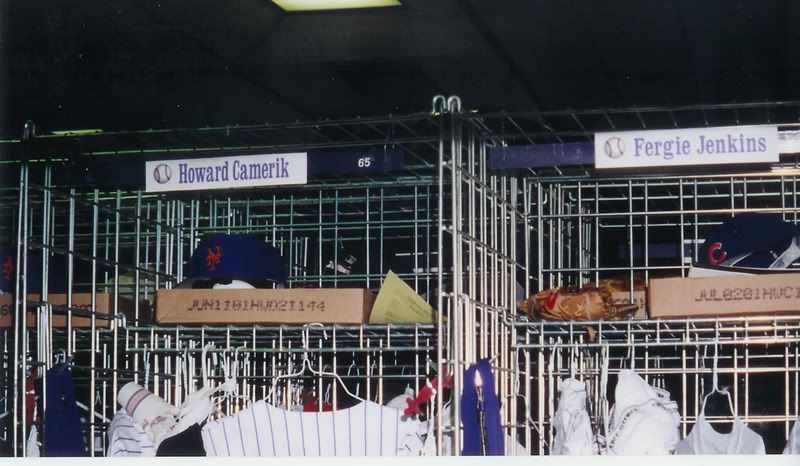 Fergie was to be our manager. To the ire of many of the hardcore Metfans on our team, Mookie had cancelled. A '69 Cub managing the Mets! Whatever. I was there to play as much as I was there to stargaze. Fergie was a great, old guy - now an Oklahoma rancher, he had a taciturn demeanor (undoubtedly a product of his life's tragedy, the loss of his wife and child in a car accident not too many years before). He seemed to genuinely enjoy the respite, the crawl back into a uni that fit just like it did in his playing days, and the inter-action with the rabble, the adoring fans-cum-ballplayers.
Fergie, Me, Mark: getting advice, or just shooting the bull?
When Mark and I first looked around, we saw a curious sight - the locker of a camper named Russ Harbaugh. If there ever was a candidate for FanNation, it was the irrepressible Russ. What a freak - and I mean that in a good way. He worked in sports - I can't recall whether it was memorabilia or agency - and he lived and breathed one thing: Pete Rose. His locker was a shrine to Rose, with t-shirts hanging, touting Rose for the Hall of Fame, and Rose memorabilia throughout. It looked as if he'd been setting up his locker for hours, like it was a college dorm room. He had about six caps, a giant plastic jug of sunflower seeds, and pictures of his family in there - ready for a whole season, not just a week. He mimicked Rose's batting stance (perfectly) from both sides of the plate (he was a good line-drive hitter, just like Rose), and he dove into bags head-first. He wore eye-black. During the banquet at which Rose was the headlined speaker, when a question was posed about his career, Harbaugh was consulted by Rose more than once from the rostrum - "No, Pete, that was '73 when you had 230 hits." "Oh, OK, thanks Russ." And we'd all laugh. It didn't matter to Russ that his hero was the only player who refused to get in uniform - he was too fat for it, and so never took off the same light-green sweatpants. Harbaugh was fantasy camp as it oughta be.
Fat Pete in his street clothes. Brought a gorgeous girl, though. Doh!
===================================================================
"The memories will be so thick they'll have to brush them away from their faces"
-- James Earl Jones, Field of Dreams
That's what I think of when I think of what transpired that week. Memories ... and pain. First we met our fellow Mets, we warmed up, we threw hard to impress each other, trying to secure positions of choice in this sort of make-shift democracy, and then we played 9 games in 5 days. Ouch. It wasn't long before my elbow was barking, a couple of hours of warm-ups on Day 1, tops. Omigod, the pain got excruciating. Over the week I became awfully familiar with the trainer (tipped him well, too) and his frozen bucket, icing the elbow twice a day after each game, and popping Advils like they were Skittles. But I wasn't going to quit ... not when I had plunked down 4 grand for this privilege.
Me, the trainer, and the bucket. No, that's not Al Franken.
We were a weird collection of guys, some who could play, some who really couldn't and were mostly there for the ambience (and the autographs). Our first game was against the fearsome Pirates. Bad draw. They were obviously going to go undefeated this week. It was a group that was back for at least their third year intact, determined to win -- one Buc told about how for financial reasons he hadn't planned on returning, but he got so much pressure from his mates, he sold his car to make the tuition payment. They were strong at every position, including a former NFL tight end who was whacking 400-foot aluminum bat aided moonshots. Second inning, groundball to me at short, I scoop it, flip it to second to start a DP, and I hear a "pop!" It was our second baseman's Achilles tendon. Stretcher. Gone. There's one in every camp, we are told.
Game # 2 was mine to pitch, and it was in the stadium. It was against the Rockies, another team of real baseball (not softball) players who had come from Colorado as a unit, and were obviously destined to lose to the Bucs in the Finals - we quickly learned that the week would be all about four teams playing for the bronze. I acquitted myself pretty well, losing something like 6-2, even with some shoddy defense behind me. And to some extent, this motley crew of a team was starting to come together.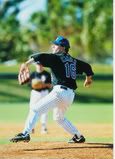 Bringin' the noise ...
I had highlights and lowlights the rest of the week. I can recount only the former. The second game I pitched, while fighting through pain that was literally welling up tears in my eyes, was a gem - a 2-hit, 0-walk, 1-run win against the Reds (Harbaugh tripled in the run, then after I stranded him at third, he came up to me in the middle of the diamond, eye-black shining, and said, "I like you, you work quickly and you throw strikes!" then patted me on the ass. Thanks, Russ. Shouldn't you be out on a ledge somewhere?). Add in 2-for-3 with 2 ribbies, and the guest seat on Kiner's Korner definitely would have been mine that afternoon (fantasy camp didn't go that far, unfortunately). Then there was the "Carl Yastrzemski Hitting Clinic," when I was randomly selected to be Yaz's first student. So in front of the whole camp, Yaz says, "show me what you've got." Bill "Soup" Campbell serves up a crouton, and I blast one into right center (I hit from the left side) on a line, one hop to the wall (that's the way I remember it, anyway). Everybody whistles and hoots. Never hit one like it before or since. Yaz says, "well, I don't have much instruction to give after that one." George Foster plays his chop-busting role, delivering some put-down (something like "not bad for the girl's league"), I march toward the videographer pointing my bat, and say, "Dude, if that doesn't make it onto the souvenir video, I'm going to track you down and hit you with this thing" (alas, the videographer, we are later told, has some sort of mental breakdown, and we never even get a camp video ... or our $75 back).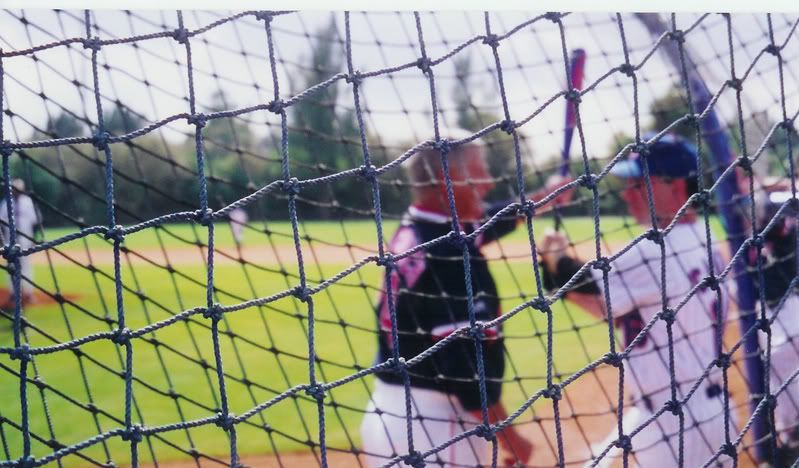 Yaz & Me
The best part, surprisingly, was the comaraderie. Not as much with the pros, but with the guys on my team. Thrown together from all walks, we really bonded, almost like a platoon in combat. Maybe that feeling of unit cohesion came from one of our teammates, Colonel Burke, a.k.a. Rambo - never has a guy both fascinated and scared me more. A former Vietnam Special Forces fellow from San Diego, he had recently retired to the private sector, and apparently his wife had been the successful bidder for this trip at a charity silent auction. When he wasn't enthralling us with freaky stories from Subic Bay, he was pulling his uniform on over frightening scars that we didn't have the guts to ask about. There was Ed Sirlin, a.k.a. Sirloin Steak, Butcher Boy, Meatshop, the investment banker from NYC, who hadn't played ball since little league, and when he got his first hit on about the third day, we gave him a standing-o and pulled the ball out of play. There was Big John Swanton, a left-handed slugger and real nice guy from North Carolina, who quickly took on the mantle of team leadership. Jon Katz was a CFO of some small company in SoCal - bald, a little paunchy, but with residual skills at the hot corner that came more and more to the surface as the week wore on. Glenn Hoffman (no, not that Glenn Hoffman), a late-40s roofer from Ft. Myers, who I dubbed "the human rubber band" - the guy was in the kind of "laborer's shape" the rest of us plutocrats didn't know existed; he could pitch one game, catch the next, and never worse for the wear. He was the glue, Mr. Everything. He even supplied our favorite bat. Willie Washington was the centerfielder, from somewhere in Central Florida - fleet, lead-off guy, though frankly, too much of a free-swinger for that spot in the order. Cousin Mark hadn't played a game of baseball in ages, but came right out of the box strokin' (go figure, like that first time back in golf) and playing a solid left field. And there were others.
Team dinner: Willie Wash, Big John, Sirloin Steak, Rambo, Jon Katz
Hanging out with the players was every bit as much fun as you would think. Nothing could top the Spaceman, of course, who had agreed to go with us one night to ... uh, a gentlemen's establishment, only to not show because his girlfriend did a surprise pop-in at the camp. There was plenty of drankin'. Like the night Brooks Robinson had a little too much, and was talking some serious smack about Rose and how he didn't belong in the Hall, obviously couldn't stand him, and then the next day when Rose was scheduled to arrive for his cameo, there was an announcement at breakfast: "Brooks had a family emergency and had to leave this morning." My ass. We knew "the inside story." There was the "cowboy barbecue," when I loaded up my plate, sat down next to Darrell Evans, and said, "so, what was it like to be 35 and 5?" His eyes lit up - people rarely asked him about the '84 Tigers, not really remembering that he was the DH on that championship team -- and he went on and on, sharing all the clubhouse dope.
Me and Tony-O
The fantasy experience really had it all. We were covered in the local paper. And we had fans! This was the winter in SE Florida, and some of the snowbird retiree baseball fans would come out to Dodgertown and watch the games, enjoying the sunshine and looking to catch a glimpse of the former pros. We, the Mets, had about a half-dozen regular fans who followed us around with beach chairs. One old woman (with a Mets logo tattoo!) was so strident -- when I was on the mound wearing #16, I could hear her shouting in her Brooklyn brogue, "C'mon Doctor K!!" -- on the last day we all signed a baseball and gave it to her. Then there was one afternoon when we played the Yankees (Mayor's Trophy Game) in the stadium, and there were seemingly a couple of hundred spectators in the bleachers enjoying an afternoon off from the accounting firm retreat also being held at Dodgertown that week; they were from New York, so this game drew them in, with partisan allegiances. We kicked the pathetic Yankees from Queens to the Bronx that afternoon, something like 17-1.
By week's end, we had really sort of jelled as a unit, and emerged to win the bronze - the best of the rest, if you will.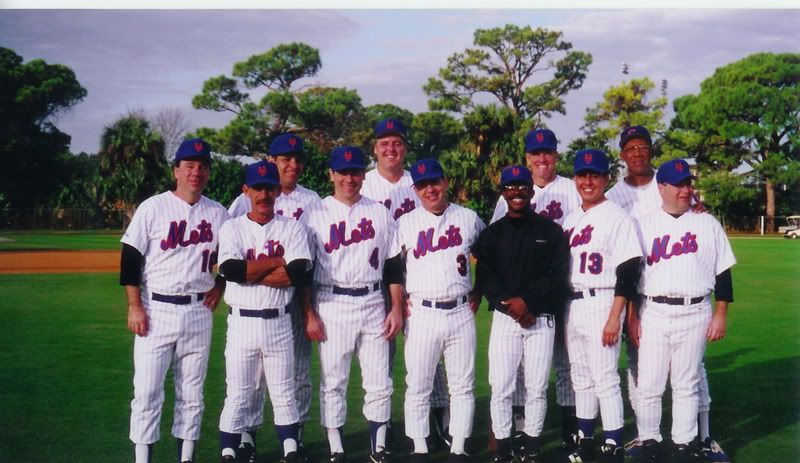 The Make Believe Mets: Third and Proud
Swanton and Burke won some campwide "all around good guy" trophies (if they hadn't given one to Burke, I think he would have waterboarded them), and while Hoffman was clearly our team MVP, I think I might have been voted second, pitching well twice, hitting around .400, playing solid shortstop the rest of the way. I certainly used the most ice (though Meatshop Sirlin, who needed his knees wrapped in ice bags every night, had to be a close second).
There are postscripts. Mark and Jon Katz, the Southern Californians, are still friends. Mark met somebody at camp (Dave Parker's cousin, or something), who got him into sports agency, and he now has a small stable of football players he represents. And like Jeff Daniels in Something Wild, having seen the other side, I decided I couldn't go back to softball when I got home, so I signed up for the local MSBL (Men's Senior Baseball League). That three-year experience, culminating in a torn rotator cuff and a permanent return to softball, may be the subject of a future post.
The camp had its hiccups and flaws. But no doubt, all told, the time of my life. If I could plug in background music to this post, it would be that Green Day song.