12:03 AM ET 03.21 |
If you live and work in Florida, the tradition is time-honored. Up north you get to revel in the thaw, the exhiliration and life-affirming qualities of a new Spring. The sights, the smells, the adrenaline. Pulling the stiff hunk of Rawlings cowhide off the top shelf of the garage, picking off a hunk of caked-on dirt from the previous Fall's last game, and pounding the yawning leather until it softens into (almost) game shape. Here, we don't get that rush. It always looks and smells the same. Our gloves are pertpetually spongy, and far more worn, as one softball season leads inexorably to the next with just a few weeks off to heal the raspberry.
But we get Spring Training. Eat my grapefruits, suckas!
Every March I pick one. A day to leave work behind and head to the ballyard, clear my head, get ready, really ready, for the upcoming season (now less than two weeks away). This year it was Monday the 19th. Astros v. Marlins. I hope you enjoy my photo-journalistic essay, alternately titled, "I Live in Florida and You Don't. Ppppttttt."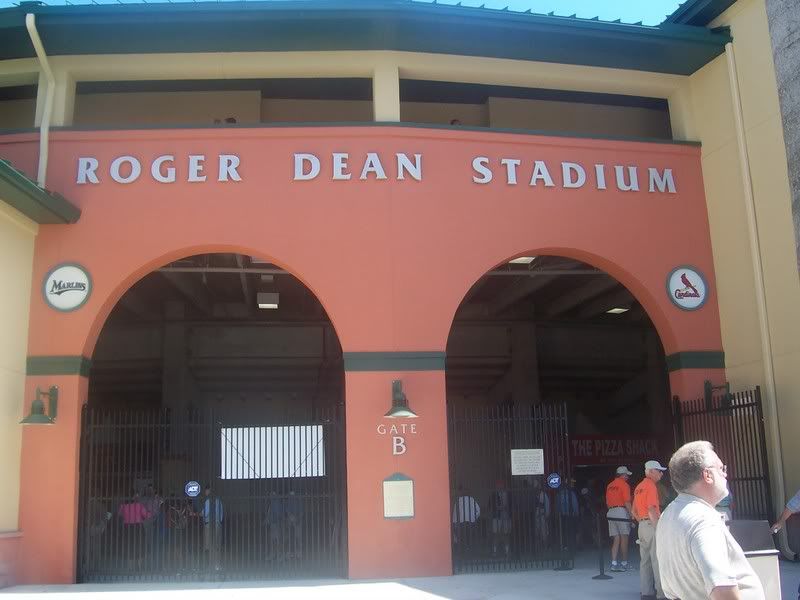 It's a beautiful facility located in Jupiter, Florida -- actually, a nice mixed-use community known as Abacoa. You've gotta love a little PUD built around a baseball stadium rather than a shopping mall. It's the Spring Training home of the World Champion Cardinals, as well as the Marlins. This time of year, Abacoa tends to resemble St. Louis - South ... can you blame them?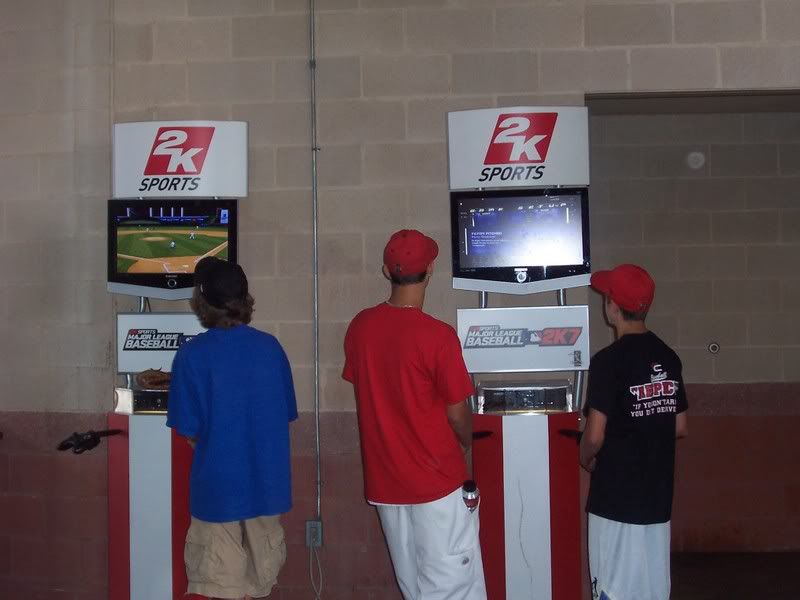 The first thing you see when you enter the concourse is evidence of the decline of civilization as we know it. Gawd ...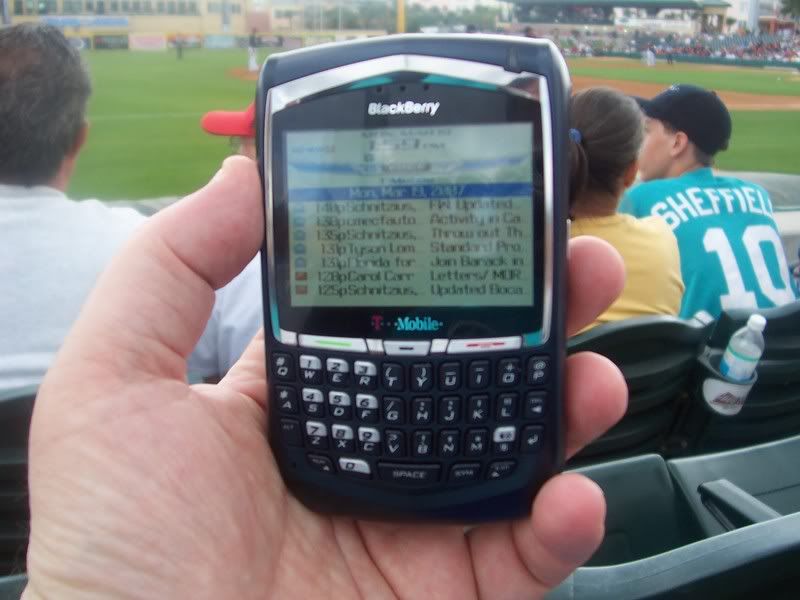 Of course I'm one to talk. Here's the little beauty that makes blowing off work oh-so-much-more-possible (undetectable).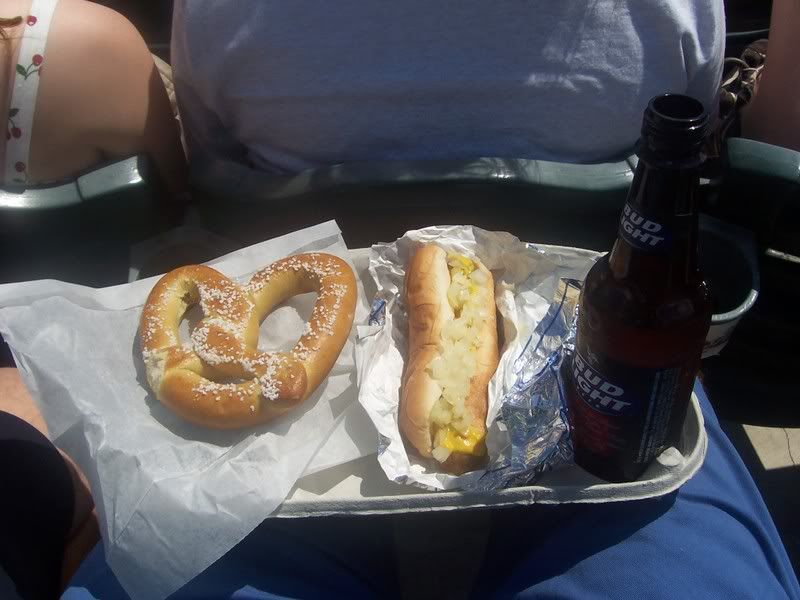 This is what they call "fan's Spring Training." First stadium food meal of the season. Gotta get that tummy in shape.
You've always heard that in Spring Training you can really get up close, eh? You can. Scott Olsen warms up for his start.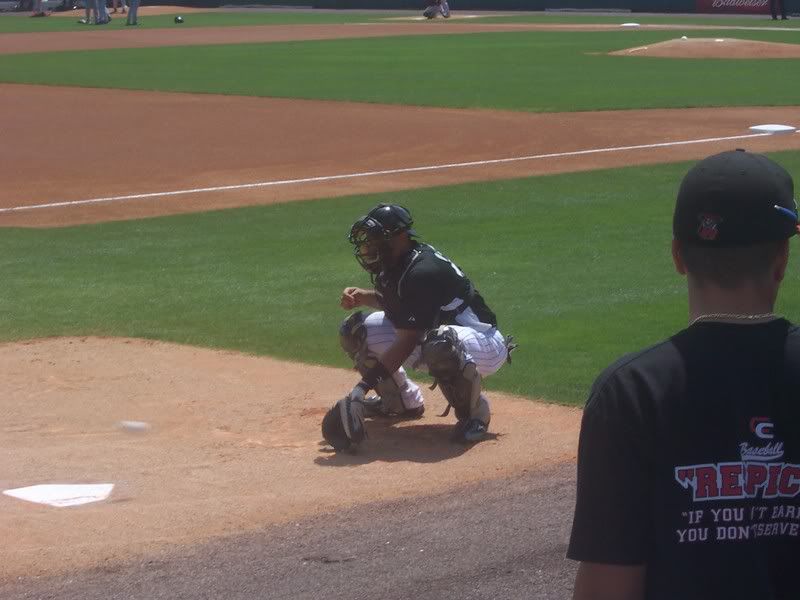 Hey, it ain't easy getting the ball in mid-flight with a cheap-ass camera. Enjoy.
Spring Training brings out the die hards and the old school. Sheffield? In Marlins country, this is like wearing a Ted Williams jersey.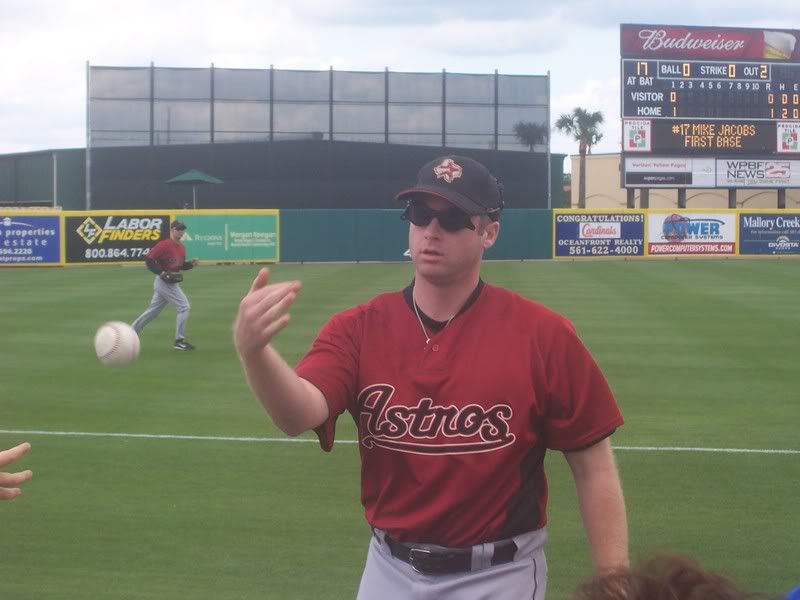 In Spring Training, when a player catches a pop-up (Morgan Ensberg), it's right into the stands. What's the award for sports photography, again?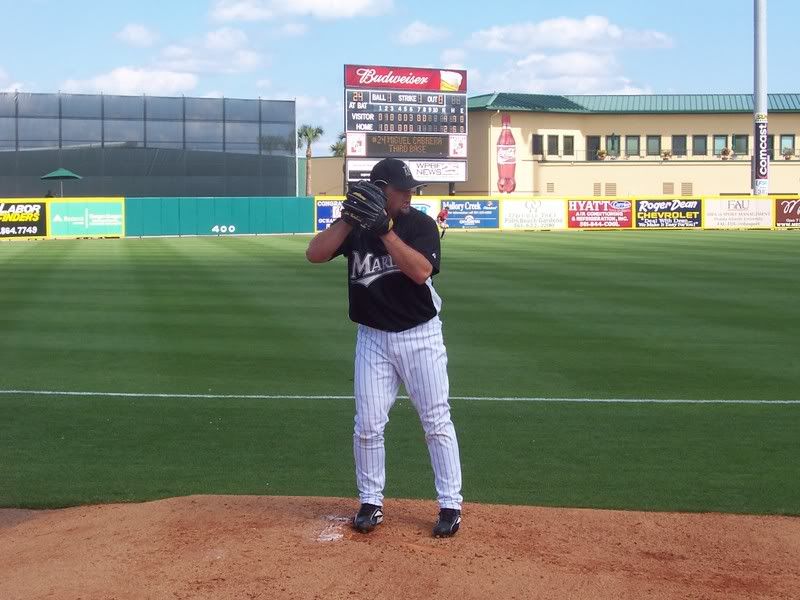 For late inning relievers, every inning could mean a ticket to Albuquerque. Kevin Gregg turned in a 1-2-3 with 2Ks. Call the realtor in Miami, Kevin.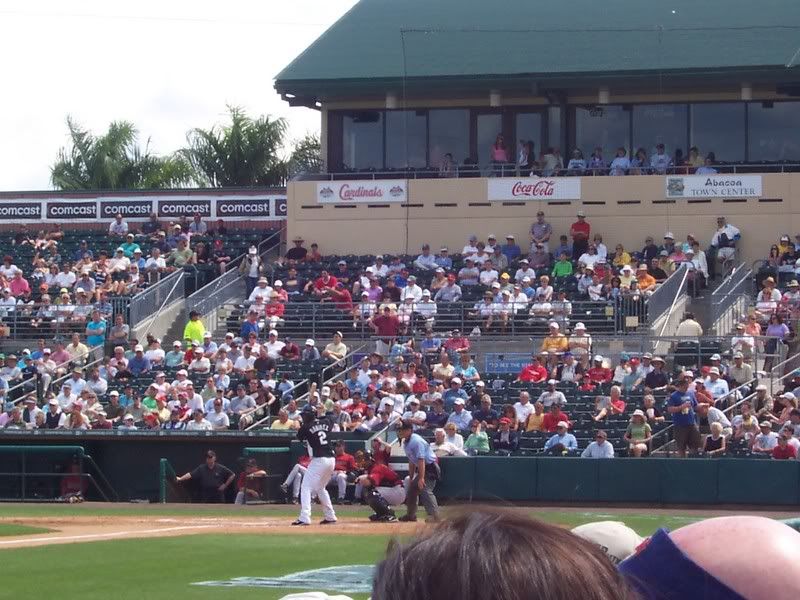 Hanley Ramirez takes his cuts, then ...
...he signs autographs. Really. Like a cliche. Pictures don't lie, dudes.
Dan Uggla joins him. U-G-G-L-A, you ain't got no alibi, you Uggla, you Uggla.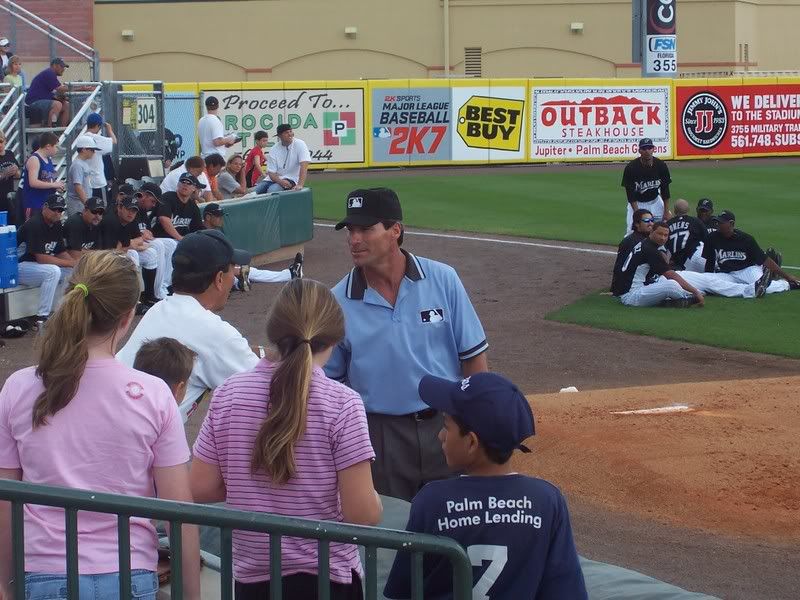 Unusual sights abound ... like an umpire coming over to greet one of his homies ...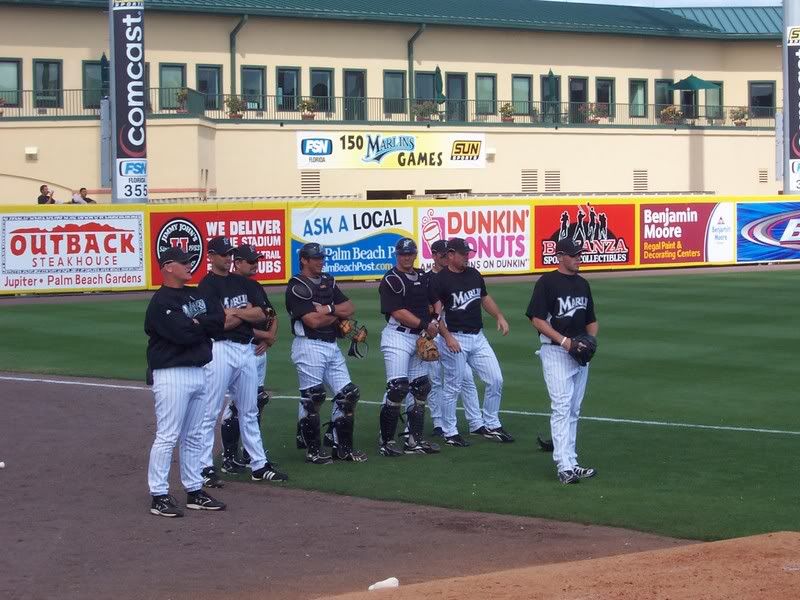 ... or this. I don't know what they're doing. It looks like a scene from "The Warriors", with Taylor Tankersley leading the rival gang. "Aaaastros ... come out and play-ayy ..."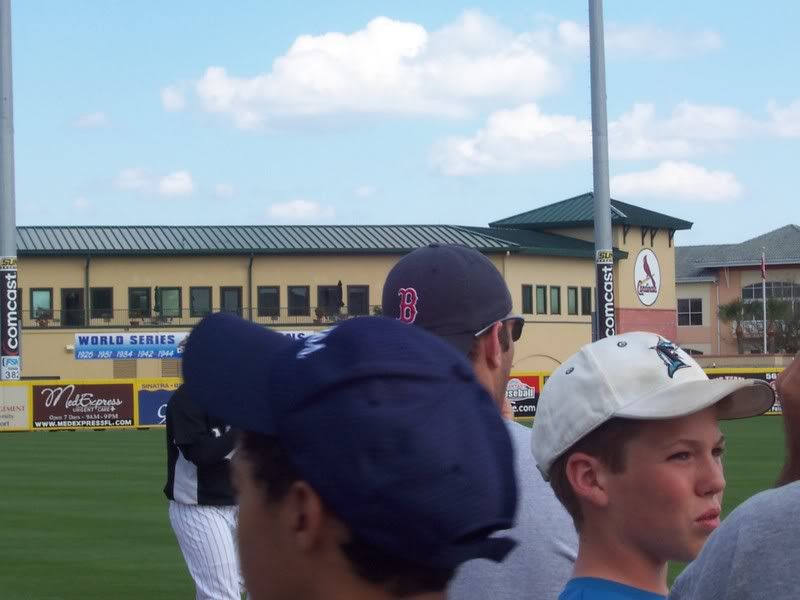 And it just wouldn't be a baseball game unless Red Sox Nation had sent a foreign emissary.
A great time was had by all. Final, Astros 4, Marlins 2, on the strength of two Jason Lane jimmy-jacks. And nobody missed me. Least of all my softball team -- our game wasn't until 9:00, and I was there in plenty of time, sobered up, a little sun-burned, but still pickin' it at short. Until next year ... now, let's tee it off for real, boyz!!!
=============================================
H/T to Dana Camerik, age 14, the Director of Technology for Troy O'Leary's Cow, for her invaluable assistance in getting pics from camera to hard drive to photobucket to blog. Regrettably, Dana would be one of those kids at the video game console while the game was going on ...