03:31 PM ET 01.06 |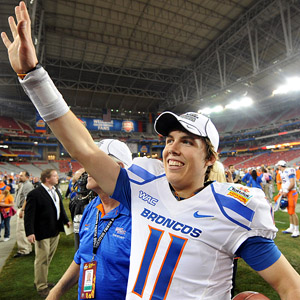 The Boise State Broncos have received a bevy of congratulations for winning the exhibition Fiesta Pageant over TCU and its vaunted defense, but those bouquets likely won't include national championship rings. The Broncos finished the decade 112-17, but zero championship opportunities because they weren't established in the 1800's.
For college football's second 14 win undefeated season in over a century of competition they won't be awarded a split national championship. They've won slobberknockers, barnburners, and with backups in the name of the unwritten mercy rule, but for the second time in 4 years, they will compete for the mythical national championships in online forums instead of on the field.
If they'd bribed the judges though, they'd be preparing for Thursday night because in essence, Division I-A college football has become a beauty pageant. The Evening gown segment, determined preseason rankings, the regular season constituted the swimwear portion and from there BCS judges selected their finalists. Suddenly Miss Boise, Idaho didn't look so sexy in a two piece next to Miss Austin, Texas. Fortunately, the BCS granted them the Congeniality Bowl to soften the blow.

Though the 17-10 score has been chalked up as a testament to the cream filling of the non-BCS conferences, last nights Georgia Tech-Iowa snooze fest has been described as a defensive chessmatch. And I mean snoozefest with the utmost respect, only because I literally slept through the final 20 minutes of the first half, FOX's Boise State color scheme halftime set, and incoherent rendition of their respective school songs.

The Broncos have outgrown Cinderella's glass slipper and are being fitted to hoist a crystal trophy. They are a mid major program, with momentum, national visibility, a history of success, a demanding schedule, stability at head coach and experienced returning starters. The offense is explosive and the defense is suffocating.

Their mascot may be an innocuous blue Bronco but in the conscience of the BCS they have evolved from a Cinderella story in 2006 into college football's Experiment 626 and the collective fears of the BCS rolled into one diminutive blue menacing figure. It has crash landed on the big stage and appears intent on staying. They were a cute story but not many expected them to grow this much. The tiny program from Idaho's insatiable appetites for more threatens the very fabric of the BCS' existence as they appear bent on destroying the final preconceived notions about the Football Bowl Subdivision.
Chris Peterson has finished 3 undefeated regular seasons in 4 years as Broncos head coach and boasts a 92% career winning percentage with 49 wins and 4 losses. Most impressively, he treats this job as his final destination instead of a layover before cashing in his Skymiles for the bright lights elsewhere. Boise State has graduated from being a trampoline program for head coaches. For Peterson greener pastures don't hold a candle to blue turf.

Quarterback Kellen Moore rides a 26-1 career win record and a 14 game winning streak into the 2010 season. Should he remain injury free, Moore should shatter Colt McCoy's win record in 2 years. If he duplicates 2009's 39-3 touchdown to interception ratio, the Heisman could arrive sooner.

Barring a surprise disbandment of the Boise State football program, Boise State will be awarded the highest pre-season ranking ever to a non-BCS program, surpassing the 14th ranked Boise State Broncos of 2009. My early predictions would have them behind, Ohio State, Virginia Tech, Iowa and Alabama in no particular order at #5.

However, it's Boise State's 2010 season that could alter the college football landscape thanks to a bevy of non-BCS party crashers over a 6 year period, an undefeated season and next season's serendipitous scheduling. Opportunity presents itself in the dawn of the second full decade for Boise State football's mid major experience.

Faced with an open date following a scheduled home game against Oregon State, the Broncos could have pulled the wool over our heads and scheduled a big name program on the decline or the Angola Prison Football All-Stars, which would have been a trendy upset pick in Vegas. Instead, the Blue Turf Smurfs announced a mid-season cross country road trip to Fed Ex Field against the Virginia Tech Hokies.

Coupled with Wyoming's double OT victory in the New Mexico Bowl in addition to Idaho's resurgence capped off by a miraculous victory in the Humanitarian Pageant and Boise State has the formula for the most improbable championship run since Abebe Bikali won consecutive Olympic Golds in the marathon--without shoes and dared to win a 3rd from his wheelchair. In the court of public opinion, Boise State is on the verge of delivering a landmark victory against the BCS.

The Florida Gators face an arduous task replacing Joe Haden, Carlos Dunlap, Brandon Spikes, as well as tightend, Aaron Hernandez who may bolt to the Draft and the graduation of Tim Tebow(who should, following the success of Michael Oher's biopic be played by Brendan Fraser in "Jump Pass: Faith & Tim Tebow's Hail Mary" by the end of the decade .)

Mack Brown's Texas Longhorns are vulnerable to rabid Big 12 opponents as they reload their young receiving corps, insert quarterback, Garrett Gilbert Gatorade's 2009 High School Player of the Year and search for a ground game. Conversely, the Broncos lose just one starter in highly coveted corner and return man, Kyle Wilson.

The looming obstacles to a dream season out of their control are a potentially undefeated Ohio State Buckeyes, Iowa Hawkeyes, Alabama Crimson Tide or USC Trojans. Just as Southerners are swooning over Alabama-Texas' title game, Midwesterner's probably dream of a potato and corn, Boise State-Iowa national championship(and I envision a Virginia Tech v. Penn State battle to bring the national championship to the northeast.

However, 13 pivotal Saturday's still stand between August and December's final BCS rankings for Boise State but the board has been set.

The Boise State Broncos are 2-0 in the Fiesta Bowl. It's only fitting that the 2011 Championship Game is scheduled to be held at Sun Devil Stadium, site of the Fiesta Bowl.
Coincidentally, the Fiesta Bowl was originally born after consecutive Western Athletic Conference champions Arizona State and Wyoming were snubbed by every single bowl. In 1970, the undefeated Sun Devils were bypassed by the major bowls, and in 1971 Arizona State outdueled Florida State in the inaugural Fiesta Bowl.

To echo Vince Young's 2005 Rose Bowl declaration, "Yes Sir, they'll be back." If the domino effect continues, it's realistic the WAC could witness it's champions snag a crystal trophy in the Bowl game they engineered 40 years earlier.

Slowly but surely, the BCS empire has been falling over the course of the decade. Urban Meyer's Utah Utes in 2004, Boise State's victory over Oklahoma in the 2007 Fiesta Bowl and Utah's slightly more impressive victory over #4 Alabama(which should retroactively earn them a 2008 split national championship) led the cause.
The Cold War between playoffs and the Pageant Bowl Series has been waged for a decade now and a playoff appears inevitable. The steps have been miniscule, however, it takes a slight wind in the South America to eventually form a hurricane over the Atlantic. 2010 is make or break for the future of non-BCS national championship contenders, and the 2010 Broncos hold the key to the floodgates. In 2010 there will be no excuses.