05:03 PM ET 08.26 |
How will the 2007 playoffs i'm gonna break down the contending teams and put them where I think they will end up; all the way to the 2007 WORLD SERIES................
THE NL CONTENDING TEAMS.........
Arizona Diamondbacks-leading the NL west by 2.0 games over the padres. They are 6.5 games up on the Rockies and Dodgers. The yougsters can play and they've been proving it the whole year. Watch out NL.
San Diego Padres- They are 2 games out, behind the d-backs. They have been on a tiny roll lately picking up 3 games on the NL west leading dbacks. They have the top to pitchers in ERA C. Young and J. Peavy respectivly....
Chicago Cubs- They are leading the Central by 1.5 games, lost tonight, but the brew crew did too..... they have one of the best 3rd basemens in baseball in ramirez. If they play right they can get to the playoffs.....
Milwaukee Brewers- They have been stumbling since the all star break. They aren't out of the race. They have the NL rookie of the year in Braun and Fielder can carry them. If they get hot watch out.
St. Louis Cardinals- Remember when they were counting this team out? well now they are only 3.0 games out, going 6-4 in there last 10 games. Albert has been on a tear sense the all-star break. Hey maybe the homerun derby actually helped a person for once.....
New York Mets- They have the most talent in the NL.. with Beltran, Wright, Reyes they have it all but along with their cross town rivals can't seem to get it together. If they get hot this team can be extemely dangerous. But they need to get things together first.
Atlanta Braves- Their new look isn't really helping losing 7 of their last 10 games. They need a big confidence boost. Being 7.0 back is a lot but if everything starts to click then watch out. If Edgar gets back and he plays like he did before he was injured they could be a threat, if the mets don't watch out.
Now the AL contending teams....
Boston Redsox- They hold the Majors best record and and don't seem to be slowing down. Going 7-3 in their last ten games. Increasing their lead over the yanks to now 6.5 games. They have a great pitching staff and do I really need to talk to you about the offense?? Lets just say most teams would love to have it.....
New York Yankees- Did i envision having them on my list 2 months ago. No i didn't but they are streaking since the all-star break and everyones hitting. I really hope that they don't get hot because they can outscore anyteam, let alone could BUY some teams... lol.....
Cleveland Indians- They are heating back up increasing their lead to 2.5 games over the struggling Tigers (3-7 in last ten games) Their bats are heating up as well.
Detroit tigers- THey are really realing but still only 2.5 games out so you can't count them out. If their relievers can pull it together now that they have most of them back then they might be able to get to the playoffs..
Minnesota Twins- How can you count any team out when you have Johan Santana pitching every 5th game. They have won 4 straight games and 7 of 10 games and they should win tomorrow against the O's who they routed 8-1 today.
LAAA- The angles are a great team with Vlad, Lackey, and many others they have Seattle on their heals only one game out but i think that they can hold them because they know what it takes down the stretch, 2002, when they won the WS.
Seattle Mariners- they are only 1 game behind the angles and are 2 games up on the Yanks for the WC. Ichiro is a tremendous player. Any team would want him and he is showing his worth to the M's. Watch out for the M's
Now where they will end up in the playoffs..........
NL first-----
NLDS-
D-Backs v.s. Cubs-D-backs win the NL west pretty easily... while the cubs win a nailbiter on the last day of the regular season and the north side of Chicago goes crazy.... Now for this series: The dbacks and cubs split the games at home and then comes game 5 back in ARIZONA. The dbacks behind brandon webb beat the cubs ending the Chicagos fans hopes at a WS title. ARIZONA MOVES ON TO NLCS
Mets v.s. the Padres: Mets win the East by 8 games after the phillies and braves only go backwards....while the Padres win the wildcard pretty easily by 3 games over the brew crew and cardinals.... Now to the series: Padres send Chris Young and Jake Peavy in games 1 and 2 and they pitch brilliantly and pull out the two games in New York. But the padres have no one else for the two games in SD, C. Y. still not healthy, can't go in game 4. The series moves back to NY where Peavy and John Maine square off in a extra inning game where the mets win with a walk off homer from beltran to redeme himself for striking out against the cardinals.
ALDS------
Boston v.s. Mariners: Boston holds on to lead against the yankees, while the yanks go down hill after everything falls apart...... Mariners hold on to win the Wild Card from the Tigers and Twins. Boston wins first 2 games of the series behind Josh Beckett and Dice-K. Mariners win game 3 at home but in game 4 Tim Wakefields Knuckler dances all around, the M's lose game 4 go Boston: Boston Moves on to ALCS
Angles v.s. Indians: Angles lose game 1 to Indians behind C.C. Sabathia shut-out. Game 2 behind John Lackey, Indians get roughed up and the series heads back to Cleveland for game 3 with the series all tied up......They both split in Cleveland and it moves back to California for game 5. C.C. Sabathia vs John Lackey; Its a nail bitter the whole game 1-1 until the bottom nine when the angles best player comes to the plate.......Vlad with 2 on and 2 outs he lines a single to shallow right and the runner on 2nd base scores on a VERY close play at the plate. Angles move on to ALCS
NLCS>>>>
Arizona Diamondbacks vs New York Mets: Game 1 in New York is a familiar place for Dbacks Brandon Webb, where he pitched his first game as a major leaguer, got the W, and does the same here. NL's CY award winner pitcher 8 inning of 4 hit ball and Valverde pitches the ninth for the save. Game 2 in NY Tom Glavine pitches like a HOFer and goes the distance, to even up the series. Back in the Desert the Mets can't stop Micah Owings on the mound or at the plate. Micah pitches 7 innings only giving up 1 run, while getting 2 hits a double and a single and driving in 3 runs. Mets pitching falls apart behind Olando Hernandez, his frisbee slider is more of a frisbee fastball and the Dbacks hitters tee off on it enroute to a 10-2 route of the mets. With the dbacks up 2 games to 1, Double D, Doug Davis is sent to the hill to try and give the Dbacks a comanding 3-1 game lead. He does and Eric Brynes leds the dbacks romp of the mets by hitting 2 homers driving in 5 and going 4-5. In game 5 the dbacks they send Webb back to the mound to shut the door against the usually resiliant Mets. Mets send John Maine to the hill but just like for most of the season, the pitching isn't consitent and the dbacks get 3 runs in the first inning. After that the dbacks score 2 more runs while the Mets can only scrape across 4 hits against the red hott Webb and co. Diamondbacks beat the mets in a redemtion game from 2000. Dbacks move on to WS....
ALCS>>>>
RedSox vs Angles: The AL CY award winner pitches in game one for Boston and gets the win even tho he gives up 4 runs, but the Sox offense lead by Big Papi, scores 7 runs on Escobar and game 1 goes to Boston. Game 2 same way Angles can't seem to stop the offense attack or Manny and Ortiz. Boston wins game 2 easily, sending the Angles home with a 2-0 defecit. Curt Schilling goes to the mound in game 3 and recongnizing that he can lead to Redsox back to another WS, pitches like his oldself, when he was w/ Arizona. Angles only get 1 run off of him and, again lose behind another offensive drilling by the Sox. Game 4 is even worse for Angles fans. They are sent packing within an hour of the game starting. Redsox score 9 runs in 3 innings and the crowd is as silent as a grave yard. RedSox Nation goes crazy after papelbon get the last 3 outs (he hadn't pitched in any of the games, they didn't want him to get rusty) in a 10-0 route. Redsox move on to WS versus the Diamondbacks.....
2007 World Series
Arizona Diamondbacks v.s. Boston Redsox
Bosox Nation is again rililed up for the possibilty of another title. While arizona is going for their second title in 6 years. Game 1: Brandon Webb against Josh Beckett the leagues CY award winners. This is a game for unexpected heros. Chris Young hits the second pitch of the game out over the green monster to give arizona the lead 1-0. After Coco Crisp strikes out, Webby hangs a sinker and Julio Lugo smashes it opposite field for a Solo shot. After all of that, it stays tied until the top of the 9th when Mr. Clutch, Tony Clark steps to the plate with a runner on and 2 outs and drills the ball to the triangle out in dead center, Crisp dives for the ball but can't come up with it and the dbacks take the lead. Now bottom 9 comes and Valverde does his usual, get runners on and makes it interesting. But as he usually does he gets out of it, with a fly ball to the green monster that Brynes catches. Game 1 goes to the dbacks. Game 2 is totally different then game 1 the Sox come out and just smash the ball all over the field enroute to a 12-3 game that the Sox win. Game 3: Back in the Desert, the dbacks are showing earlier than most people thought about how good their young players are. In this game its all about the rookies. Owings pitches a good ball game 3 runs in 6 innings. While handing the ball to the best 7-8-9 in baseball. Peña, Lyon, Valverde. Dbacks get another lead off homer from CY (chris young) and Justin Upton shows his promise to this team hitting a homer and driving in 4 runs, for a dbacks 6-3 win to take a 2-1 series lead. Game 4: After their game 3 win all momentum is with the dbacks, but Boston sends a familiar face to the mound in Curt Schilling , hoping to reenact his dominant 2001 WS. He does, he shuts down the Snakes to even this series up at 2 games apiece. Game 5: Brandon Webb Goes against Dice-K and they both pitch very good, but like earlier in the season, the dbacks get runs early and Dice-K is shaken and is pulled in the top of the 7th after giving up 5 runs and losing 5-2. Webb doesn't run into any trouble until the 8th inning when 2 get on with manny up and only 1 out. What happened next is all to familiar to the dbacks when webb is on the mound. Throws the best sinker in baseball, and with manny trying to drive the ball, he rolls, over it and its a 5-4-3 double play to get out of the jam. After that all hope in a win is extinguished and dbacks get a 1-2-3 ninth for a comanding 3-2 going back East. Game 6: Boston goes with 18 game winner Tim Wakefield and 'Zona has no clue what is going on, whiffing at the knuckleballs, Manny hits 2 homers, and Dustin Pendroia drives in 3 runs, for a 6-0 Boston shutout. Game 7: Arizona sends B. Webb on 3 days rest while Boston sends Beckett. This should be a very entertaining game and it is. There are very few baserunners, because Webby and Beckett are firing on all cylinders, until the 7 inning. Beckett shows his weakness, pitching at home, having over a 4.00 ERA and giving up 2 runs on a 2-run homer by Eric Byrnes. Webb on the other hand has below a 3.00 era on the road and goes 7 strong innings only giving up 1 run, bottom of the 7th he gives up back-to-back doubles. The redsox sends Eric Gange into the game, and he falters giving up two base hits and then a triple to J-Up (justin upton) which puts Arizona on top,4-1. Brandon Lyon comes into pitch the bottom of the 8th inning and shows why hes baseballs best setup man. He gives up a basehit to Cora, but then Pedroia grounds into a double-play. Then with Manny up and a 3 run lead, he hits it to the triangle, 420+ feet to dead center and the athletic Young runs it down, at the wall. Redsox bring in papelbon, not affording to give up anymore runs this innging and none more come in so now we go to the BOTTOM OF THE 9TH, Arizona leading 4-1. Due up are David Oritz, Kevin Youkilis, and J.D. Drew. Ortiz hits the first pitch, past the shift into the corner in right field, but being as slow as he is isn't able to get to 2nd base, so he holds there for a single. Next hitter, Kevin, gets to a 2-2 count and dribbles a soft ground ball to SS, stephen Drew and he is only able to get Youkilis at first. So runner at second and 1 out and Drew is up. The first pitch, Valverde hangs a splitter and Drew crushes it into the night, to make the score 4-3. Next batter is Pedroia and he strikes out on 3 fastballs all over 95 mph. The last hope is the captain, Jason Varitek. The Underdog Dbacks are only 1 out away from pulling another remarkable win, just like they did against the yankees. Not even supposed to be even in contention, is in the WS. With Varitek up and 2 out and no one on, he takes a ball and strike. Then Valverde rears back and throws a 98 mph fastball that varitek gets under and pops it up to the first baseman Conor Jackson, its high and drifting foul. But theres just enough room for him to be able to catch it and the team goes wild. The arizona diamondbacks, the team with almost all rookies, wins the WS.
Now you may be think, wow, where did u pull this out of but this is a very possible ending. They did it against the Yanks and Many ESPN anaylsts have them going this far......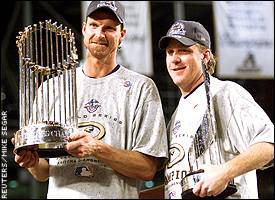 hope u liked it please put down your thoughts