03:17 PM ET 01.22 |
It's been an ideal season for the son of All-Pro athletes or coaching legends.

Rex Ryan, the son of the father of the 46 Defense, which technically makes him an older sibling of the 46 Defense, closes out a promising rookie season in a 3 way tie for he winningest playoff coach in Jets history.
Skip Holtz, the son of Lou Holtz was relocated from Greenville North Carolina to a tropical utopia and recruiting hotbed in South Florida on Thursday. And in typical South Florida tradition, the outdoor winter introductory press conference had a tropical pep rally theme.
On Friday, Derek Dooley followed in his father, Vince Dooley's footsteps to the SEC .
The apple didn't fall far from the tree. However, it rolled to neighboring rival Tennessee and filled in the Vols head coaching vacancy.
However, for every Lane and Monte Kiffin type father son partnership predicated on the Sanford and Son model there's a Jimmy Walker-Jalen Rose relationship.

Peyton and Kobe are the prototypical sons of pros who vastly outperformed their father although his father played out his journeyman career with the stigma of "Jellybean" as his nickname.
In Archie's defense, he was a better individual quarterback than Terry Bradshaw. In the coming years, the next generation of athletes with distinctive surnames will carve out their own legacy or leave an annoying smudge in the record books.

By the conclusion of his freshman year in high school, running back Barry Sanders Jr. was turning heads, and twisting ankles with lightning quick moves and highlight reel runs. Now a sophomore, Barry Jr.'s elusive running, balance and quick cutting style has stirred the memories of Barry Sr.

However, it's the impressive son of a currently underappreciated NFL running back that's on pace to reboot high school records. Fred Taylor's son, Kelvin Taylor has been playing varsity since 8th Grade and was awarded the coveted National Freshman of the Year. As a freshman, Kelvin Taylor rushed for 2,597 yards and 47 touchdowns on 295 carries. In 4 playoff games, Taylor navigated the field like a PacMan arcade, gobbling up 1,158 yards and 19 scores. At the conclusion of his freshman campaign his career totals equal, 4,234 yards and 76 touchdowns. At this injury free pace, Taylor will shatter Mike Hart's national high school rushing touchdown record with a season of eligibility to spare.

On the collegiate level, Washington Huskies quarterback, Jake Locker returned for his senior season where he'll likely stand between Nick Montana and the starting position. After following Jimmy Clausen as the starting quarterback for Oak Christian Hills, Montana threw for 2,404 yards, 33 touchdowns and 7 interceptions on an offense that averaged 48 points per game. In the transition into the 2010 season, Montana's understudy Trevor Gretzky becomes the starter next fall and Trey Smith, son of self purported [I Am] Legend, Will Smith becomes the go to receiver.
Guard Marcus Jordan, kin of basketball royalty is still finding his sea legs averaging 6 points a game in half a season at Central Florida. However, his biggest impact has been in the shoe department where Jordan cost the school $3 million shoe contract with ADIDAS over his refusal to snip the umbilical cord with the Jordan Brand.

And although he never approached Jordan's impact as a player, Doc Rivers son Austin Rivers will have the bigger impact on the court. At 6'4, Rivers is rated the No. 2 ranked junior in the nation but already commited to Florida.

At the head of the Cooper Manning division of the DNA helix, are an Elway, Montana and Jordan. Arizona State quarterback Jack Elway walked away from football 2 years ago. Jeffrey Jordan passed on the heir apparent's throne only to return to Illinois' basketball program in the summer. Walk on, quarterback Nate Montana was also lured back by the echoes of Rockne, Gipper and his father's legacy at Notre Dame. After a year long sabattical, the Comeback Kid 's son returned to the Fighting Irish roster.

The head coaching fraternity is also accepting a few legacy candidates. Brian Schottenheimer has been an unimaginative yet effective offensive schemer but his last name has popped up in Buffalo and nearly earned him the marquee Jets position last January.

Mike Shanahan's hiring in Washington was another high profile hire in a succession that included Steve Spurrier, Marty Schottenheimer and the resurrection of Joe Gibbs. However, the Washington staff will include Texans offensive coordinator Kyle Shanahan.

Shanahan began his meteoric ascension after getting named wide receivers coach in 2006 and in 2008, the Texans promoted Shanahan to make him the youngest offensive coordinator in the NFL at the age of 28.

On the college hardwood Pat Knight led the Red Raiders to a 9-0 start to the regular season with a more affable relationship with his players, fans and the media. A few namesakes of the 90's superstars are bringing their game into the 21st century. Next season Alabama has secured a commitment from Shawn Kemp Jr. and Michigan is anticipating guard Tim Hardaway Jr. but won't suit up Juwan Howard Jr. who is en route to Western Michigan.

The Favre family may even extend their 20 years of iconic. Although he's 6 degrees of DNA from his uncle, Brett, Dylan Favre is arguably the most intriguing college football freshman for the next 4-5 years. Much like Brett, Dylan Favre was lightly recruited as a quaprterback by BCS conference programs. Despite passing for 63 touchdowns, 5,589 yards and rushing for 1,265 yards as well as 18 touchdowns Mississippi's reigning Mr. Football was coveted as a defensive back or safety.

However, as a 5'll dual threat in the spread offense era, Dylan has a very different skill set than Uncle Brett, although he could sprout a few inches. After a reshirt and 4 seasons at Mississippi State, Dylan can someday backup Brett Favre with the Vikings. Fortunately, Mississippi State head coach Dan Mullen gambled on a scholarship for Favre 1.5. This gives the offensive coordinator who spent 3 years grooming Tim Tebow an opportunity to put a Favre under center in his shotgun spread offense.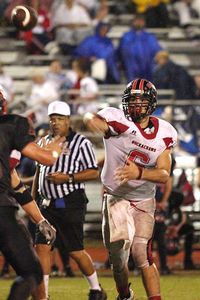 As anticipated as the future T.J. Kidd NBA debut will be, odds are the next great son of an athlete won't come from this batch. Chances are he'll be Devean George's and we'll all be giving the 2020 NBA Draft the Lebron James treatment as the arrival of King George.