11:18 AM ET 01.30 |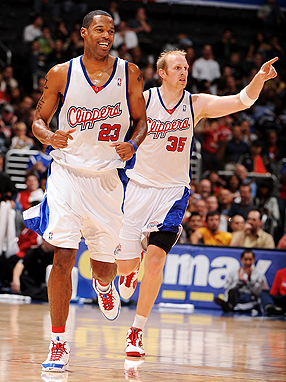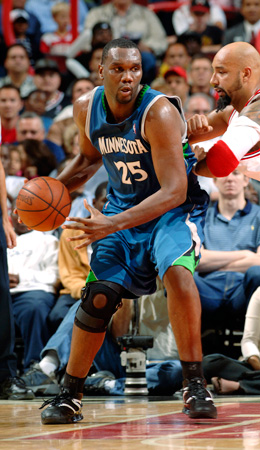 Last week, Jerry West, the NBA logo suggested what we already knew, expansion has created parity but has also spread mediocrity amongst NBA's competition.
The 1988 season was the source of the Big Bang which would dump 6 adopted franchises on the league. Miami and Orlando have been the only expansion organization to flourish in the Sunshine State, and have been prime destinations for sun loving free agents.
8 years later, Vancouver and Toronto were granted league citizenship.
The Coangelo's have kept Toronto competitive meanwhile, Vancouver Grizzlies were a major miscalculation compounded by terrible management. Since the end of the 80's and what afficionados would consider the height of the NBA, the league has expanded by 25%. Thats's over 84 players added to a 276 player league! Kevin Martin woud be the equivalent to Byron Scott in the 80's. Instead he's the oxygen tank for a floudering offense.
Flashforward to 2010 and most of these franchises are either still living in the basement or have branched out and started their own legacies.
During the playoffs the most underwhelming franchises of the two decades since will partake in an elimination tournament of the most literal kind. I'm talking AAU rules. One night, single elimination, lock the gymdoors, televise the revolution. 9 teams enter the den, only 1 returns.

The winner of the tournament survives contraction and gets whisked to Las Vegas where their new owner will be determined from the winner of a randomly placed slot machine somewhere on the Strip. As a result of this franchise death penalty, a few players will automatically enter the first ever Contraction Draft.
The participants include the Nets, Bobcats, Bucks, Clippers, Grizzlies, T-Wolves, Hornets, Pacers and Kings. If this tournament were to take place at the All-Star break, popular sentiment is that the Charlotte Bobcats would edge the ex-Charlotte Hornets in the Survivor Finals brought to you by irony.

Ironically, contraction would put Jerry West out of a job.

Alternatively, the Bucks have been reeling from the loss of Lew Alcindor for 40 years. The Thunder are safe because they still carry Seattle's history with them and the Nets new Russian owner keeps them in New Jersey as the first international acquisition to the Russian Super League. Minnesota resides in football country, Indiana's basketball loyalty lies with the Hoosiers and the dysfuntional Clippers probably couldn't go deep into college basketball's NIT. Charlotte migrated to New Orleans where management is again gutting the roster.

If I had to predict the winner of this (fictional) tournament, the Las Vegas Bobcats just feels right. After dispatching the Hornets to the basketball afterlife, I could see the Bobcats attracting 20,000 a night and a hotter destination for free agents than Charlotte. In North Carolina, NBA players rank third on the VIP list behind the Carolina Panthers, UNC Tar Heels and the Duke lacrosse team.

The pool of free agents as a result of this contraction include Zach Randolph, Baron Davis, Zach Randolph, Blake Griffin, Al Jefferson, Brandon Jennings, Michael Redd and frees Chris Paul from his New Orleans waterloo.

1. Warriors- Al Jefferson
Al Jefferson melted 31 pounds in the off-season maintaining his strength and now has the physical endurance to thrive in Don Nelson's up tempo offense.
Golden State is the NBA's worst rebounding squad and allow the most offensive rebounds in the league. Jefferson would be the solution they thought they had in Brandan Wright and Anthony Randolph.

2. 76ers- Chris Paul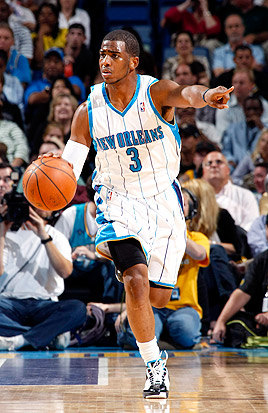 Elton Brand, Andre Iguodala, Lou Williams, Samuel Dalembert, Thaddeus Young and Allen Iverson have mustered a pedestrian 15-31 record good for 2nd worst in the East. These 76ers are simply a eclectic collection of athletes but a point guard of Paul's caliber could be the glue to bring clarity to their collage of talent.

3. Wizards- Blake Griffin

Assuming Gilbert Arenas returns to the Wizards which I believe he will barring a lucrative buyout, the Wizards need a true low post threat. (If the Wizards can acquire a point guard to take the decision making out of Gil's hands, he can return to All-Star form. Griffin is the total package of potential. He's athletic, strong, an instinctive rebounder but undersized by NBA standards. Essentially, his upside is that of a more disciplined Charles Barkley but 3 inches taller or a more athletic Carlos Boozer. If Dwight Howard were the Lebron of post players, Blake Griffin is Dwyane Wade.

4. Pistons- Zach Randolph
Zach Randolph's reputation has taken a bludgeoning in recent years. However, the Pistons have made it a habit of reforming enigmatic power forwards(see Rasheed Wallace and Bill Laimbeer). Fortunately, Z-Bo has found his niche in Memphis where he's been named an All-Star reserve after a couple troubling stints in L.A. and New York where his brilliant play was overshadowed by turmoil on and off the court. This season, Randolph is tied with Toronto's Chris Bosh for the league lead with 10 games with at least 20 points and 15 rebounds.

5. Knicks- Brandon Jennings
Mike D'Antoni values dynamic point guards and Jennings has displayed an innate ability to double, doubles and hasn't even tapped the peak of his potential. Chris Duhon and Larry Hughes don't mesh with the system and Nate Robinson apparently agitated D'Antoni in a past life.
Not only would Jennings be their point guard for the next decade, but he would be the point man in their pitch to Lebron in the summer of 2010.
Jennings is the type of point guard D'Antoni covets. On any given night, he can explode for 20 points, or dish 15 helpers to starving scorers.

6. Bulls- Tyreke Evans
Had Rose stuck around for a sophomore season, he and Evans would have been teammates. Together with Derrick Rose, Joakim Noah, Luol Deng and Taj Gibson the Bulls have their best nucleus of the post-Jordan, which now officially ranks as the second longest era in NBA history.
The longest era is the post-Alcindor Milwaukee Bucks era which is now in it's 4th decade. Chicago has missed guard Ben Gordon's 20 points a night. Evans handles the point guard responsibilities but like Portland's Brandon Roy would be much more effective with Rose taking over the ball handling duties.

7. Raptors- rights to Ricky Rubio
Rubio declined his plane ticket to Minnesota, however Toronto is an international city that is more appealing to foreign born players. The Raptors have so many languages in their locker room their translator may receive votes for 6th man of the year. It wouldn't surprise me if they took their next coaching search overseas.
Rubio may look like Harry Potter in gym shorts but the Spaniard is a magician with Spalding in his hands. Fellow Spaniard Jose Calderon is currently piloting the Raptors offense, however, he's not an elite distributor like Rubio.

8. Heat- Brook Lopez
Jermaine O'Neal's stint in Miami has been an expected boondoggle. When 6'9 journeyman, Joel Anthony is perhaps your best center, it's time to look at some other options. With Wade expected to test the free agent market, the addition of a young, versatile 7 footer with inside post up and outside scoring capabilities like Lopez would bolster the Miami frontcourt.

9. Bobcats- OJ Mayo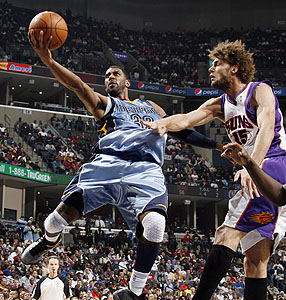 The Bobcats are creeping into the playoffs, however, Stephen Jackson in Vegas is akin to playing hackey sack with a grenade. At 31, I'm not sure how much longer Jackson's improbable career can continue at this pace. Mayo is a versatile 6-4 combo guard that would join Gerald Wallace, Tyson Chandler and Stephen Jackson to form the most athletic lineup in the NBA.

10. Rockets- Rudy Gay
When Yao returns in the 2010-11 season, the Rockets could use an athlete like Gay to kick start Rick Adelman's up tempo offense while maintaining their defensive edge. Plus, the Rockets get a second chance at the forward they drafted and shipped away on Draft night in 2006.

11. Jazz- Marc Gasol
The Jazz offense is purring like Miles Davis' Birth of the Cool but the defense has sputtered at times like a 5th Grade band recital. Mehmet Okur isn't renowned for his cupcake post presence on offense or defense and Boozer is a regular in worst defender in the League conversations.
Aside from the last name Marc Gasol is a much more physical defender than this lanky older brother Pau Gasol.

12. Thunder- Chris Kaman
The Thunder have the pieces to eventually become Western Conference supremacy and a center like Kaman would put them on an accelerated track to contention in the Left Coast Conference. Kaman has been criminally underappreciated in Clipper Land and would be the rebounder and shotblocker in the post Oklahoma sorely needs.

13. Suns- Danny Granger
If the Suns do indeed trade Stoudemire, it likely marks a new era for the Phoenix Suns. Granger is a wing scorer whose gone unnoticed with Indiana but should see his Sportcenter profile increase with a move to Phoenix's up tempo offense.

14. Blazers- Devin Harris
Jerryd Bayless may be the Blazers point guard in waiting but Devin Harris is a proven starter with solid defensive savvy, blinding quickness, and excellent court vision. Since day one of his pro career, Devin Harris has been an involuntary NBA mercenary. Basketball's Olive Twist, if you will. On draft day Harris was immediately traded by the Wizards to the Mavs and 3 years later, he was traded for an aging Jason Kidd.
His current employer, New Jersey is eyeing freshman John Wall with the 1st overall pick and are entertaining offers from the Los Angeles Lakers. Harris nearly became a Blazer in a 3 way trade which Devean George nixed in 2008.
15. Spurs- Kevin Martin
Tyreke Evans' emergence in Sacramento has made Martin the odd man out in Sacramento. This season, the Spurs age have struggled to score in the second half and Richard Jefferson hasn't been the 3rd scorer they assumed he'd be. On an offense void of a potent scorer at shooting the offense needs an explosive playmaker who can record 20-25 points a night.

16. Magic- David West
Picking up West from the Hornets presents Orlando with a true power forward and allows Rashard Lewis to roam back to his natural position as a small forward.

17. Hawks- Andrew Bogut
The Hawks collection of athletes has finally gelled into a cohesive unit. However, Al Horford is at a size disadvantage guarding opposing centers on a regular basis. Bogut is a 7 footer who can run the floor with Mike Woodson's Hawks and open their offense. This season, Bogut has averaged 16.0 ppg, 10.2 rpg, 2.2 bpg in relative Wisconsin anonymity. At this point, the Hawks have surpassed the Celtics and Magic as the second best team in the East, and the addition of Bogut could make an Atlanta Eastern Conference title dream a reality.
18. Nuggets- Marcus Camby
Sometimes fate answers your call. A week after Carmelo acknowledged wanting Marcus Camby to return to the Nugget roster, the former Defensive Player of the Year triumphantly returns to a much improved Denver team. Last week at age 34, Camby became the oldest player to snag 25 plus rebounds in one game and is averaging .

19. Mavericks- Kevin Love
Love has proven to be an excellent passer from the post however, Love is more valuable to Denver for his outside shooting range, efficient free throw shooting and rebounding prowess. Love would instantly be the Kevin McHale to Nowitzky's Bird-like versatilty.

20. Celtics- Baron Davis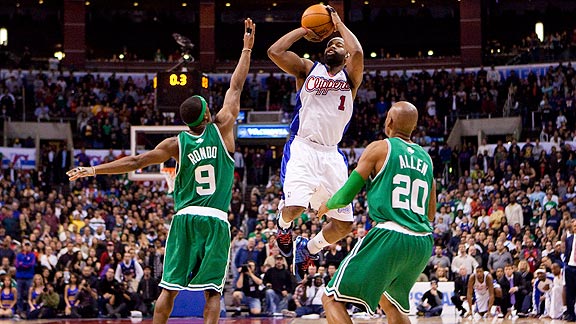 Ray Allen, Kevin Garnett and Paul Pierce's mummified remains are still on nightly display despite getting prematurely fit for their respectivetombs. Their most glaring weakness right now is backup point guard so Davis would have to accept a 6th man role as the Celtics brace for potentially, their final post season championship stretch.

21. Cavs- Troy Murphy
The acquisition of the Indiana forward would give Shaq, the spacing to operate in the post, and spread defenses for Lebron to penetrate and dish. However, if Stoudemire becomes a Cav(which essentially clogs the lane when when he's on the floor with Shaq), Cleveland may extricate Eric Gordon.

22. Lakers- Jonny Flynn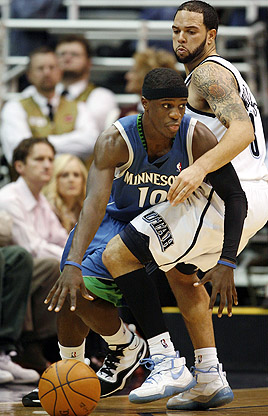 Derek Fisher is clearly in his final season as a starter for the Los Angeles Lakers and Jonny Flynn has shown promise for the struggling TWolves. The Lakers already have a surplus of size on the floor and at point guard but Flynn delivers a quicker, younger option at point guard.