10:57 PM ET 03.23 |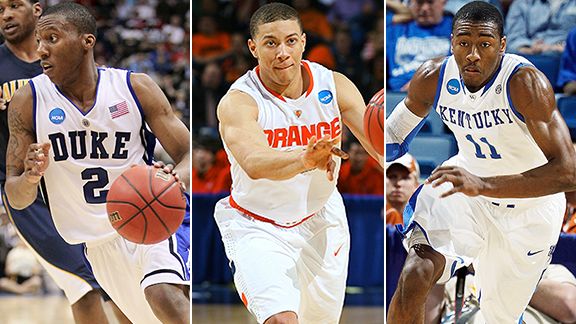 Just when I gets back in the swing of college basketball, it's time for the seesaw. As we set for the table for 16 guests who will enter our homes next week, I've outlined things that stood out for all the winners and a few of the guests who won't make the trip. Kansas and Northern Iowa introduced a new theory and phrase into the sports lexicon. The Andy Dufresne and the Kamikazi Theory.
One lesson has become obvious, the only true upset left is if the UConn women could Billie Jean King the NIT champion in a charity exhibition.

(14) Ohio Bobcats- What we learned: Freshman D.J. Cooper played like Stephen Curry circa 2007, in Ohio's rout of Georgetown(which has become accustomed to upsets, see: 1985 title game defeat to 8 seed Villanova). Another small shooter who made his name in a big tournament upset, Cooper drained 39 points in 2 games, including 23 in a upset of the Hoyas.

(11) Minnesota Golden Gophers- Tubby Smith is the anti-Rick Barnes. Where Rick Barnes excels in recruiting with Texas' massive resources, Tubby Smith lacks in personality and pizazz.
However, Tubby dwarfs Rick Barnes in scheming X's and O's. Given the appropriate resources Tubby Smith could do some damage on the recruiting trail. Which is why he'd be crazy not to jump on the vacancies at Oregon's Nike campus or Auburn. Finding similar success at Minnesota is about as likely as Witness Protection setting a mob informant up with a new identity as a CNN reporter.

(10) Florida Gators- What We Learned: Fortunes have reversed for Donovan, who in hindsight probably should have chosen to coach the Orlando Magic 3 summers ago. Billy Donovan made his first return trip to the Tourney since dabbling in the NBA for a couple days. Roy Williams went from annual Final Four reservations to the soup line outside the NIT in one season but haven't received nearly as much of a grace period as Billy Donovan.

(10) Georgia Tech Yellow Jackets- What We Learned: Glen Rice Jr. is nott his father. Moment of the game came when the play by play announcer reminisced about Glen Rice having one of the sweetest strokes he'd ever seen--just before 58% FT shooter, Glen Rice Jr. clanked consecutive free throws

(8) Gonzaga Bulldogs- What We Learned: Mark Few has worked miracles aided with the talent eqivalent of five loaves and two fish with private Catholic mid-major Gonzaga, but the only way he'll ever lead 12 disciples to the promised land is by considering Oregon's vacancy.

(8) Texas Longhorns- I'm going to continue my continuous barrage against Rick Barnes, I began after the Longhorns fell out of the Top 10 last month. Texas Longhorn basjetball should be on equal footing with the likes of Duke, UNC, Kentucky and Kansas. If you gave Bruce Pearl Texas' facilities and budget, they'd be forced to splurge on a new $40 million, 50,000 seat trophy case. The program has risen under Barne's to unprecedented success but there's one more level to go and I'm not sure Barnes can take them there.

(7) BYU Cougars- What We Learned: Jimmer Fredette, is the most explosive scorer in college basketball. The Cougars uptempo offense sprinted into the NCAA Tournament with the 2nd highest scoring offense in college basketball and arguably the best player outside the major conferences in junior guard Jimmer Fredette. Fredette averaged 21 points per game and erupted for 45 points, aided by 23 of 24 made free throws against TCU in the Mountain West Conference Tournament.
Fredette unleashed a 49 point barrage in a 99-69 victory over Pac-10 powerhouse Arizona thanks in part to Fredette sinking 9 of 13 treys from behind the arch. Fredette continued his siege with a 37 point outing in a double overtime bout with the Florida Gators. Fredette muster 21 points in the Cougars loss to Kansas State but the defense could not wrangle the Wildcats.

(3) New Mexico Lobos- What We Learned: With only one senior on the roster, if Hobson forsakes the NBA and the Lobos integrate heralded 6'10 recruit Alex Kirk as well as UCLA transfer, Drew Gordon into the mix next season, Alford will emerge next winter with Final Four expectations.
2010's big-time mid major wouldn't be here without Steve Alford's lateral career move. After resigning from the University of Iowa's basketball wasteland, Witness Protection whisked Alford to anononymity in New Mexico in what appeared to be a self inflicted demotion. 3 years later, at the culmination of a 28-3 regular season, the Lobos rose to an 8th overall ranking. Junior swingman Darington Hobson, the Mountain West Conference's Player of the Year is the only player outside oof Evan Turner to average 15 points, 9 rebounds and 4 assists this season.

(3) Georgetown Hoyas- What We learned: Unfortunately, for Georgetown, Pete Carrill never invented the Princeton Defense. The 93 points they surrendered to Ohio was the most points a team seeded No. 1 through No. 4 has given up in the first round since the tournament expanded to 64 teams.

Behind Cole Aldrich and DeMarcus Cousins, Greg Monroe Monroe is college basketball's best all around center. Evan Turner will receive Player of the Year honors thanks to his point-forward versatility however, 6'11 Greg Monroe's combination of size, shooting range, vision and passing acumen make him the ultimate point-center in the 3rd'(John Thompson) Princeton offense. Monroe has the ability to pick up a loose ball on the defense end and dribble it coast to coast past defenders into the lane for two points. Monroe's versatility allowed Chris Wright to operate as more of a scorer than a point guard. I looked forward to Monroe blowing by Cole Aldrich to the cylinder en route to the Final Four. I'll have to save that thought for the NBA or next season, consider neither player has claimed interest in the NBA.

This unit had more talent than the 2007 Final Four unit led by Roy Hibbert, Jeff Green and DaJuan Summers. That was until the Hoyas strapped themselves with explosives, walked out onto the floor handed Ohio the detonator and splattered Greg Monroe, Chris Wright and Austin Freeman all over my bracket. I'm still waiting for the 3rd half to begin. The Princeton Offense, however, must be scrapped for Georgetown to fully realize it's full potential .


(1) Kansas Jayhawks- What we learned: Well, it affirmed my notion that Cole Aldrich was one of the most overrated players in college basketball. He's so far ahead of the field Usain Bolt couldn't catch him on a moving walkway. He's a projected lottery pick thats never had a defining moment or a statement game. In the meantime, Bill Self is developing a reputation as college basketball's Les Miles.

(12) Cornell Big Red- According to Jay Bilas, who projected the Big Red advancing to the Elite 8 before the tournament, meaning the intelligent pick is for an Ivy League upstart to create martial law in college basketball by pulling a grand upset of the Big Blue, Kentucky Wildcats. Cornell has experience against competition after putting the #1 ranked Jayhawks on their heels in a 66-71 loss in January. Cornell broke the seal on Penn and Princeton's half a century of Ivy League dominance with 3 consecutive conference championships. Cornell Forward Ryan Wittman has been the offensive impetus behind Cornell's run. Cornell lives dangerously by the 3 pointer, having taken more than any team coming into the tourney. After averaging 81 points per game on 2 of the top 4 most suffocating defenses in college basketball, the Big Red prep for the highest scoring team in the tournament. Cornell versue Kentucky summarizes the current dilemma for college basketball recruiters between rolling the dice on uber talented, but immature one and done players or investing in 4 year student athletes.

(11) Washington Huskies- What We Learned: The 2nd lowest seeded Cinderella left in the tournament isn't a mid-major. We probably should have seen this coming considering the Huskies have won 14 of their last 16, including 9 straight en route to winning the Pac-10 Tournament. Defenders often don't see guard 5'9 Isaiah Thomas coming either because of his diminutive size or blazing speed and routinely takes advantage of his low center of gravity to the tune of 17 points a night. However, projected 1st round pick Quincy Pointdexter has used the tournament as a personal Show N' Tell for NBA scouts.

(10) Saint Mary's Gaels- What We Learned: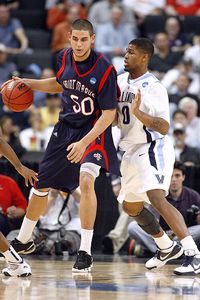 The Sandman is building quite a Draft portfolio, but don't don't sleep on him. Five of the Gaels' top seven players are from Australia on a unit that lost sophomore guard Patty Mills to the NBA and might not be as good as last year's. But I digress...
Omar Samhan, who is Irish and Egyptian entered the tournament as 1 of 2 players to average 20 and 10 in the regular season. In the WCC Championship against Gonzaga, Samhan scored 9 points but earned his scholarship on the defensive end with 6 blocks. Samhan's 29 and 12 performance against Richmond propelled the Gaels into a Saturday meeting with the 2nd seeded Wildcats. But Samhan's 32 and 7 against Villanova was a masterpiece.
Samhan has been undisputed Most Valuable Player of March Madness' first week. In the second half against Nova, Samhan received the ball in the post on every single play. In a game that's phased out post players in recent years, I can't remember the last time a singular collegiate center, was so integral to a team's success.
The win wasn't without it's fair share of luck and contributions from other Gaels. In the final 4 minutes, with the score tied at 61, St. Mary's guard, Matthew Dellavedova slipped to the floor on his behind, kept his dribble alive and as a Villanova defender dove for the ball, twisted in the opposite direction, got up stopped on a dime and drained a 3 pointer.
With the score tied at 65- Mickey McConnell heaved a high arching 3 point prayer into the clouds and it returned from the nosebleeds with an unlikely kiss off the glass.
But alas, it was Omar Samhan who put the finishing touches on the upset by rejecting Nova's senior guard Scottie Reynolds on a layup attempt with under a minute to go.

(9) Northern Iowa Panthers- What We Learned: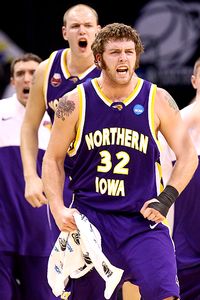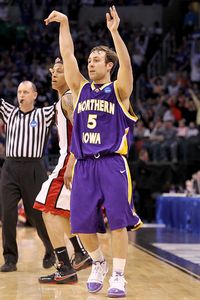 Future lottery pick Al-Farouq Aminu of Wake Forest led the nation in mispronounciations until fellow 9 seeder Northern Iowa introduced the country to Ali Farokhmanesh.
Luckily for us all, Lucas O'Rear's thick sideburns survive to grow another day. There's a thin line between wins and losses and UNI teetered the line last week. That line was the 3 point arch.
In a less heralded matchup against 8th seed UNLV on Thursday, Farokhmanesh drained a 3 pointer to put the Panthers ahead 66-69 with 4.8 seconds remaining. The shot was nearly identical to Maurice Newby's 3 pointer to beat Missouri with 4 seconds left in 1990.


After going up 12, Kansas began pressing the Panthers full-time and gradually began chipping at the lead like Andy Dufresne. (This game was our introduction of Andy Dufresne to the sports lexicon.)
On both ends of the floor, UNI was physically overmatched but they compensated by flying around the court with reckless abandon of a unit on a kamikaze mission. While Kansas' full throttle press pulled them within a single point, the Panthers broke free to find Farokhmanesh on a 2 on 1 fast break. Instead of driving or waiting for the offense catch up "The Farok"hestitated until the Holy Ghost entered his soul prompting Farokhmanesh to rise up and nail a dagger to put Northern Iowa up 4.
On the ensuing play, Jake Cook hammered the nail into the Jayhawks open casket funeral by taking a charge. Great win for the Northern Iowa Kamikaze Bombers.
The Kamakazi Theory is simple. Every tournament the higher seeds usually prep for a long toournament, while lower seeds and mid-majors are satisfied with assassinating everyone's bracket. One team's mission is to stay alive for 30 or more days while the other doesn't expect to live past the weekend. UNI knew from the tip off they'd have to throw their bodies around like live grenades to pull it out. Kansas came in expecting a tough sparring session, not a steel cage match to the death.

(6) Tennessee Vols- I'm Just going to come out and say it--can Bruce Pearl make a deeper run than Pat Summitt this year with a no-name bunch?

(6) Xavier Musketeers- What We Learned: Surprisingly, shooting guard Jordan Crawford who gained notoriety as the centerpiece amidst the coverup of a grainy, out of focus Zapruder film featuring his two handed slam on Lebron James, has been largely ignored in conversations surrounding the tournament. He shouldn't have been. The way he's played in this tournament and all season long, Nike won't have the authority to confiscate his highlights because NBA TV will be recording their next meeting. The junior who averaged 20 points per game has posted 27 then 28 points respectively against Minnesota and Pittsburgh. In the Sweet 16, Crawford will face his greatest test in a clash with 2nd seeded Kansas State. The date will nearly coincide 7 years to the day, Dwyane Wade, led 3 seed Marquette past 2 seed Pittsburgh into the Elite Eight where they blew by #1 seed Kentucky, into the Final Four.

(5) Michigan State Spartans- Without Kalin Lucas(who shouldn't be confused with Jai Lucas of Texas), the Spartans nearly collapsed against Marylandand are now on an even footing with their Sweet 16 opponent, St. Mary's.

(5) Butler Bulldogs- One reason, I liked the Bulldogs was because of their 20 game winning streak heading into the tournament, yet UTEP was the popular pick to upset the Bulldogs for reasons I don't quite understand. I anticipate the Bulldogs taking a bite out of the Orange and advance to the Elite Eight. However, Butler's two wins have coming against a pair of 12 and 13 seeds.

(4) Purdue Boilmakers- What We Learned: Without Robbie Hummell, the Boilmakers are one of those teams assembled with more glue guys than a 3rd grade art class led by center JaJuan Johnson and guard E'Twaun Moore. However, 2-time Big 10 Defensive Player of the Year, Chris Kramer is the stickiest defender in the Big 10.

(3) Baylor Bears- What We Learned: Just imagine how dangerous they'd be if 6'8 Lady Bear, Brittney Griner could moonlight as a power forward. The 3 seeds include two of the ascending stars of the coaching ranks in Baylor's Scott Drew and Steve Alford(below). Drew was awarded Baylor's head coaching job after the murder of Patrick Dennehy by his teammate, the ensuing mess which enveloped head coach Dave Bliss and blemished the program. After the NCAA's violations expired, Drew led the Bears to an NCAA tournament at large bid in 2008 and an NIT Final last season behind the on-court leadership of 2006 High School All-American, Tweety Carter, the most prolific high school basketball scorer--of all time.

(2) West Virginia Mountaineers- Forwards Da'Sean Butler, Devin Ebanks and underappreciated Kevin Jones are a balanced triumvirate. Butler leads the team in scoring, steals and hit his fifth and sixth game winning shots of the season in the Big East tournament. Ebanks is the Mountaineers leading rebounder and Jones is somewhere in the middle. Thursday's showdown with the Washington Huskies will be played at a breakneck pace as neither team plays with a traditional center or a single player over 6'9.

(2) Kansas State Wildcats- Guards Denis Clemente and Jacob Pullen anchor one of the best backcourts in the nation. Frank Martin has done a great job with the recruits, Bob Huggins recruited and a possible Final Four could be nearing.

(2) Ohio State Buckeyes- What We Learned: Thad Matta has supplanted Izzo as the premiere head coach and recruiter in the Big 10 conference. A year after luring Greg Oden, Mike Conley Jr. and Daequan Cook to campus, Matta followed up with one and done 7 footers, Kosta Koufos and B.J. Mullens in addition to Evan Turner. Center Dallas Lauderdale has been a force in the middle, sending back 8 shots in Round One and 3 in Round Two of the Tournamant.

Duke Blue Devils- Jon Scheyer, Nolan Smith and Kyle Singler are the only Dukies averaging above 6 points a game. In addition, the Dukies haven't had a low post scoring threat since Shelden Williams graduated.

(1) Syracuse Orangemen- What we learned: In their first two games, the Orange have been out for blood. The subtraction of Eric Devendorf, Paul Harris and Jonny Flynn was outweighed by the emergence of transfer junior, and Big East Player of the Year, Wes Johnson.
Just like power forward Arinze Onuaku's quad injury, Syracuse came limping into the playoffs. The Orangemen began the tournament feeling a little blue, and reeling from consecutive losses to Louisville and Georgetown. However, never has a team won the national championship that hasn't won a single conference tournament game. I expect Butler to surprise Syracuse in the den.

(1) Kentucky Wildcats-
What we learned: With the aid of John Calipari; the best recruiter since Jacob from LOST, the Wildcats have recovered from the brief Gillespie era. A trio of freshman, including a pair of teammates jockeying to be the 1st overall pick in the Draft and point guard Eric Bledsoe, whose draft stock has unexpectedly skyrocketed, hope to crush conventional wisdom against a band of freshman leading a championship charge. For a team constructed of such young, feeble talent they have been eerily clutch all season. In his first collegiate game Wall, swished a fadeaway mid-range jumper. Then in the SEC Championship Sunday, Cousins tied the game on a putback as time expired. Think about how good this team could have been if Jodie Meeks had returned for his senior campaign and Xavier Henry opted instead to follow Coach Calipari to Lexington.

Eric Bledsoe led the charge in a 29 point rout in the Round of 64 of Eastern Tennessee State, with 29 points, including a Kentucky record nine 3-pointers. John Wall dished 11 assists and Patrick Patterson led the way with 22 points on 9 of 10 shooting and DeMarcus Cousins recorded 5 points.
The Tenacious 32 round against Wake required a more organized effort. Sophomore Darius Miller, Wall, Cousins and Bledsoe all scored above 13 points. It's become trendy to compare Calipari's freshman haul to the Fab 5, however, these Wildcats compare more favorably to the 2007 Ohio State Buckeyes who fell to a Gator squad on a quest for a repeat national championship. With Kansas out, that threat is exterminated and the championship is theirs for the taking.