06:10 AM ET 09.26 |
September is a time for call-ups in baseball. Which was further illustrated last night when the Yankees went through a slew of players in their 14 inning afair with the Blue Jays at Yankee Stadium last night. Thus it begs the question, when teams are forced to cut back down to 25 on the roster for the playoffs, who makes the cut for the Yankees? It will be the first time since 1981 that a Yankee playoff roster will not include Bernie Williams.
Jorge Posada: The starting catcher, batting over .330 with over 20 HR's and 85 RBI, been through the battles and has the rings to show for it.
Derek Jeter: The starting shortstop, captain clutch, you've heard it all before, he's got the hits, the rings and a nice shiny World Series MVP trophy from 2000, the last time they won it all.
Mariano Rivera: Not to take away from his career in the regular season, but if anyone could get into the hall on playoff numbers alone, Mo would be your guy. Once again another guy with the rings along with the 1999 World Series MVP and 2003 ALCS MVP to boot.
Andy Pettitte: Is it any suprise or wonder I went with the dynasty guys first? Pettitte is back with the Yankees just like David Lee Roth is back with Van Halen, no more imposters with the likes of Randy Johnson and Kevin Brown playing the roles of Sammy Hagar and Gary Cherone. Oh yeah, Andy also has the rings, 14 playoffs victories and a 2001 ALCS MVP.
Alex Rodriguez: A reminder to come back and read this after the playoffs are over, without A-Rod in 2007 there are playoffs for the Yankees. A-Rod thus far has 52 HR's and 143 RBI, if he just tries to stay relaxed and not try and duplicate those numbers within a span of three weeks, he should no doubt thrive in October.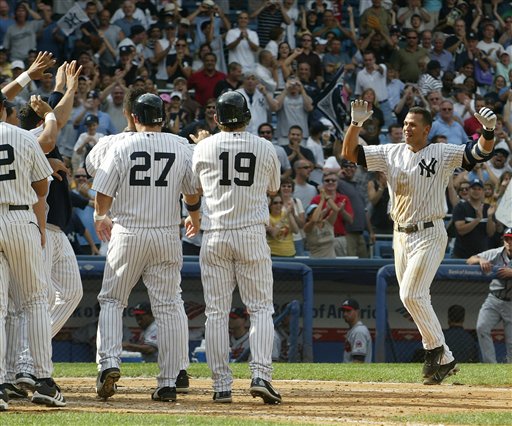 Robinson Cano: Has had quite a jolt of power this season, hopes to revert to his playoff form of two years ago.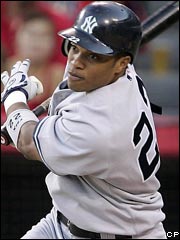 Hideki Matsui: Salvaged his season with a hot July and August, however he's also endured a bit of a September swoon. Absolutely tore up the playoffs in his first two seasons in 2003 and 2004, the last two not so much. Will be counted on once again.
Bobby Abreu: Another guy who when on can beat you in so many different ways with the bat. Nice to have a third hitter who can lay down a bunt in a crucial spot and also have 16 HR's and 98 RBI. One of the few guys who hit in the playoffs last year for the Yanks.
Melky Cabrera: Has cooled off somewhat of late, but speed and defense don't go into slumps for very long and count big time come playoff time. It's the little guys like Melky who emerge as the un-sung heroes with big hits in October.
Doug Mientkiewicz: Staying on that theme of defense, with apologies to Tino Martinez, Mientkiewicz has to be the best defender at first since Don Mattingly. While on occasion Doug can slug, his defense will same at least one to two runs a game and when one scales that down to a playoff series, usually that's all it takes to win a game. Again has a ring and the playoff experience, he'd be my starter at first and is a sleeper pick for a clutch hit or two.
Johnny Damon: Damon can still be useful, has the ring and has been through the playoff wars before. Another guy capable of beating you in so many different ways. He'd be my starting DH and depending on Matsui's health, possibly LF.
Jason Giambi: Don't push it with this guy, he reminds me of Jose Canseco circa 2000. Can still be useful as a pinch hit bopper off the bench or as DH, but in the field, uh no thanks.
Chien-Ming BLEEP : Ace of the staff, 18 wins. Won their only playoff game last year, Yanks just feel confident when he pitches, no matter what. A cool customer on the mound, important in the pressure of the playoffs.
Roger Clemens: Just get him to October in one piece please. Given his Hall of Fame ledger, Rocket's playoff stats aren't quite what one would expect them to be. However his presence and ability at any time to pitch dominantly to the tune of two hits and one run over seven innings, still makes him very dangerous. Has the rings from the days of the "old guard."
Mike Mussina: Veteran who has rebounded of late and deserves a roster spot, possibly even a start. Not so sure if I'd pitch him with my season on the line in game four. It will be interesting to see if pitches like David Cone did in the 1999 playoffs after falling off a bit down the stretch or if he'll be like the Cone of 2000 and see little to no action.
Phil Hughes: Has stepped up of late and might warrant a start in October. That or he could be a righty specialist out of the pen or relieve Clemens or Mussina in case of injury or if they're getting pounded.
Joba Chamberlain: An absolute witch on the mound. Chamberlain is clutch, embraces the big moments and soakes in the spotlight. Don't be shocked if you see Joba coming in during the 6th inning of some playoff games if the situation dictates it.
Jose Molina: If the Yankees need to pinch run for Posada in a late spot, they won't lose much in Molina defensively, very important. Won a ring with the Angels and has actually hit some in limited post-season action.
Luis Vizcaino: Meet the new Ramiro Mendoza of the Yankee bullpen. If kept fresh, Luis is lights out. Another guy with a ring from the Chicago White Sox.
Wilson Betemit: Has had his action and plate apperances reduced of late. However he is Mr. Versatility, Betemit can play virtually any infield position, has some pop from the left side off the bench and can switch-hit. Blasted the ball with the Los Angeles Dodgers in the 2006 NLDS.
Ron Villone: On the roster if for no other reason than he's a veteran lefty. If fresh can be effective, best not to push it though.
Shelley Duncan: Gets the team pumped and is a long ball threat off the bench with some righthanded pop. Also has a rocket arm in the OF.
Ian Kennedy: Another solid young arm who can get the Yankees innings should one of their starters go down or if a game goes into extras. Having guys like Kennedy, Vizcaino, Hughes, Chamberlain, Rivera out of the pen could make most games a 5-6 inning affair. These guys will be important especially if Clemens and Mussina can't give them length for whatever reason.
Kyle Farnsworth: As much as it pains me to give him the 25th spot, they're paying him way too much and probably won't leave him off. Though with the depth they have in the pen, I'm not sure what his role is anymore and if it's end of the line aka 14th inning guy, he's not the guy you want in there with the game on the line like Jeff Weaver in the 2003 World Series. Other candidates would likely be Edwar Ramirez and Ross Ohlendorf.