06:12 AM ET 09.26 |
Opening day in April, outside of the Fall Classic in October it is the biggest day for all baseball fans. A day that is celebrated in major and minor league ballparks across the country. A day that for Albany never comes, at least it hasn't for some long time.
How is it possible that a city like Albany, the state capital of New York, does not have at least a Double-A major league affiliated minor league baseball team? After all upstate cities like Buffalo, Rochester and Syracuse all have Triple-A teams and Binghamton has a Double-A team. A better question might be, how could the city and county of Albany dare let the Double-A minor league affiliate of the New York Yankees, leave town after the 1994 season?
That's correct, for those of you not from or not familiar with the Albany area, Yankees once played here. From 1985-1994 the Albany Colonie Yankees, a Double-A Eastern League minor league affiliate of the New York Yankees called Heritage Park home for ten years.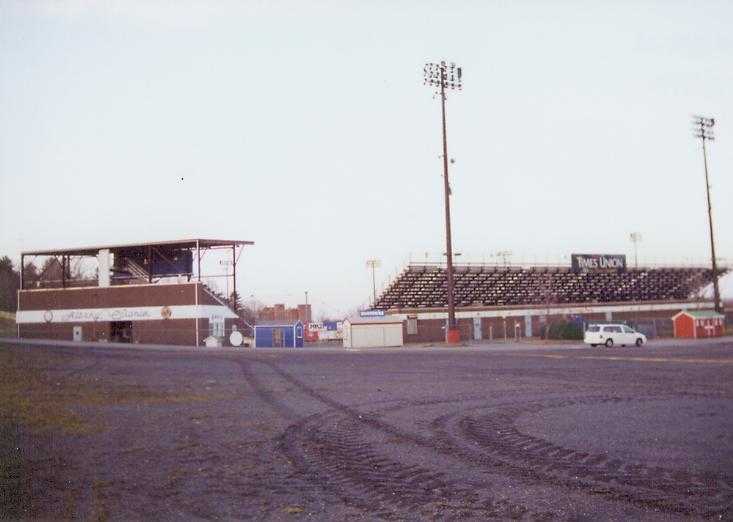 In fact nearly 100 or so players who made it to the major leagues honed their craft at the ballpark by the airport. Including Yankees Captain and Shortstop Derek Jeter ('94), Catcher Jorge Posada ('93), Closer Mariano Rivera ('94) Starting Pitcher Andy Pettitte ('93-94) and recently retired Centerfielder Bernie Williams (???89-90). Other players who contributed to their recent run of dynastic success who played at Albany are guys like Catcher Jim Leyritz (???88-89), Secondbasemen Andy Fox (???93-94) reliever Brian Boehringer ('94).

Amongst other notable names to have played here are Starting Pitcher Al Leiter, Gerald Williams, J.T. Snow, Roberto Kelly, Hal Morris, Doug Drabek, Pat Kelly, Randy Velarde, Andy Stankiewicz, Russ Davis, Sterling Hitchcock, Bob Geren and even "Primetime" himself Deion Sanders. Current players still in the majors along with those current Yankees are Brad Ausmus, Russ Springer, and Mike DeJean.
While their parent club in New York was essentially sleepwalking through the better part of the late 1980's and early 1990's, Heritage Park was the place for exciting Yankee baseball on the way up to the big leagues.
Which would explain why in 1985 Albany smashed and set the Eastern League record for attendance with over 324,003. In fact as the Oakland A's Double-A affiliate in 1983, Albany drew over 200,000 fans for a team that finished in last place. Back to the Yankees though, from 1985-1987 Albany led the Eastern League in attendance and from 1985-1990 Albany was top 3 in attendance each year and if one wants to count the A's days (1983-1984) Albany finished in the top 3 in attendance from 1983-1990. Of course attendance figures were skewed in the last remaining years (1991-1994) due in part to a fan base that was alienated by constant rumors and attempts by ownership to move the team.
Perhaps no more memorable moment happened than in 1986 when Yankees legend and current pitching coach Ron Guidry came to pitch in a rehab start for 3 innings in front of a packed beyond capacity crowd of 14,491. Of course there would be other occasions where fans would see former players like Reggie Jackson or Willie Randolph around the park to help with the younger players. Or scouts who came with radar guns by the dozen to watch former Yankee fireballing lefty prospect Brien Taylor pitch in 1993, a year before he would ruin his arm in a bar-fight. Even in 1994 during the strike Buck Showalter who managed the Albany Colonie Yankees to a championship in 1989, their second of three (1988, 1989, 1991) with many of the players who would contribute to World Series Championships in New York, was on hand to scout players who would also contribute to those championships with Gene "Stick" Michael and Billy Connors.
After the 1994 season the team left and along with it cheap quality minor league baseball. Mostly because there was no local ownership and no local businesses willing to step up and keep the team in Albany. Nobody wanted to put any money towards improvements of a ballpark that was unfortunately built before the Camden Yards era. Failure also stemmed from the state level of government to local politicians in Albany County and the Town of Colonie. Part of this has to do with minor league restrictions on having two teams within a certain mile radius of eachother. Of course with the Single-A NY Penn League short season Houston Astros affiliate Tri-City ValleyCats playing across the river at "The Joe," the prospects for Albany are none too good. While I will agree that "The Joe" is a beautiful state of the art minor league ballpark, the problem that exists is that college and high school teams use the field from March through May, which is the season starting time for a Double-A or Triple-A team.
From living in Albany now going on 24 years one of the things I've noticed is how people say it's great that we're centrally located about 2-3 hours away from other major cities like New York, Boston and Montreal. Which is great but tell me how many people can practically go to say three games a week while plopping down $50 bucks a ticket, get home at 2am and go to work the next day? If you said yes, then you're a better and wealthier fan than I. With all of that having been said I'm not comparing Albany to New York City, nor am I comparing the old Heritage Park to Ebbets Field or the Polo Grounds. However Albany and the Capital Region have a strong and rich history of great players and quality Double-A baseball. Hopefully we'll get it back before I have to show my kids that where Derek Jeter played Shortstop is currently a patch of dirt sitting under a nursing home or who knows what else.