05:26 PM ET 04.29 |
It's Finals Week so I've had to slow down writing on but here's my NFL Draft thoughts one week later.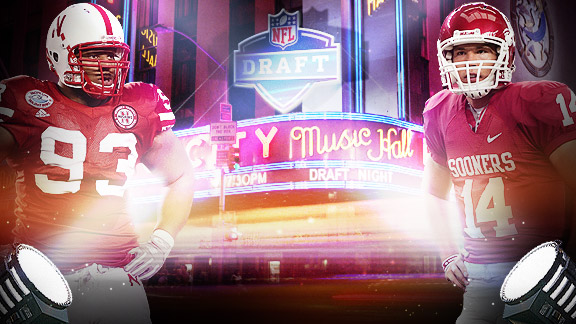 Sam Bradford and Jimmy Clausen have sparked the biggest debate of the first day of this draft. Keyshawn Johnson believes Bradford will be a backup in 5 seasons but no two entities symbolize this tug of war better than Todd McShay and Mel Kiper Jr. Mel Kiper has been relatively reasonably about Bradford not being NFL ready but McShay has a disdain for Clausen not seen since Merril Hodge declared his undying contempt for Vince Young and the Titans propensity to hide, not highlight their then "rookie" quarterback.

Commisioner Goodell can retain his responsibility announcing the Day 1 picks, but here are a few suggestions to livening up the NFL Draft.

a) relocate the 2011 Draft to Jerry Jones' billion dollar stadium metropolis.

b) for days 2 and 3 of the Draft, let's get some eccentric personalities on the set. ESPN has a deep bench of talent but too many dry personalities. Mel Kiper and Todd McShay are necessities but couldn't ESPN bench Berman and Jackson for Mike & Mike, The 2 Live Stews or Frank Caliendo?

c) For the first round, announce 5 picks a night, on primetime television. If you thought Jimmy Clausen waiting over 24 hours for some team to take a flyer on him, imagine how long the week of the first round will be.

1. St. Louis Rams- Sam Bradford
Was there any doubt, St. Louis would not take Sam Bradford after they released Marc Bulger?
I'm not too excited about Sam Bradford's potential though. Like Steve Young said, "In college, everyone is open. In the NFL no one is open." It's all about anticipation. Sam Bradford didn't display an ability to anticipate receivers like Jimmy Clausen. I can't shake the gut feeling that Bradford has a Tim Couch/David Carr pedigree playing in a collegiate system hides deficiences behind one of the best offensive line in college football. This is the second consecutive Draft, in which I had qualms with the first quarterback. If Bradford watched Stafford last season, he'll note how Stafford missed the final quarter of the season with a shoulder injury.

2. Detroit Lions- Ndamukong Suh
Speaking of Stafford's shoulder. You'd think the Lions would want to protect their golden arm by selecting a franchise left tackle. In Detroit's defense, Suh is potentially Reggie White at defensive tackle. But I'd me remiss not to note that Nebraska head coach Bo Pelini was Glenn Dorsey's defensive coordinator at LSU. Bo Pelini is a defensive genius who could turn Napoleon Dynamite into a dynamic pass rusher. Dorsey hasn't exactly lit a spark in Kansas City so it's okay to wonder whether it's the system or just plain dumb luck to coach 2 of the top defensive tackles in recent years. But if you put Suh and Dorsey in this Draft, Dorsey might be the third tackle taken.

3. Tampa Bay Bucs- Gerald McCoy
Statistically, McCoy's career pales in comparison to Suh's senior season and his arm strength which he displayed at the combine is worrisome. Paired with unheralded 2nd round pick, Brian Davis, the Bucs defensive front will be much improved in 2010, but thats assuming McCoy can play up to the star he's been billed as.

4. Washington Redskins- Trent Williams
Yawwnn... The Big 12 may not supplant the SEC on the college gridiron, but they have dominated the first half hour of the Draft. Trent Williams' stock picked up steam in the last week and a half because of his fit in Shanahan's zone blacking scheme. This Draft will also serve as a great recruiting tool for Bob Stoops.

5. Kansas City Chiefs- Eric Berry
Tennessee's athletic department has dealt with a plethora of felony indictments. Fortunately, Eric Berry was able to turn pickpocketing opposing quarterbacks into a lucrative career. I hate this talk about how high a safety should be taken while Redskins fans fuss about LaRon Landry's open field tackling and pass coverage skills.

6. Seattle- Russell Okung (Oklahoma State)
Okung is a franchise left tackle who is expected to blast crater sized openings for Seattle's new thunder and lightning rushing tandem of Leon Washington and LenDale White.

8. Oakland Raiders- Rolando McClain
In recent years the Oakland Raiders on the clock during the NFL Draft has all the tension of the final 5 minutes of an M. Night Shamalan film. You know there's gonna be a twist. The relative shock of Rolando McClain lied in how fundamentally solid the pick was. Unlike the recent string of 1st round picks by the Raiders, McClain isn't lightning quick or the most athletic but he has the football IQ to become the leader and quarterback of Oakland's defense. Oakland's defense should be much improved with JaMarcus Russell on the defensive line.

9. Buffalo Bills- C.J. Spiller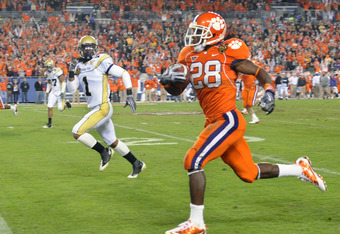 NO ONE CIRCLES THE DRAFT, LIKE THE BUFFALO BILLS! I'm assuming this isn't a vote of confidence for Marshawn Lynch. The Bills needed this pick. With the whispers of relocating to Toronto and the hiring of Chan Gailey("the NFL's Tim Floyd") this organization needed some spice. Spiller has been compared to Chris Johnson, however, Spiller's east-west running style, still concerns me as far as his potential as a workhorse back. With the Kentucky Derby on the horizon
Spiller reminds me of a thoroughbred who can break off a big run but like a young pitching ace, Spiller's carries need to be carefully observed.
Chan Gailey probably picked CJ Spiller here for the same reason, Pete Carroll selected Golden Tate in the second round. Getting torched by these guys in college on an annual basis creates a "Stockholm Syndrome" in which hostages express adulation and have positive feelings towards their captors.

Here are a few clips of the last few occasions Spiller faced Chan Gailey's Georgia Tech as well as his 20 carry, 233 yard career day in his ACC farewell against Georgia Tech. Unfortunately, no highlights exist from Spiller's 9 carry, 18 yard day against South Carolina the week before.



10. Jacksonville Jaguars/Los Angeles Jaguars- Tony Aluau

After the disappointment of Spiller going off the board one pick earlier, a hometown guy all the air left the Jaguars facility andthey gave up on Jacksonville. While Spiller may save football in Buffalo, the relocation vans are prepping to pull up to Alltell Stadium. Jaguars general manager Stretch Armstrong took quite a reach for second round talent Tony Aluau in the top 10. Say hello to your future Los Angeles Jaguars. Send a post card.

15. New York Giants- Jason Pierre-Paul
The Giants under Tom Coughlin are as hooked on pass rushers as Ricky Williams is to his "medicinal prescription".
Pierre-Paul, joins Matthew Kiwanuka and Osi Umenyiora to form one of the most formidable pass rushing units in football. One year ago, Paul was recording 70 tackles, 10.5 sacks at Fort Scott Community College. Yesterday, he became the first round pick of the franchise residing in the biggest media market in the world. The secondary needed an upgrade as the Giants pass defense finished 35th in a 32 team league last season.

19. Atlanta Falcons- Sean Weatherspoon- "The Loudest Mouth South of Ray Lewis".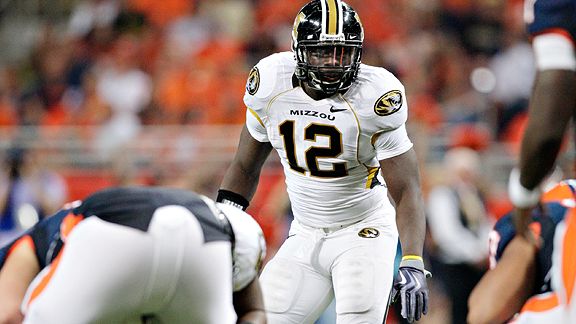 Weatherspoon is a tackling machine with a motor on the field and in his mouth. For 3 seasons at Missouri, Weatherspoon was omnipresent on the defensive side of the field. Atlanta's decrepit linebacking corps has lacked a vocal leader since Keith Brooking was released in 2008. As a junior, Weatherspoon peaked with 148 tackles, 5 sacks and returned 2 of his 3 intercepions to the endzone. Though his tackling numbers dipped from his junior campaign to career lows, Weatherspoon still compiled 376 tackles through his final 3 seasons. In addition, to his prolific gridiron productivity, Weatherspoon has a a reputation as a prolific vocal leader. Weatherspoon joins the flock as "The Loudest Mouth South of Ray Lewis".

22. Denver Broncos- DeMaryius Thomas
Not only did I forget DeMaryius Thomas was still in the green room, it just slapped me upside the head like a crowbar, that no one has taken "Dez Bryant"! Instead, the Broncos selected a developmental receiver with so-so athleticism and good but not great production.

24. Dallas Cowboys- Dez Bryant
Deion Sanders may have ruined his junior season, but who knew it was all part of a strategic plan to sabotage his Draft stock for Bryant to fall into the Cowboys range.

25. Denver Broncos- Tim Tebow
Playing in Mile High Stadium, Tim Tebow will play closer to heaven than any other first rounder. Instead of Baltimore taking defensive back, Kyle Wilson, Tim Tebow... is a Denver Bronco.
In his post game interview with Jeremy Schaap, I kept expecting Tim Tebow to finally let it all go. "Whooo! I can't believe they fell for this performance. I'm about to hit up a bar with Big Ben to celebrate before I catch my flight to Denver."
With the 25th pick, McDaniels gambled on a talent that warranted third round consideration at best. However, McDaniels quietly snuck Zach Beadles, an unspectacular prospect graded as a 4th rounder into the top half of the 2nd round. Tebow's struggles with drop backs, reads defenses as well as Fantasia Barrino and his throwing motion has undergone more alterations than a Steve Harvey suit but no one's sure yet if the vest will fit on the red carpet. The first time Tebow is under pressure in the pre-season his delivery will be examined and dissected under NASA's Hubble telescope.

30. Detroit Lions(via trade w/ Vikings)- Jahvid Best
The post-Matt Millen Lions are not only assembling a formidable defense in Detroit, their offense will be absolutely explosive. Stafford is turnover prone but has a rocket launcher arm and an otherworldy weapon in Calvin "Megatron" Johnson and tightend Brandon Pettigrew. Best provides the Lions with
The Vikings traded out of this pick but Best would have been a viable change of pace back in Minnesota's backfield. CJ Spiller is the back projected as the next Chris Johnson but for 3 years in college Jahvid Best was more consistent and equally explosive.

32. Indianapolis Colts- Jerry Hughes
Hughes can't perform backflips like Jason Pierre-Paul but Hughes does something rare, he gets to the quarterback. Hughes had 26 sacks in his final two seasons at TCU and

43. Baltimore Ravens- Sergio Kindle
54. Cincinatti Bengals- Carlos Dunlap
Sergio Kindle is a better prospect than Brian Orakpo was, however teams were scared away by his RoboCop knees which have gone under knife multiple times and his appparent narcolepsy. Of all the prospects in this Draft, pass rushing outside linebacker Carlos Dunlap, who fell asleep behind the wheel at a traffic light with a blood alcohol content higher than Dunlap's 4.66 40 time is the only prospect in NFL history whose stock could have benefited from a narcolepsy diagnosis. Dunlap is a physical specimen but also has a propensity for falling asleep on the field and taking plays off.

It's like Marvin Lewis isn't even trying anymore. At the height of the Bengals legal troubles following Tank Johnson's arrest any other franchise would have purged their locker room of the toxic characters. Instead, the Bengals have built on their poisonous environment by signing Matt Jones and drafting Dunlap. This might be the recorded instance of Battered Coach Syndrome in NFL history. I can just hear Marvin Lewis explaining the pick now, "Oh, Carlos and Matt know this is their only chance. They promised me this time they've changed."

48. Carolina Panthers- Jimmy Clausen
(see John Locke searching for Clausen's draft stock)


Jimmy Clausen's draft stock after the first round felt like the final scene of LOST's season 1 after blowing open the hatch and the camera lowers into the shaft as John Locke stares from above. No one was sure how far down the chasm was. Instead of Desmond Hume, however, Jimmy Clausen found the Carolina Panthers and Matt Moore. Once Dez Bryant leapt off the board, Jimmy Clausen became this draft's Randy Moss. The only physical negative for Clausen is that tied for the smallest hand size and arm lengths in the Draft. Shorter hands and arms measurements than 5'11 Armanti Edwards.

Todd McShay uses the Washingtn game where they played in rain as an indictment of his small hands. "[Clausen] really struggling holding onto the ball, throwing accurately." The Washington game McShay referred to, Clausen completed 74% of his passes for 422 yards and two touchdowns.

However, James Clausen in Carolina is going to be a culture shock. For the first time in his life, Clausen will live outside the spotlight of Notre Dame or a California prep football powerhouse. Instead he'll reside in Carolina where the Panthers come in fourth to Michael Jordan's Charlotte Bobcats, as well as Duke and UNC basketball. It's not much different than the 98 season, where Booby Knight's Hoosiers, and the Indiana Pacers outranked the Colts fan devotion. However, when all is said and done, Jon Gruden's son(Son of Chucky, anyone?) will have the state of North Carolina eating out his tiny hands. Someday we'll look back at Sam Bradford going 48 picks ahead of Clausen the same way we looked at that guy who said the Internet would fail and that cyberspace would never replace your newspaper.

49. San Francisco 49ers- Taylor Mays
Yep, at 49th overall, the 49ers selected Ronnie Lott prototype Taylor Mays. Mays is a physical safety with freakish athleticism but struggled in pass coverage. It wouldn't be surprising if head coach Mike Singletary saw a converted linebacker in Mays and moved him up to play alongside Patrick Willis.

50. Kansas City Chiefs- Javier Arenas
Along with Eric Berry's selection, the Chiefs may have turned their porous secondary into a strength and acquired an elusive return man.

42. New England Patriots- Rob Gronkowski
53. New England Patriots- Jermaine Cunningham
62. New England Patriots- Brandon Spikes
113. New England Patriots- Aaron Hernandez
Urban Meyer and Bill Belichick's zombie bromance has been well documented but this week, their friendship branched into the business realm. In Day 2, Belichick took their commitment to another level by selecting Florida defensive players Jermaine Cunningham and Brandon Spikes.
Josh McDaniels, a former assistant under Belichick even traded up to #25 after getting signals the Pats were prepared to pounce on Tebow in the first round.
51 picks later, Florida tightend Aaron Hernandez became the third Gator drafted by New England. Outside the Gators spectrum, Belichick also took fliers on another Gronkowsi, a productive tightend who missed his entire junior season. If he can keep his body from breaking down prematurely, Gronkowski could become a viable receiver for New England and a Pro Bowls are not out of the realm of possibility. Plus, he gave us one of the most hilarious NFL Draft family moments in years.
60. Seattle Seahawks- Golden Tate
Golden Tate doesn't have great measurables but give credit to Pete Carroll for ignoring the measuring tape and studying the game tape of Notre Dame's sticky fingered receiver.

85. Cleveland Browns- Colt McCoy
84. Cincinatti Bengals- Jordan Shipley
Jordan Shipley going 84th isn't too much of a headline but it was cosmic intervention that had roommates McCoy and Shipley drafted back to back to division rivals. I'm not a geography buff or anything but according to my map Cincinatti and Cleveland are both in Ohio. Together, these two are the football equivalent of Adam Sandler and Rob Schneider.

Colt McCoy settles into the "easy chair" of quarterback situation because for the first year of his career Mike Holmgren will sit McCoy.

51. Minnesota Vikings- Toby Gerhart
Gerhart has been compared to ex-Stanford running back Tommy Vardell, the 9th pick of the 1992 Draft who eventually became a fullback for Barry Sanders. In truth he's comparable to Pittsburgh's Jerome Bettis.
100. Minnesota Vikings- Everson Griffen
Another athletic defensive end who may be converted to outside linebacker, Griffen is still living off athletic potential and his high school production. He's got the speed to pursuit around the edge, as well as the power to beat blockers and bull rush. Griffen will learn under the tutelage of Jared Allen.
199. Minnesota Vikings- Joe Webb
Webb was a 6'3, 226 lb. college quarterback for 2 seasons at UAB, and spent the first half of his career at wideout. Joe Webb has the attributes with his 4.4 speed to carve out a niche as a Joshua Cribbs type offensive talent and returnman. All in all, the Vikings took 3 of the most intriguing physical specimens and a trio of questionmarks in the Draft.
106. Oakland Raiders- Bruce Campbell
108. Oakland Raiders- Jacoby Ford
In Round 4, the Raiders returned to their tradition of selecting workout warriors. A month ago, Bruce Campbell was projected as the Raider's 8th overall pick. As fate would have it, Campbell dropped into their laps 4 rounds later. As a rookie, Campbell will be protecting ex-Washington quarterback Jason Campbell. If Websters Dictionary had a portrait of average Jason Campbell and Chad Penn2 picks later, Al Davis selected Jacoby Ford, who recorded one of the fastest 40 times in combine history in February.
Jacoby Ford, Darrius Heyward-Bey, Darren McFadden, Bruce Campbell and shotputter JaMarcus Russell now round out the Oakland Raiders championship Track and Field program.

226. St. Louis Rams- George Selvie
What a long strange trip it's been for Selvie. Two and a half years he burst onto the scene as the engine of the #2 ranked South Florida Bulls. Scouts gave him a first round grade in 2008. Two years later, Selvie nearly slipped into the undrafted pile while his counterpart Jason Paul-Pierre, who burst onto the scene last season as a junior college transfer.
New York Jets- Joe McKnight
Leon Washington's trade to Seattle openned the doorway for USC Trojan Joe McKnight to settle into the Jets backfield. Washington was recruited as the heir apparent to Reggie Bush and arrived with Heisman expectations. McKnight will likely live off screen passes and pitches on a unit and "Oh By the Way!" McKnight has chemistry with quarterback Mark Sanchez from their USC days. McKnight also brings an explosive dimension to the backfield for a cheaper price tag than Washington.
McKnight was never given the green light at USC, but averaged 6.3 yards per carry for his career. Since 2007, C.J. Spiller averaged 5.5 yards per carry to the tune of 2,600 yards and 22 touchdowns. McKnight rushed for 2,200 and 13 touchdowns in 259 fewer carries. If McKnight had been given an equal number of carries to Spiller, he would have rushed for 3,800 yards total in 3 seasons.