10:22 AM ET 05.06 |
In the highly competitive quarterback derby, Andrew Luck, Jake Locker and Ryan Mallett will jockey for the top spot on Mel Kiper's 2011 big board in a deep draft for the position. Mallett brings the cannon arm, Locker runs like a gazelle and Luck is a brainy high school valedvictorian in a pro style offense. John Brantley could also shake things up if he declares, although I doubt it would be wise to declare in a Draft so deep. You can probably toss out the notion that Jacory Harris, Robert Griffin III are 1st rounders at this point in 2011. If Kevin Kolb bombs this year, Andy Reid won't hesitate to immediately replace him via the Draft. Kolb's successor at Houston, Case Keenum will get dissected in the same fashion as Colt Brennan was in 2008.
Terrelle Pryor won't be entering the 2011 Draft unless his passing ability improves by leaps and bounds. If Pryor returns for his senior year, you can bet he'll receive the same intrigue as Tim Tebow did during the 2010 pre-Draft period. Pryor could conceivably pull a Charlie Ward mull his options as a small forward in the NBA. 2 years from now, Pryor could be practicing with Lebron James and Evan Turner. When people have dreams of Lebron James playing football they're describing a reverse Terrelle Pryor.

The only reason I have a certain quarterback going at the bottom of the first is because the 2011 Draft is richer in quarterbacks than Scrooge McDuck's vault. There are a plethora of starting quarterbacks in this Draft, much like in 1983 and 2004 as well as a matching pair of receivers but Oakland won't have a shot any of them after trading their 2011 first round pick for Richard Seymour.
Speaking of riches, UNC has a draft class that would make Oklahoma Sooner fans jealous. On defense Marvin Austin, Quan Sturdivant, Robert Quinn and Bruce Carter, Kendrick Burney and Deunta Williams are all first round prospects. Offensively, Greg Little grades as a 2nd rounder in a deep class of wideouts.
Next week I mock my 2012 mock NFL Draft but for now here is my 2011 NFL mock Draft predictions which are about as scientific as the psychic abilities of John Edward. ("Someone in this 32 man field has a vowel in their name or has lost someone close to them.")

1. Arizona Cardinals- Andrew Luck (QB, Stanford) - Unlike Sam Bradford and much like Matthew Stafford, Andrew Luck was ushered into the college football spotlight as a game manager. Luck didn't stand out as an elite quarterback last season but Luck led the Pac-10 in passing efficiency threw for 2,575 yards, 13 touchdowns and only four interceptions. As a redshirt sophomore, Luck will be required to play a bigger role without Toby Gerhart to literally carry the bulk of the offense. Ken Whisenhunt did not draft Matt Leinart but will give Leinart a one year internship before verifying whether he deserves the job. One more year of tutelage under Jim Harbaugh could make him the most sought after prospect in 2011.

2. Buffalo Bills- Ryan Mallett (QB, Arkansas)-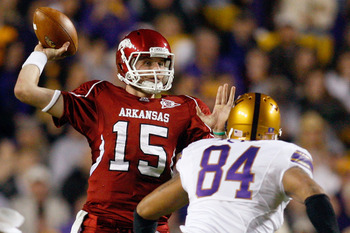 Mallett has the best arm scouts have seen since Henry Rowengartner, is extremely accurate on deep throws and at 6'7 he has the combination of height and vision to throw over the Berlin Wall. Mallett's arm will be even more appreciated in the windy and frigid Buffalo winters. However, with experience Mallett must improve upon his completion percentage. The one worry scouts have about Mallett, and 6 foot Troy Smith whose stuck sitting behind 6'6 Joe Flacco is going to love this; is he too tall?

3. Carolina Panthers- AJ Green (WR, Georgia)- Jimmy Clausen or Matt Moore will need a big target and future #1 receiver as Steve Smith reaches his 30's.
4. St. Louis Rams- Julio Jones (WR, Alabama)- St. Louis' leading receiver, Donnie Avery, finished the 2009 season with only 539 total yards. Protecting Sam Bradford, is a major priority, however, the Rams are handicapped at the receiver position.
5. Pittsburgh Steelers- Anthony Castonzo (OT, Boston College)- As much as you may despise Ben Roethlisberger, no quarterback deserves to be sacked 50 times in one season. His reputation hasn't taken a beating this brutal. A left tackle won't guard his image but as Sandra Bullock taught us, it will protect his blind side.
6. Denver Broncos- Patrick Peterson (CB, LSU)-
Denver's secondary needs a shot of youth and there's no defensive back prospect with big play ability than LSU's 19 year old Peterson. Champ Bailey has backpedaled away from his best years and Peterson is the best defensive back scouts have seen since well... Eric Berry last week.
7. Cleveland Browns- Ryan Williams (RB, Virginia Tech)-
William's 1,655 yards as a freshman eclipsed Virginia Tech's single season rushing record, however, as a redshirt sophomore in 2010, Williams will be eligible for the NFL Draft. The above clip demonstrates his power as he takes an unsuspecting defender on a ride.
8. Seattle Seahawks- Robert Quinn (DE, UNC)
I know, it sounds crazy for Pete Carroll to pass on (no pun intended)Steve Sarkisian's wonder boy, Jake Locker in favor of a little known defensive end but Pete Carroll seems committed to giving Charlie Whitehurst a fighting chance rather than placate the fan base with an in state hero. Then again, who would have thought the Houston Texans passing on Vince Young for Matt Schaub would seem so brilliant 4 years later?
Quinn recovered from a brain tumor pressing on his brain as a high school senior to become the premier pass rusher in the nation. Quinn is an edge rusher with an explosive first step and prototypical size at 6'5.
9. Kansas City Chiefs- Gabe Carimi (OT, Wisconsin)
By this time next year hopefully, we'll be talking about the Mexico City Chiefs. There's too much money invested in Matt Cassel to give up after 2 years.

10. New England Patriots (from Oakland)- DeMarco Murray (RB, Oklahoma)
The Patriots can't keep trading top 10 picks for an assortment of 4th rounders and expect to keep pace with the AFC's elite, or the AFC East's elite for that matter. For over a decade, the Pats have relied on a stable of pedestrian tailbacks. Murray's explosiveness, size, speed and cutback ability has been overshadowed in his first 3 seasons by Sam Bradford but with the offensive farm system depleted by NFL and graduation, Murray will emerge as the focal point of OU's offense.
11. Tampa Bay Buccaneers- Greg Romeus (DE, Pittsburgh)
Romeus played just one season of college football during his senior year of high school but 4 years later, Romeus developed into the 2009 Big East Defensive Player of the Year. After spending their first and second round picks on a pair of defensive tackles, Tampa Bay drafts a much needed pass rusher for their Cover 2 scheme.

12. Philadelphia Eagles- Rahim Moore (FS, UCLA)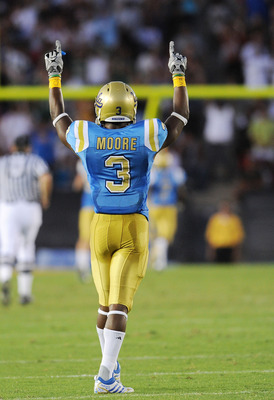 Moore is by far the top safety in this Draft. The Eagles passed on Earl Thomas in favor of Brandon Graham but next spring Rahim Moore will be tabbed as the long awaited successor to Brian Dawkins. Moore's coverage skills are exceptional as exhibited by his 10 picks as a Bruins sophomore.
13. New York Giants- Greg Jones (MLB, Michigan State)
I had the Giants taking a running back, but the 2nd running back taken would've been Mark Ingram JR., whose father played for the Giants. This Big Apple couldn't have fallen further from the tree. However, the Giants lack an identity without recently released inside linebacker Antonio Pierce in the line backing corps. Greg Jones was omnipresent on the field as a junior recording 157 tackles and 9 sacks. Numbers aren't everything but it's hard to ignore that in the same 3 year span, Jones had 88 more tackles and 7 more sacks than 8th overall pick Rolando McClain. Jones will likely need to gain extra muscle to be considered a first round pick.

14. Tennessee Titans- Marvin Austin (DT, UNC)
Heading into his senior campaign, Austin will be the second of 5 UNC defenders taken in the early first to mid-second round of the 2011 NFL Draft. The Titans defense took a significant step back after the loss of Albert Haynesworth in free agency.
15. San Francisco 49ers- Jake Locker (QB, Washington)
For years Jake Locker has been touted as the West Coast's Tim Tebow, however, Locker has won fewer games in his career than Tebow's 9-4 record in 2007. NFL-wise however, Locker's ceiling compares to Redskin Donovan McNabb or Michael Vick. I could easily see him becoming 2011's Jevan Snead if he doesn't improve upon his completion percentage. But most importantly, Locker has never willed Washington to a victory or game winning touchdown drive as the Huskies quarterback.
Locker's style is similar to that of ex-49ers great, Steve Young and his backup at Washington is the son of the Comeback Kid, Nick Montana. San Francisco currently houses a refugee camp of ex-#1 overall picks with starter Alex Smith and backup David Carr. The 2010 season will be Smith's application for a permanent visa under center.

16. Detroit Lions- Joseph Barksdale (OT, LSU)
See that pic below? That's Matt Stafford, 2009's top overall pick. If the Lions don't want to see Stafford getting mangled in more two man collisions, they'll hire Barksdale to serve as a Stafford's security 60 minutes per week.
17. Chicago Bears- Jonathan Baldwin (WR, Pittsburgh)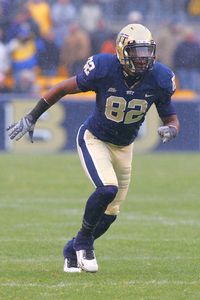 Pitt produces first round receivers like Antonio Cromartie creates child support payments and the 6'5 Baldwin takes advantage of big play lopportunities ike Big Ben takes advantage at Happy Hour.

Remember 2 summers ago, when every football junkie was enamored with the possibility of Usain Bolt running deep outs for an NFL franchise?

Jonathan Baldwin is a realization of that fantasy with the strength to gain yardage after contact.

The sophomore snatched 57 passes for 1,111 yards during the 2009 campaign and
had 11 catches of at least 30 yards and 22 plays that covered at least 20 yards. In his final three regular-season games, he had catches that gained 36 and 51 yards against Notre Dame, 50 yards against West Virginia, 40 yards against Cincinnati as well as a 61-yard run against USF.
18. Cincinnati Bengals- Jared Crick (DT, Nebraska)
Suh's partner in the trenches is a very effective bull rusher in the middle and is considered a superior run stopper.

19. Miami Dolphins- Cameron Heyward (DE/DT, Ohio State)
Heyward versatility would allow him to flourish as an end in a 3-4 scheme or as a Mario Williams type pass rusher in a 4-3 system.
20. Jacksonville Jaguars- Terrance Toliver (WR, LSU)- Toliver's name hasn't received much recognition nationwide but the Tigers 6'5 receiver has flashed the tools and physical skills to become a dynamic receiver after the catch. They'd love to take a quarterback here, but they've got other leaks to plug on offense. This could change if Jake Locker is available.
21. Washington Redskins- Mark Ingram (RB, Alabama)
Ingram darts through holes like a gopher, keeps churning for yardage after contact and has deceptive speed for a diminutive power back. Mike Shanahan would probably like to infuse some younger, more powerful legs into Washington's aging backfield. The only way Ingram stock falls is if Alabama realizes Trent Richardson is the best runner on the depth chart. Now that you think about it, the Crimson Tide simply have their own answer to Auburn's Cadillac Williams/Ronnie Brown tandem.

22. Houston Texans- Tyler Sash (FS, Iowa)

Tyler Sash is a very underrated defensive playmaker for the Hawkeyes. Sash has a knack for making plays in pass coverage at crucial points. In 2 seasons, Sash has returned 11 interceptions for 350 yards. As a freshman he halted Penn State's unbeaten season with an acrobatic interception and scored his first career defensive touchdown on a jaw dropping strip of Indiana's quarterback, which he returned the length of the field for a touchdown.
23. Atlanta Falcons- Allen Bailey (DE, Miami[Fla.])
John Abraham is aging fast and hasn't been the dominant force the Falcons expected. 2007 eighth overall pick, and Jamaal Anderson(not the Dirty Bird Jamal Anderson) has been an epic fail recording only 2.5 sacks in 3 seasons. If Michael Strahan came out of retirement today, he could fall into 2.5 sacks by mid-season(Brett Favre would certainly throw him a bone). Bailey has been shuffled along the defensive line for 3 years but flourished from linebacker, to defensive tackle to defensive, although scouts view him as a potential defensive tackle. Bailey ran a 4.65 last spring is considered the most impressive program to ever suit up for the U.

24. Green Bay Packers- Prince Amukamara (CB, Nebraska)
Defensive Player of the Year Charles Woodson and Al Harris are creeping into their mid-30's and the Packers secondary was a designated landing strip for opposing quarterbacks.
25. San Diego Chargers- Brandon Harris (CB, Miami[Fla.])

26. New England Patriots- Akeem Ayers (OLB, UCLA)
Bill Belichick will use this pick to youth-enize New England's decrepit line backing corps, in the wake of Adalius Thomas' release.

27. New Orleans Saints- Adrian Clayborn (DE, Iowa)
28. Dallas Cowboys- Nate Solder (OT, Colorado)

29. Baltimore Ravens- Dont'a Hightower (LB, Alabama)

After replacing Rolando McClain in Tuscaloosa, McClain is tasked with the burden of replacing Ray Lewis in Baltimore, whose playing days are winding down.
30. New York Jets- Von Miller (OLB, Texas A&M)
Jason Taylor is a temporary stop gap for the gaping black hole of wasted talent that is Vernon Gholston. A repeat of Von Miller's 17 sack junior season and show some prowess in pass coverage, he'll solidify himself as a surefire first rounder.
31. Indianapolis Colts- Noel Devine (RB, West Virginia)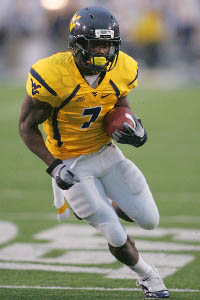 The Colts have relied on a revolving door of tailbacks since Edgerrin James' exit 4 years ago. Devine is a small back, with the potential to develop into a rich man's Darren Sproles or a poor man's Barry Sanders. Unfortunately concerns about his size will drop him in the Draft. Devine's got insane acceleration combined with the eyeball's on his feet enable him to hit the thinnest creases. In three seasons, he has scored nine touchdowns on runs of at least 25 yards. In '09, he had 14 runs of at least 20 yards, and half of them covered at least 56 yards. He had scoring runs of 71, 77, 88 and 56 yards. He also had runs of 56, 63 and 70 yards in which he did not score.

32. Minnesota Vikings- Jerrod Johnson (QB, Texas A&M)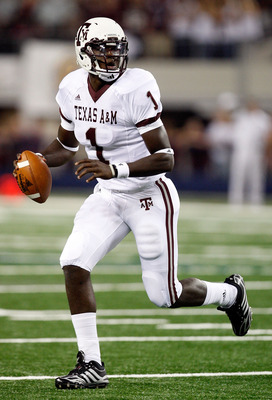 Playing behind one of the worst offensive lines in college football, Jerrod Johnson transformed Texas A&M into one of the top offenses in the nation and has more physical and mental tools than a NASA mechanic. Johnson arrived on campus with lofty expectations and put it all together as a junior. His 30 touchdowns last season led the pass happy Big 12 but most importantly, his touchdowns were offset by just 8 interceptions. Did I mentioned he's a dual threat who acked on an additional 500 yards on the ground? Overall, Johnson is built like Vince Young or Terrelle Pryor, a better athlete than Jake Locker, better pure passer than Tim Tebow and has equally impressive character credentials. Johnson is also being developed by Texas A&M head coach Mike Sherman who once served as Brett Favre's head coach with the Packers. But most importantly, he is more polished than JaMarcus Russell and Vince Young. I wouldn't be surprised if Johnson was unavailable by the conclusion of the first round.