05:27 PM ET 05.13 |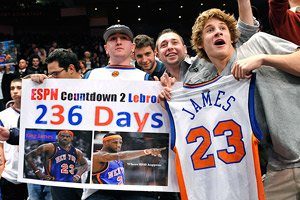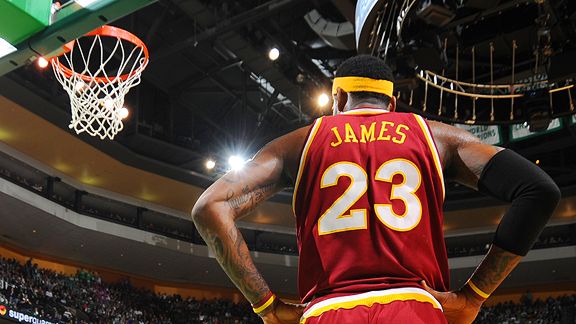 As the clock winds down on the Cleveland Cavaliers date with destiny, their tumultuous off-season could be just over the horizon. By Friday morning the Cavaliers may be in the dark on their plans for the 2011 and beyond. Likewise, at this juncture, the Knicks 2010 roster is more of a mystery than the final 10 minutes of LOST, which is funny given the Knicks haven't won a title since the Skipper was trapped on Gilligan's Island. Mike D'antoni and Donnie Walsh will spend more time on the recruiting trail, rebuilding their thin, depleted roster than John Calipari. So I'll try to sift through the rumors, innuendo and paint phantasmal scenarios of a lucrative game of free agent musical chairs.
The Knicks have the most lofty free agency aspirations since Grant Hill, Tim Duncan and Tracy Mcgrady nearly formed an all-Star triumvirate in Orlando. 3/4 of the NBA's supernovas from the legendary 2003 Draft class set their stopwatches for 2010 as they coalesce this summer into the top free agent class in NBA history. Donnie Walsh is targeting each of them except Darko Milicic who is likely headed back to Europe. (Joe Dumars should be ashamed of himself right now for passing on a sure thing in the Philly Cheese steak, Carmelo Anthony, for the mystery meat from a Russian 2 star restaurant.
I watched V last night on Hulu, because it originally aired during the second half of the Cavaliers-Celtics Game 5 Tuesday night. The episode centered on Anna, leader of the "Visitors" announcing her intentions to leave Earth because of the brutal assault of her daughter.
I mention this because I can imagine Lebron James calling a similar press conference later in July. No the NBA isn't considering expansion into space, but Tuesday night's 30 point shellacking of the Cavaliers spells impending doom for the Lebron era tonight in Cleveland. After a superhuman player like Lebron comes to Cleveland, bringing sky high expectations, sports immortality and doesn't deliver the ultimate payoff what would life be like afterwards? Cleveland will become the psychiatric capital of the world.
Cleveland may seem like a viable contender for years to come but many of the main pieces around Lebron are aging fast. Shaq's contract expires after the season, Antawn Jamison turns 34 in June and Zydrunas Ilgauskas' career is on its last legs (or feet). Mo Williams is the second leading scorer with 16 points per game but they lack a legitimate post presence offensively or on the boards.
Offensively, next season, they'll be stuck with a small lineup that doesn't run. Mike Brown has brought an effective defensive mindset and a stagnant offense to a roster led by notorious scorers Mo Williams, Antawn Jamison, Shaquille O'Neal, Zyndrundas Ilgauskas, Delonte West and Boobie Gibson. I haven't seen so many NBA players watching their teammate singlehandedly lead a team to victory since the Chicago Bulls received an advanced screening of Space Jam.
The supporting cast is adequate but disjointed. The Cavaliers are less like Jordan's Bulls and more like the 3 Little Pigs. Their foundation is a house built of straw in comparison to the brick structures constructed in Los Angeles and Orlando around Dwight Howard and Kobe Bryant.
It's no coincidence James saved his best performance for Game 3, when Jay-Z was in attendance. King James would be the most potent scorer to don the Knicks blue and orange in his prime (I'm talking to you T-Mac) since Bernard King. Mike D'Antoni's offense will maximize Lebron's vision, passing skills, scoring prowess. Lebron should leap at the chance to unleash his inner-Magic within the "7 Seconds or Less" offense. In New York, Lebron would average triple doubles for a full season in just 36 minutes. For Mike D'Antoni it would be like Steve Nash and Amare Stoudemire's DNA were spliced in a Petri dish using Cheryl Miller as the surrogate. It wouldn't be surprising if Lebron could pull down 35, 11 and 11 in his first season with the Knicks. Especially on a thin roster, he'll have to carry on his shoulders.
Despite, his struggle in Game 5, Lebron is still averaging 27 points per game in this series. It's also not Danny Ferry's fault either for the Cavs struggle to build around Lebron in free agency. It's geography. Free agents aren't exactly clamoring to play in Ohio. Lebron may not leave Cleveland for the opportunity to win right away.
It would be about moving to a market where prospective free agents will want to come. By NBA standards, living in Cleveland and hoping for free agent assistance is like calling the cops to Compton because your purse got snatched. Timmy wouldn't send Lassie for help in the middle of the Sahara. Under the bright lights of New York City, the help would want to helicopter Lebron like a boy in a renegade helium balloon. The line to join Lebron in New York will circle around the corner. The second question is which subject works best for/with King James?
Chris Bosh would give Mike D'Antoni the best opportunity to run without sacrificing size on playing 6'7 David Lee at center. Bosh has already distanced himself from the Raptors quicker than Elin, Gatorade, Accucenture and Hank Haney separated from Tiger after changing his Twitter location from Toronto to Everywhere, erased "Raptors captain" from his Twitter biography and tweeted Should I stay or should I go to his 96,000 followers.
The only hope for the Bosh-Toronto marriage is for the Raptors to pull a Sandra Bullock and emerge with a little miracle named John Wall in the Draft Lottery next week. However, Bosh has choices outside of New York's shadow.
Toronto fans have developed severe abandonment issues after Damon Stoudamire, T-Mac, and Vinsanity took the first Red Eye flight back across the border.
A sign and trade with Houston gives Rockets fans the biggest NBA frontcourt tandem since San Antonio's Twin Towers or the 80's alternate version of Ralph Sampson and Hakeem Olajuwon. Rick Adelman has been playing small ball with a revolving door of 4's but would probably trade his 900 career wins over 20 years for 6 years of Bosh and Ming on the block.
However, Chris Bosh has tried the Twin Tower experiment with an injury plagued, 30 year old former All-Star in Toronto last season with Jermaine O'Neal. Yao Ming is 7 inches taller but at 30 years old entering the final season of his contract, coming off a series of foot and knee injuries on a 7'6 frame his future production is in question.
The Chicago Bulls hope to lure Bosh or Dwyane Wade from New York to their hometown. A tandem of Wade & Rose in their hometown is a marketing dream but it wouldn't solve their post scoring woes. It's like getting two guys to hammer a single nail; someone's thumb is going to get in the way. Plus, pairing two great guards doesn't ensure NBA immortality. Ask Jason Kidd and Vince Carter, or Monta Ellis and Stephen Curry.
Juxtaposing Chris Bosh in a lineup beside Derrick Rose, Luol Deng, Joakim Noah, Kirk Hinrich and Taj Gibson immediately vaults the Bulls into the upper echelon of the Eastern Conference. Plus, there's the irony of Bosh's injury propelling Chicago into the 8th seed.
Look around at Nash's pick and roll with Amare, Deron Williams dishes to Carlos Boozer, Penny's magical days with Shaq, White Chocolate/Bibby's reign in Sacramento feeding Chris Webber and the 20 year silver duet of the Jazz's Stockton and Malone.
Deng and Noah will make for lethal 3rd and 4th on par with Odom and Bynum. Kobe and Lebron as rivals from Big Apple and Hollywood is worthy of an Alien vs. Predators or Freddy vs. Jason billing. But Bosh and Howard battling for Eastern Conference supremacy offers the biggest rivalry since Optimus Prime fought Megatron.
The only logistical destination for Lebron outside the Big Apple is the Chicago Bulls. Since Tuesday night Chris Broussard has established himself as the unofficial champion for Lebron's Chicago Fan Club and as currently assembled the Bulls are a one-size fits all spandex unit for each of the 2010 free agents. But only two make them automatic Eastern contenders.
These were Lebron's quotes after Cleveland closed out Chicago.
"Derrick Rose is an awesome talent. He's probably one of the best point guards that we have in our league. He's a tremendous competitor. He played hard. With guys like Derrick you love guys like that. The sky's the limit for him. Lebron said as he wiped the drool from his jersey.
"He's going to continue to get better. There's no point guard in the league that possesses that type of athleticism that he has. The speed and quickness that he has. Chicago -- they definitely have a good one. He's a hometown kid. He's great."
"And someday, well bring the championship back to Chicago..." As he stared into the United Center rafters. (O.K. maybe the last one was a creation of my imagination but Lebron needs a teammate who can provide backup when he can't bucket 38 per game in the playoffs. Derrick Rose can be that guy. Rose is the only point guard in the NBA who could put up 25 points a night and not interrupt the offensive rhythm with Lebron.)
In his second season as a pro, Rose is already the highest scoring point guard in the NBA. It would be all too perfect for John Calipari to fill Chicago's vacancy. During his last NBA stop, Calipari did not have the dribble-drive offense in his playbook. It's a scheme Lebron will embrace and Derrick Rose exceled in.
Chicago may have lost out on the 2016 Olympics but they can bide their time by locking in The King as the Heir to the Air Apparent through the summer of 2016. In Chicago, Lebron will have to live up to more than the ghost of Craig Ehlo. For Cleveland, fans the "chosen one' choosing their most bitter rival would be like Brett Favre leading the Vikings to a Super Bowl or Anakin joining the Dark Side. Utah's animosity towards Derek Fisher, eliminating the Jazz in three consecutive seasons since Utah released him from his contract doesn't even register on the Anakin/Benedict Arnold scale.
In fact, the phrase Benedict Arnold is outdated. Like Jacob on LOST, the time has come to anoint a new candidate for the ultimate definition of betrayal. I've already mentioned Brett Favre and Anakin Skywalker. The Red Sox-Yankees swap has been done so often it's become more routine than Jerry Sloan getting trounced by Phil Jackson in the playoffs.
The Brooklyn Dodgers took their entire franchise to the opposite coast in Los Angeles. Carlos Boozer stabbed a blind man in the back when he reneged on a generous gentlemen's agreement with Gordon Gund which released Boozer from his contract a year early in exchange for resigning with the Cavs. We've all witnessed how that has panned out.
Brett Favre's was more personal because he spent not one, but two off-seasons specifically devising his convoluted avenue to Minnesota.
However, Lebron isn't leaving a franchise with a storied legacy. Unlike Shaq and Lew Alcindor who left small markets for Hollywood. Lebron is fatally striking his tortured hometown team with an Akron Hammer. It's the type of torture supposedly outlawed by the Geneva Convention. If Lebron leaves Cleveland for a sexier market in Chicago, Webster's Thesaurus will forever link "Lebron" with "Benedict Arnold". The only way Lebron returns to his home state in the off-season in this scenario is under an assumed identity in Witness Protection.
The consensus is that hiring John Calipari is like steak for a rottweiler. Calipari is to Lebron what Coach K was to Kobe Bryant in 2004. Likewise, Calipari is the Lebron James of coaching. Calipari has brought unparalleled success to small basketball programs UMass and Memphis but always fell just short of "One Shining Moment'. And there's the difference between Lebron and Kobe. Lebron wants rings, but he also likes pomp and flash in addition to his demonstrative personality on the court. Kobe is more cerebral in his pursuit for more championships.
I've never seen Kobe Bryant so much as high five a celebrity, which is saying something considering A-Listers nest in the Staples Center stands and rafters. Coach K was an extension of Kobe as a cerebral champion in the same way Calipari embodies qualities Lebron admires. Sure he hasn't won anything but he has recruited the best talents in college basketball over the last half decade and milks the media spotlight to his advantage.
Alternatively, Kobe has never projected an image of a savvy businessman. On the court, Jordan is King James' idol. Off the hardwood, Lebron is interested in Magic Johnson's post-career objectives. Lebron wants to open his own chain of theaters, restaurants and designing Big & Tall fashion lines. He's more concerned with becoming the first NBA billionaire socialite than surpassing Jordan.
Meanwhile, Kobe is destined to become a Kareem Abdul Jabbar-like figure in his post career seclusion.
As Lebron regularly parties with Jay-Z, Kobe skipped out on an All-Star party to rest his ankle. Lebron is starring in a feature film this summer. Kobe's most prolific screen credit is a 55 second viral video which featured him leaping over a speeding Aston Martin in a choreographed stunt for Nike and "Kobe Doin' Work"--a Spike Lee Joint of Kobe playing basketball

all in all, predicting Lebron's destination is about as difficult as finding Carmen San Diego, 'Where's Waldo' or Macaulay McCulkin's career.

Immediately after the Celtics dismantled Cleveland, I switched over to ESPN2, which was playing "Straight Outta L.A", chronicling the 1982 move of the Oakland Raiders from Oakland to Los Angeles, before moving back to Oakland in 1995(which is similar to my proposed 30 for 30 documentary on Ken Griffey Jr.'s move from Seattle to his hometown in Cincinnati and back to Seattle. The title: Sleepless in Seattle).
If the Cavaliers lose tonight, ESPN should tap a filmmaker (maybe Michael Moore, Spielberg or Baron Davis) in advance to profile the summer Lebron relocated from Cleveland to New York or Chicago and altered the NBA landscape.