08:45 PM ET 05.17 |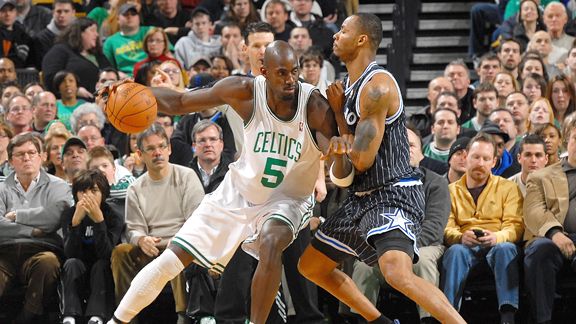 A few years ago, I compared the Boston Celtics trio of Garnett, Allen and Pierce to Morgan Freeman and Jack Nicholson's characters in "The Bucket List". That was in 2008. Boston was knock, knock, knockin' on basketball heaven's door with a trio of 30 and over All-Stars. In their first year, they scratched the Larry O'Brien trophy off their bucket lists. Last May's early exit as well as the The Big Ticket's frail knees seemed to indicate the Celtics were in the terminal stages of their elite status. And like Jack Nicholson; suddenly in the post-season, their demise has gone into submission. Rasheed Wallace is no longer a cancer off the bench, Rajon Rondo has emerged the 4th man off the bench for Boston's 3 man starting lineup and Ray Allen has found the elixir of youth.
Ray Allen was abysmal in last season's 7 game series loss to Orlando shooting just 34 percent from the field and 19 percent (8-for-42) from 3-point range.
Outside shooting was supposed to be Orlando's advantage but they couldn't drop an anchor into the ocean.
For 48 minutes, the Celtics made the once unstoppable Magic play like Muggles. Against the Celtics stingy defense, Harry Potter himself couldn't concoct a scheme to cure Orlando's struggling offense.
Dwight Howard is a physical specimen, yada, yada, yada... It's been rehashed more often than reruns of Good Times. Against the overmatched and undersized Hawks frontcourt, Howard steamrolled his way to shooting an NBA record, 84% from the field. In 4 games, Howard missed only 5 SHOTS! By the second quarter against Boston, he'd missed 4 field goals. Hakeem Olajuwon and Moses Malone he is not. Dwight Howard's offensive game has been stagnant since his 3rd year in the league.
On two occasions in the Magic's 2010 playoff run, Howard didn't even registered double digit scoring.
On Sunday afternoon, green kryptonite Nate Robinson got fewer floor minutes than the floor janitor but the proximity must have been enough. Unfortunately, Superman accidentally stepped out of the phone booth in Game 1 as his bumbling, stumbling Clark Kent ego.
Despite, Orlando's success against a pair of pedestrian foes, Dwight Howard's ceiling has undergone serious reservation in this post-season. His ceiling in my eyes used to be Hakeem Olajuwon. At this point, he's David Robinson with a cape. In Game 1, Howard barely scratched double digits, pouring in, No...dripping 13 points in the bucket on 3 of 10.
As Jeff Van Gundy put it, those were Lois Lane numbers.
In his peak, prior to the days of sharing the post with Tim Duncan, David Robinson's was depositing 25 points, 12 rebounds and 3 blocks per game. At this rate in Howard's stalled evolution, he will never reach Robinson's rarified air.
With his lack of offensive tools, he'd be better served in an up-tempo offense in Phoenix or Golden State where he can just run, jump and rebound. Stan Van Gundy's job is safe but Dwight Howard was built for Don Nelson or Steve Nash and Alvin Gentry (it's no accident, Don Nelson drafted Steve Nash).
Instead of putting on a herculean "Man of Steel" performance, Howard played like the Incredible Hulk; erratic and out of control. From bowling through KG amidst the scurry for a loose ball to literally spinning out of bounds Howard played like a boxer with rain damage. On multiple occasions Howard would bounce wild contested layups off the backboard and rim.
Howard has yet to develop a midrange jumper or intermediate level post moves beyond, "Hulk rebound, Hulk rebound, Hulk slam rock with two hands." He's been conditioned to believe he could rely simple on his physical gifts, which is why he attempted only 10.2 field goals per game this season, and attempted the fewest field goals since his rookie campaign. Kobe Bryant averaged twice as many field goal attempts per game.
Like K.G., it's in Dwight Howard's DNA to defer. He doesn't share the same balance of narcissism, self importance, intensity and transcenden ability of Shaquille O'Neal.
For 4 years all we've heard is that Patrick "Snickers Ch"Ewing was responsible for molding Howards post game. But for a center looking for a dominant low post game, Ewing wasn't that guy.
"He (Howard) came with the same old, stale Patrick Ewing move so I tried to stand there and take the charge. The new rules say if you come through, you fall. He got the same old stinking move that Patrick Ewing has been doing his whole career. I went down, got up and didn't complain. I see him and Stan complaining the whole game because they've got to. Remember, I've done more than him, his brother and Patrick Ewing." --Shaq's diatribe against Howard in 2009.

Ewing had a go to mid range game, but Hakeem the Dream, and Kevin "The Post-Move Messiah" McHale were the low post offensive Zen masters. Howard doesn't have the same quickness as either but the potential is there for a grain of fundamental improvement.
In his Game 1 post-game press session, however, even Howard admitted his movement and footwork were mechanical as a robot. Superman "hulked out" and believes he moved with the fluidity of Iron Man. He's a walking Justice League, without a hook shot. Throw in Dwight Howard conducting his own halftime interview and he's one more identity from an existential breakdown and an intervention by one of Herschel Walker's personalities.
Since the NBA has gone front and center in the reality show arena with "Basketball Housewives" (Housewives of Atlanta for divorced NBA wives and baby mamas. Doug Christie's wife would not approve), the NBA should take a crack at network television. Dwight Howard could use a season of "Center Rehab".
However, Orlando's 4th quarter rally and Boston's letdown is a reminder of the one factor that could ultimately turn the tide in the series. Newsflash: Boston may not be dead yet, but they're still old. In the second half older teams are susceptible to losing a step or two in the second half against younger teams.
Vince Carter brought the gasoline, but Stan Van Gundy couldn't find a spark to light a fire under Rashard Lewis and the bench. Orlando couldn't get out and run against Boston, losing the fast break sprint, 20-6.
On the other hand, Game 6 may have just been a bad afternoon for Howard and the Magic but it doesn't diminish the fact that his offensive game needs micro fracture surgery...
If the Magic are going to recover and disappoint ABC's execs wishing of a Celtics-Lakers finals, Howard's needs to impose his will for 4 games, Google some old YouTube videos of Hakeem or McHale and maybe try getting dressed inside a phone booth.