12:17 PM ET 05.20 |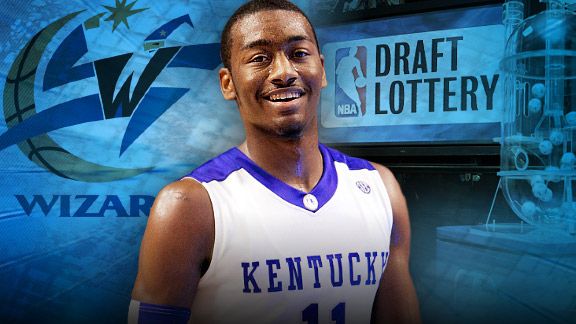 ...And so begins the mystery behind which prospect the Wizards brass will select with their prized first overall pick.
On a night, Orlando was silenced, the Wizards stumbled into a magical night of their own. I'd like to think this blog will stay focused solely on John Wall but there are so many moving pieces involved in this Draft jigsaw I that along the way, I uncovered a surprisingly plausible conspiracy theory, branched off into an alternate reality where Evan Turner was our selection and unveil the Lemony Snicket-Baudelaire All-Stars.
DC has barely had enough time to celebrate Donovan McNabb. I guess Washingtonians should be grateful, Gilbert Arenas brandished a firearm on Christmas Eve behind the halls of the Verizon Center. In effect, Gilbert should be thankful too. After his suspension, the Wizards dropped 22 of 37 and gained coveted ping pong balls with each loss. The subsequent collapse led to Antawn Jamison getting shipped to Cleveland and Caron Butler packaged to Denver.
6 months after Arenas' Christmas corral, their gift has arrived. Without his sacrifice, the Wizards would not be celebrating their 6'4 package tonight. Agent Zero's 30 days in a halfway house brought him backcourt mate. It's one of those ironic moments when a boneheaded decision produced a shockingly favorable opportunity.
However, the NBA Lottery's presentation could be tweaked. In the future, the Lottery should be revamped by alternating to a "Deal or No Deal" format. Instead of envelopes, hire 14 models opening 14 briefcases as rabid season ticketholders represent their home franchises. Secondly, hold it outside a Las Vegas casino.
Or scrap the models and have the other 14 GM's stand by the cases while the GM with the most ping pong balls picks what cases to open. Of course, the results would still be determined in advance but the surprise on the team reps faces should be milked for primetime television gold.
As is customary, each franchise representative carried a good luck charm, presumably in hopes of swaying the basketball gods. Prior to the Lottery, Indiana's Danny Granger brought Sean Connery's bage James Bond jacket, covering a John Wall jersey. (at least he claims it was Bond-inspired but even I know Don Johnson's Miami Vice jacket when I see it.) How did the Wizards trump that karma? By seating Abe Pollin's widow wearing Abe's '78 championship ring.
The spirit of Abe Pollin helped wash away the ghosts of Kwame Brown in 2001. Unlike 2001, this isn't an NBA Draft headlined by high schoolers Tyson Chandler, Eddy Curry, and the retired Kwame Brown. Or at least you'd believe he retired looking at the 3.3 points and 3.7 rebounds per game he contributed off Detroit's bench. Across the bench is the ignominious Darko Milicic completing Joe Dumars' devolution from a disciple of Red Auerbach into Elgin Baylor's apprentice.
Unlike the wide open 2001 Draft, Wall has been projected as the clear cut first overall pick since January... of 2009. Defensively, Wall has Rondo's intensity as well as anticipation in passing lanes. Offensively, he's got Derrick Rose's second gear, explodes towards the hoop like C4 and possesses Tony Parker's paint scoring instincts. Plus he has Jay Bilas' favorite attribute. At 6'4 he's got great length in comparison to the 6'1 Rondo and 6'3 Rose. On the downside at this stage, his shooting range is somewhere between Rose and Rondo's.
How awkward would it have been for Andy Katz and John Wall if Minnesota(which owns Ricky Rubio's rights and drafted 3 point guards in the first 20 picks last year), Utah, which has Deron Williams in its backyard or Golden State had won the lottery?
Outside of D.C., apparently this is viewed as a terrible scenario for Wall and Katz posed the question before the lottery that he would be drafted by a team with a losing record. What other kind of lottery team is there? Unless Wall had plans of experimenting at 2 guard in Utah, can you name a better scenario for Wall? Philadelphia? They're saddled by a pair of long term contracts twice as large as Gilbert Arenas in Andre Iguodala and Elton Brand who are half as productive.
New Jersey? I'm not even talking about the basketball team just the city. They're not in Brooklyn yet. The only attraction in New Jersey is Atlantic City. Did I mention Wall's only 19?
Minnesota which retains Ricky Rubio's rights has drafted point guards like Matt Millen selects wide outs.
Heaven for Wall would have been the Memphis Grizzlies but a borderline playoff/lottery teams skipping ten spots into the top pick would be like holding a fundraiser for Bruce Willis' hair transplant. There are better causes, and the ensuing chaos and revolt would cause the system to crumble.
Need more proof this was preordained? One of John Calipari's assistant coaches to tail him from Memphis to Kentucky was Rod Strickland. Bullets fans remember Strickland as a silky smooth dribbler who whether it was a ball in his hands or a pipe, finished his career as one of the most prolific passers in NBA history.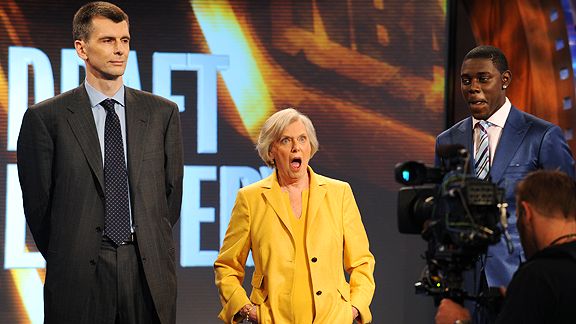 After a decade of turmoil and bruised expectations, sports in DC appear to be turning the corner. Not including Donovan McNabb, the NHL's 2004 #1 overall pick, Alex Ovechkin will be welcoming a trio of top selections to the nations capital within weeks. Rubber armed phenom, Stephen Strasburg will probably make his major league debut in June, the DC Expos would like to draft 17 year old Bryce Harper junior college phenom 1st overall this summer and John Wall are expected to be mainstays in the city.
Harpers swing has been profiled as mythical as Paul Bunyan's axe and if the hype about his swing pans out, Harper could go yard on intentional walks. Weeks before Wall is selected by the Wizards the DC Expos will nab Harper, the most natural power hitter since Mike Tyson or Alex Rodriguez, was batting .410 with 21 homers and 59 RBI thru 47 games with a wooden bat. 22 year old Strasburg is now 6-1 with a 0.89 ERA in his seven starts between Triple-A Syracuse and Double-A Harrisburg after throwing another 6 1/3 scoreless innings Wednesday.
What's the precedent for a streak like this in one city radius? More importantly, which #1 overall pick will be the best in DC?
Gilbert excelled on offense when he was not the team's primary ball handler and was able to operate off the ball. John Wall's presence will renew Gilbert Arenas' his license to shoot. John Wall's quickness, speed, ball handling and vision have been extolled. Wall also turns the ball over at an alarming rate which could be a byproduct of inexperience. Wall's jump shot leaves much to be desired, which makes it fitting that he'll be paired with one of the most potent shooters in the NBA.
Gilbert Arena's can be the Mr. Miyagi for John Wall's jump shot. He can work out with John Wall every single day in the manner he trained with DeShawn Stevenson (not Javaris Crittenton). Hopefully, the next time Arenas discusses shooting range around Wall, it's while working on his jumper from beyond the arc.
John Wall is more likely to attack and finish at the rim while Gilbert Arenas has better range of the dribble than a Navy SEAL sniper. Rajon Rondo, a Kentucky disciple is midway to quarterbacking Boston to their 2nd NBA Finals in 3 years. John Wall is better. The Wizards now make an appealing destination for All-Star pivots Chris Bosh and Amare Stoudemire. Conversely, New Jersey and Brooklyn are deleted from Lebron's Navigation system.
For almost half a decade, Amare's Facebook status has read open relationship with Phoenix Suns". Amare's not going to win a championship in Phoenix and they've burned bridges by shopping him on every trade deadline since the day he was born.
Amare's pending free agency removes Amare from the Lemony Snicket-Baudelaire All-Star Auction for superstars placed on the trading block, which no team will trade for.) If you've never seen a series of Unfortunate events, it's about a trio of children who become orphans after their parents are killed and their journey to find a permanent home). The contracts for Gilbert Arenas, Yao Ming, Reggie Bush, Michael Vick, Osi Umenyiora, Albert Haynesworth, Shaun Rogers and Hanley Ramirez will now carry the banner for the Lemony Snicket-Baudelaire All-Stars into 2011.
There are some a few I missed but that's why foster kids are called the "forgotten children". Andray Blatche and Chris Bosh or Amare Stoudemire would enable Coach Saunders to play up tempo with John Wall.
CLICK HERE FOR SECURE ACCESS TO PART 2 AND ACCESS TO MY ASININE CONSPIRACY THEORY.