08:40 PM ET 10.07 |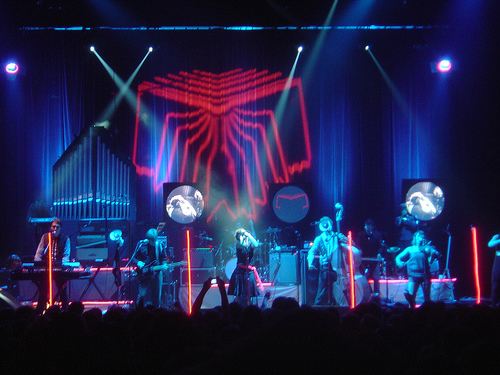 If you are hipster-/claustro-phobic, Arcade Fire would be a bad choice.
Last night, Pablog trekked to the barren wasteland known as Randall's Island to take in The
Arcade Fire
, a band he's been very excited about since the fall of 2005. This is in spite of the first line of
their Wikipedia page
, notably, which describes them as "an indie rock band from Montreal, Quebec, Canada." (Apologies to this blog's immense Canadian following.) Outside of a bizarre college roommate-bonding experience at a
Jason Mraz
concert in Boston, this was basically the first "real" concert Pablog ever attended.
Why? Pablog isn't really sure. Pablog loves music (like, I know, right), but he supposes there just hasn't been a band he cared enough about that was both alive and on tour (distressingly,
Lou Bega
never blew up like he thought he would). Concerts are also kind of expensive, and until last week--when Pablog paid $170 for a ticket to Game 5 of the 2007 ALCS on StubHub--he lived almost exclusively in the domain of the sub-$20 venue. (Yes, it was a bleacher seat, and yes, it was for Yankee Stadium. There would theoretically be a refund.)
In short, the concert was amazing, even if
LCD Soundsystem
--one of three opening acts--kind of played for too long.
Indeed, even though he was surrounded by Brooklynites who smelled like a mixture of marijuana and hamsters, Pablog really, genuinely enjoyed himself.
Which brings us, somehow, to your Sunday
Four Pointers
...
1. Music's value, Pablog feels, lies largely in its capacity to serve as a soundtrack for your life. Do you want to get absurdly pumped up before going to the supermarket? Or throwing out the garbage? Or sitting on your couch? Look no further than
Autumn Thunder: 40 Years of NFL Films Music
. As the time frame of 40 years suggests, this is a busload of music, a good deal of which any football fan will subconsciously recall. Pablog's favorite track is the goosebump-creating "
A New Game
," which makes him feel like a blogging
Ray Lewis
.
2. In
a recent post
, Pablog referenced a favorite
Bill Walton
quote of his. It's only fair to provide even more (n.b. "
Tony Parker
just made the worst pass in the history of Western Civilization"),
courtesy of Detroit Bad Boys
.
3. The Cubs are 0-for-99 (that being World Series and years). Here is maybe the highlight of their existence:
Bill Murray
,
moonlighting as a Cubs announcer at Wrigley
(courtesy AOL Fanhouse). Pablog's preferred line: "
Tom Foley
shouldn't even be in the Major Leagues and he knows it. He's lying to himself, and he really should go back into some form of community service in his hometown." Maybe one day Murray will stop cameoing in
Wes Anderson
movies and do this full-time (as good as "Darjeeling Limited" was). Can we agree to that?
4. Because sometimes, you need to take a page out of the
ol' Spiritual Playbook
.