04:37 PM ET 05.29 |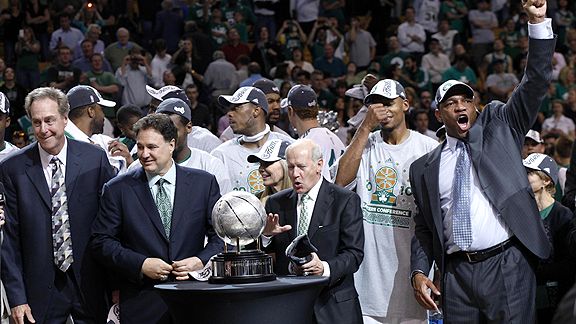 "THIS STARTING FIVE HAS NEVER LOST A SERIES"
A decade ago after San Antonio won their first NBA championship in franchise history in a post-Jordan landscape, Phil Jackson suggested their championship deserved an asterik beside it. While he didn't quite mention the Lakers, Doc Rivers made a point of emphasizing that "THIS STARTING FIVE HAS NEVER LOST A SERIES". In effect, he issued a warning shot to the Lakers that no one has defeated the 2008 champs when they were fully healthy. Kobe may be ascending every Laker and NBA career records ladder but until he sends the Celtics packing from an NBA Finals without a parade his resume will be incomplete.
But before the Lakers rubber match can take place, Kobe has to pull one out in Phoenix tonight, you've got to lend me your eyesand get caught up with my Game 6 diary.
9:23 Paul Pierce heads to the free throw line to give Boston an early 7-4 lead while Vince Carter plays with his jersey probably to check and see if he's still there. I truly believe he's having an existential crisis.
8:43 Rondo has 7 points through 3 minutes including a free throw and a jumper off the dribble from beyond the arc. Rashard Lewis has to be ashamed of himself right now.
8:09 For the second consecutive game, Garnett has picked up his 2nd foul before. As he intensely debates a foul he clearly committed, I half expect one of those mini-Alien heads to pop out of his mouth and bite the referee's head off.
He literally punched Dwight Howard's arm, paused and punched him again when Dwight Howard touched him. At this point, Kevin Garnett's intensity has jumped the shark. On a side note, I'm waiting for the first NBA player to take the O.J. Simpson's lead and release a hypothetical book on their career fouls titled "If I Did It".
7:14 Glen Davis enters the ring...I mean game. Commence the concussion jokes sponsored by Mark Jackson.
5:08 Following a steal, Rajon Rondo attacks the rim in transition as Vince Carter backpedals into the nosebleed section defensively. Seriously, how much is Vince paying for these center court seats? Hold on...What do you mean he's getting $16 million a year from Orlando?
3:30 Jeff Van Gundy poses the Ridiculous Stat of the Night: Bill Russell, 5-time MVP, 3 times All-NBA.
1:40 Mike Breen comments that Rashard Lewis is doing everything fine besides scoring. Seconds later, he misses a finger roll layup grabs his own rebound and rims out a 3 foot layup attempt off the backboard. There's no doubt about it. Lewis is entering the Tiger Woods "Quail Hollow" Frustration Zone. If he had a putter right now it would be flying into the first row. If the Magic had an open tryout tonight for their roster Rashard Lewis would probably miss the cut. Like Tiger, who actually resides in Orlando, he???s 9 missed shots over the cut for the 2010-2011 Orlando Magic roster.
32.7 If Boston wins this series and then the Finals, trainer Ed Lacerte should have his shirt and stethoscope retired beside Larry Bird's jersey in the Celtic rafters. Trainers do carry around stethoscope's right?