10:46 PM ET 10.09 |
After another disappointing first round post-season exit if I were New York Yankees Owner George M. Steinbrenner III, I would make some serious changes to this ballclub. In fact I would make a lot of changes to this roster and get back to square one. Though it seems odd a 94 win playoff team with a payroll in excess of around $200 million would need a drastic overhaul, but alas here we are and here are the changes that must be made:
(Moves to be made by The Boss)
First the General Manager Brian Cashman. While I continue to applaud Cashman's willingness and philosophy to develop young talent in the farm system and holding onto prized prospects instead of dumping them for the Eric Gagne's of the world, I wouldn't bring him back. Whether since 2001 you want to blame him or the Tampa contingent for moves like Jason Giambi, Kevin Brown, Steve Karsay, letting Andy Pettitte go etc. is your call. However since supposedly took back the reigns in 2005, he's responsible for Carl Pavano, Jaret Wright, Kei Igawa, Tony Womack, Kyle Farnsworth, re-signing Mike Mussina and letting Bernie Williams go.
(OUT)
My new General Manager(s): Gene "Stick" Michael and Buck Showalter. These guys layed down the foundation for the turnaround of the Yankees and this most recent dynasty in changing the culture of the way things are done in the Bronx. Both are excellent talent evaluators, know how to run an organization, how to bring in quality people and hard nosed ballplayers and especially how to cultivate, scout and develop a farm system.
(IN)
What to do about the manager Joe Torre? There's two ways to look at this. 1.) Torre always wins and gets the Yankees to the playoffs, despite starting the year with two-fifths of the starting rotation comprised of Carl Pavano and Kei Igawa and followed by the many rookies that would come. Not to mention in the post-season they essentially had about two automatic reliable relievers in Mariano Rivera and Joba Chamberlain. In addition to having 45 year old Roger Clemens not able to pitch more than two innings and Mike Mussina pitching so poorly down the stretch he has to be relegated to long-man status, while Chien-Ming Wang had to get run out there on three days rest. That and Jason Giambi was a total $20 million waste just sitting there on the bench because he's all roided out. 2.) The Yankees have a lot of All-Stars, Hall of Fame guys and have spent hundreds upon millions of dollars to at least do something more than get bumped in the first round for the 3rd straight year.
(OUT)
My new Manager: Joe Girardi. Girardi is just a flat out winner everywhere he goes. As a player Girardi made the playoffs as a catcher with the Cubs, Rockies and Yankees. As a manager Girardi won with the Florida Marlins, with a payroll of $15 millon and a bunch of Double and Triple-A players not named Dontrelle Willis or Miguel Cabrera. Some have compared Girardi's managerial style and makeup to former Yankees skipper Buck Showalter. Girardi knows talent and how to motivate and get the best out of youner players and is a no nonsense type of guy. Which is a positive because he won't be attached to this roster, will be given a clean slate and there are a lot more youngsters on the way. Girardi also knows how to succeed in New York which is very imporant, he learned strategy from Don Zimmer and how to handle a clubhouse from Joe Torre and there are enough of his old teammates still around to back him up and support him, namely Derek Jeter, Jorge Posada, Mariano Rivera and Andy Pettitte. Girardi would be the logical fit to replace Torre, much in the way Ralph Houk replaced Casey Stengel.
(IN)
The Thirdbaseman: Did A-Rod light it up in the playoffs this year? No. Was A-Rod the absolute reason the Yankees lost in the playoffs this year? Hell no! Honestly here's my take, if A-Rod wants to stay and sign an extension and end his career with the Yankees then bring him back. However if A-Rod wants to opt-out, get paid $40 million a year and ultimately take up one-third of the payroll they might just want to spend and use their resources elsewhere. A-Rod is very marketable for YES, the new Stadium, the All-Time HR chase and on and on. He's a good guy who seems more relaxed and more comfortable with the city embracing him and he seems to have taken on more of a leadership role in the clubhouse. Either way I don't think the Yankees can lose. If A-Rod is back, they have one of the All-Time greats in the lineup. If he's not, they probably have a solid guy like Mike Lowell holding down the hot corner, who has a great glove, came up with the Yankees, is mostly a doubles hitter and can hit for average and power and the Yankees have won with players like him at 3rd before, like the guy who stood in his way back in 1998, Scott Brosius. That and the Yankees can allocate more money towards pitching and or outfield help.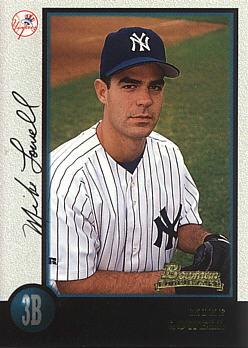 Speaking of the outfield, nobody is safe. It will be quite interesting to see if the Yankees try to perhaps package Melky Cabrera in a deal for Johan Santana. Or whether they keep Melky in center or move him to one of the corner spots given his arm and bring in a Torii Hunter or Aaron Rowand who are excellent defensively and provide much more pop at the plate. Will Bobby Abreu's 2nd half resurgence and steady post-season be enough to retain his services or will the Yankees do a Gary Sheffield, pick up his option and trade him for some pitching help? Hideki Matsui rebounded well this season, but has been injury plagued the last couple of seasons. Though Matsui has been pretty solid as a Yankee and the organization likes the whole Japan marketing thing, the next GM or skipper might want to consider a different path and deal him for some pitching help before he potentially breaks down. Lastly Johnny Damon may have saved himself with his October heroics, that or he possibly showcased himself for another team should the Yankees look to deal him for some pitching. I say the Yankees have to at least bend off one of those guys for some pitching help and need some serious pop either for the outfield or DH spot.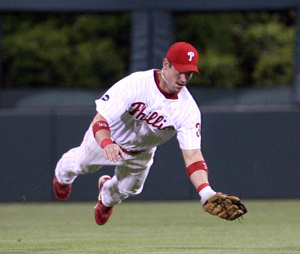 Catcher: Obviously bringing back Jorge Posada is a no-brainer and retaining Jose Molina would be a wise decision as well.
1st base: Working out something between a platoon of Doug Mientkiewicz, Andy Phillips, Shelley Duncan and Wilson Betemit should be just fine at the moment for the Yankees.
Up the middle the Yankees are more than set with Derek Jeter and Robinson Cano.
Finally the most important, the starting rotation. Assuming everyone comes back and they don't pull off a blockbuster for a Johan Santana type, here's what my starting rotation would be in no particular order. Andy Pettitte, Chien Ming Wang, Phil Hughes, Joba Chamberlain and Ian Kennedy. That's right, no more Roger Clemens, Mike Mussina, Kei Igawa or Carl Pavano. Go with youth here and you heard me right, Joba starts!
In the bullpen Mariano Rivera must be brought back, even at his age, when it counts he's still better at 80% than most closers in this league at 100%. Plus who else are you going to sign Eric Gagne? Please. Kyle Farnsworth must be shown the door. They have to make some deals as I mentioned earlier to bring in some workhorses. They should probably bring back Luis Vizciano. And there should be a healthy competition between more young guys (if they're not traded) like Ross Ohlendorf, Humberto Sanchez, T.J. Beam, Darrell Rasner, Jose Veras and Chase Wright. Perhaps Mussina is retained as a long-man or a spot starter in the pen or if Girardi is hired as manager they bring in Jon Lieber for help as an innings eater. Another option might be to try and swing a deal for Minnesota Twins closer Joe Nathan.
Finally the deadweight must be cut. Some how some way the Yankees have to shed the bad karma and equally bad contracts of Carl Pavano, Kei Igawa, Jason Giambi, Mike Mussina and Kyle Farnsworth. A big reason the Yankees can't afford to give A-Rod the moon if he opts out is that these guys are taking up a huge chunk of the payroll without actually living up to those salaries or in some cases not contributing at all.
In summary the Yankees have an array of directions they can go. Continue to get younger and more fiscally responsible. Trade some of that youth or those big contracts for some "sure things," i.e. Johan Santana or Joe Nathan. Spread out their resources to create more depth on the roster. Or they could just go all out and spend $300 million.
I'm not expecting them nor do I want them to revert back to the 1980's style of doing things or even what happened after the 2001 season. With potentially more payroll flexibility and more leverage for the owner, this will be the biggest turnover since 1995 and 1997, both year's the Yankees made the playoffs as a Wild Card and got bumped in the ALDS. Oddly enough it may all turn out to be very cyclical for Joe Torre, who like Buck Showalter before him was a successful well like skipper by the fans who brought the team back from extinction to the playoffs only to lose and be let go. Hopefully these changes like those made in '95 and '97 bring about a new dynasty for these Yankees and hopefully they'll remember what those changes made at that time that were, when they're thinking about making them this time around.