07:53 PM ET 07.07 |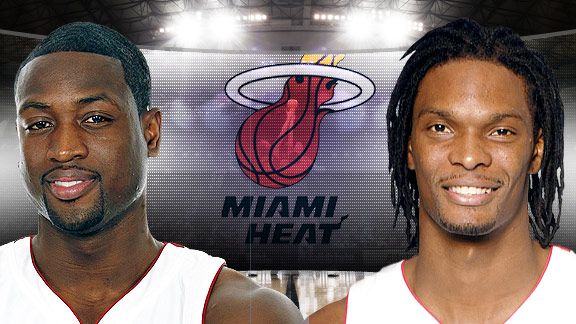 Preview: "Before I start let me just get straight to the point. I'm launching a new website soon. www.dunsonchecksin.com. It'll be a daily blog and I'll still be posting links to my blogs on this site for the forseeable future as well. We're currently in the early stages of designing and I hope when it's done all of you at Fannation will subscribe to it. If you've got any suggestios leave them in the comment box below or email me at dj@dunsonchecksin.com. And now back to your feature article."
As the Miami Heat and Chicago Bulls grasp for the distinct possibility of the summer's mega acquistions vaulting them into the East's elite for the next half decade, the world watches and waits. Who hasn't taken these dream scenarios a step further on NBA Live by placing Derrick Rose, Kevin Durant, Lebron James, Chris Bosh and Dwight Howard in the same starting lineup. I'd like to close my eyes, snort a handful of Peter Pan's fairy dust and witness a quintet of All-Stars sacrificing contract salary for the most star studded lineup in NBA history but I'm a realist.

After Wednesday morning's anouncement of Dwyane Wade and Chris Bosh's signing in Miami only one more star has to align both literally and figuratively.

10 years ago, the closest super team incarnation was nearly manifested by Miami's in-state comrades, the Orlando Magic. The summer of 2000 was highlighted by the leaguewide wooing of seven footer Tim Duncan and the esteemed Grant Hill.

Orlando hoped to lure Grant Hill and Tim Duncan with the promise of hanging a plethora of championship banners across the rafters of the old TD Waterhouse Centre. Together they would build a dynasty in the Magic Kingdom. Much like Chicago has been attempting to woo Lebron with Fortune 500 company CEO's and New Jersey jetted in Jay-Z, Orlando brought in Orlando resident Tiger Woods as the big hitter (or swinger) to pitch their organization to Duncan and McGrady.

The Magic were also negotiating at the time for the services of a less heralded guard at the time named Tracy McGrady. 10 off-seasons ago, Tracy McGrady sat in Chris Bosh's shoes. McGrady's decision making process was as simple as Bosh's is today. Wherever, Hill and Duncan sign, he would follow them like Toto down the yellow brick road paved towards millions of dollars and Larry O'Brien trophies.
At the time, McGrady was also looking to escape from our neighbors North of the border and from beneath the shadow of his cousin, Vinsanity.

However, there was a second team which could match Orlando dollar for dollar in cap space maneuverability. The Chicago Bulls. Phil Jackson who was coming off his first world championship as head coach of the Lakers gave the Bulls the edge in signing the trio. The Bulls hopes however, were the same as the New Jersey Nets are today despite drafting rookies Elton Brand and Ron Artest in the off-season. Chicago was reeling from a 17-65 season season under head coach Tim Floyd.

Looking back the Magic's nucleus was prime for a title run. Duncan, Hill and McGrady were expected to join point guard Chauncey Billups and Ben Wallace on a team which finished the season with a .500 record. Ultimately, Grant Hill never even formed the dangerous Batman-Robin duo with Tracy McGrady. Hill played only 135 games combined over the next five seasons which included 67 games played in the 2004 campaign.

Grant Hill was slightly overrated as a scorer. The 26 points per game he averaged in a contract year with Detroit were by far the highest average of his career. His previous five seasons in the NBA, Hill averaged 19.9, 20.2, 21.4 and 21.1 points per game in '98 and '99. He was ultimately a superior rebounder than King James. The next season he finished 2.7 assists and 1 rebound per game from winning an NBA "Oscar"(i.e. average a triple double through an entire season).

Ultimately as history reminds us, Duncan decided to remain at the Alamo and win another three rings in San Antonio. Phil Jackson is reveling in his fourth championship as Lakers coach and Lebron James is Miami's Tim Duncan this time around.

Lebron James on the other hand will announce his decision LIVE on ESPN at 9 PM, eastern time. He'll narrate, share memories of his favorite scenes w/ Cavs & announce his free agency destination. It's the biggest signing since the Treaty of Versailles officially ended World War I. Who knows how many stops he'll pull when he decides to propose to the mother of his two children? He's set the bar incredibly high.
Lebron's already abducted the NBA Finals with his Larry King interview. Couldn't he just pause until President Obama's next primetime press conference, then pre-empt Fox News, CNN, ABC, CBS and NBC's coverage simultaneously with his announcement Live from the Gaza Strip? Sure there are missiles fired on occasion towards Israel and Palestine but at least they won't be aimed directly at him as they will be from Cleveland if he signs with a franchise from outside Ohio.

As I said last week, this is all just another symptom of Lebron's stunted mental growth. The 2010 free agent class has taken the form of a children's play date. It's the equivalent to watching the Rugrats go on a living room adventure starring Lebron James as Tommy Pickles and Chris Bosh as Chucky Finster. All Lebron needed was the screwdriver from his jersey shorts to prop open the playpen and free agency became a bonanza. Unlike the 2010 free agent class, however, the free agent class of 2000 weren't Rugrats from the same playpen.

Tim Duncan was in his third season, Grant Hill was in his seventh and Tracy McGrady was entering what should have been his senior season at UNC(where I always imagine in an alternate reality, he'd have spent two seasons dueling Duke guard, Kobe Bryant.)

Sportscenter anchor, Josh Elliot referred to Miami as the center of the basketball universe. If Miami could wrangle Wade, Lebron there is so much which could go wrong. Wade's body could finally succumb to the years of throwing it around like a sky diver without a parachute. Lebron's 6'8, 270 pound body of muscle loses it's spring or Chris Bosh shrinks into Lamar Odom under the pressure of playing for a contender.

Only Dwyane Wade, Quentin Richardson, Michael Beasley and Mario Chalmers wore a Heat jersey last season. As of today they barely have enough bodies for a scrimmage with the Harlem Globetrotters.

In addition, if Lebron were to sign with Miami, you'd assume he's make his announcement alongside Wade and Bosh. Right? The timeline is fishy. Lebron schedules his announcement on Tuesday night. Less than 12 hours later, Wade and Bosh have teamed up in Miami. It appears from the outside looking in that after Bosh's rebuff to Cleveland, Lebron made up his mind that he won't be playing in Cleveland or Chicago alongside Bosh. Soon after, he scheduled his special: The Decision. In my opinion, the race is handicapped now to New York and Cleveland. In my humble opinion, he's either conceding Ohio by broadcasting from Greenwich Connecticut or he's consulted with M. Knight Shyamalan on how to throw your audience off the scent.
Meanwhile, next summer is shaping up to be the summer of Chris Paul and 'Melo. We could be reaching the dawn of a new age in the NBA. And like a little girl blowing out her birthday candle who wishes for a pony, James Dolan will bank on making both acquisitions.