04:38 PM ET 08.15 |
In the hotel room and my two friends are sleeping, so thought I'd do round 2 of this series
Now, this is a bittersweet topic for me. Kobe has admitted after playing under Coach K in the 2008 Redeem Team that he would have went to Duke had he went to college. He also admitted he was quite close to doing so.
So this got me to thinking. What would have happened if Kobe went to college for a couple years at Duke.
His first year at Duke would have been the 1996-97 season. That season featured a Duke roster of a young Trajon Langdon, Roshown McLeod, Jeff Capel, and Steve Wojo. The team would have most assuredly been guard heavy and Kobe would have likely slid to the SF position. The original team made the 2nd round of the tournament, but I can guarantee Kobe could have pulled off a Kevin Durant or Carmelo Anthony and led this team much farther. A title would have been unlikely, but let's assume Kobe comes back another year
For the 97-98 season, this is where things would have gotten really interesting as the Blue Devils added Elton Brand, William Avery, and Shane Battier. With more front court help, they very well could have competed for a national title with Wojo at point, Trajan at the 2 spot, Kobe at SF, Battier at PF, and Brand down low. The team lost in the Elite Eight by 2, so saying a Final Four wouldn't be out of reach by any stretch of the imagination
If Kobe had come back for the 98-99 season, they definitely would have won a title. The team made it to the title game and lost a close game to UConn. In his 3rd year in the NBA, Kobe really broke out, scoring around 20 points a game. His killer mentality would have led the Dukies to this title for sure.
So with possibly 2 titles under his belt, Kobe would have left after the 1999 season. The 1999 NBA Draft would have been ultra intriguing. Brand, Avery, Maggette had left Duke that year. Add Kobe to that list and Langdon, who graduated, and that's 5 Dukies in the first round.
But it's where Kobe would have landed that is even more intriguing. He would have been the #1 pick, and guess who was sitting there with that pick.....
The Chicago Bulls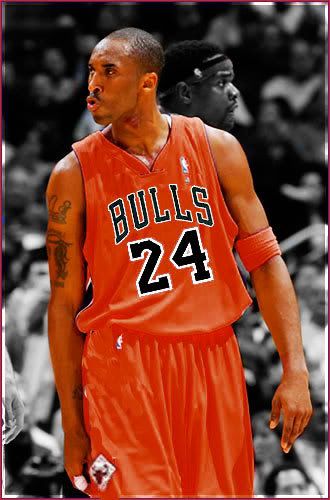 There's no doubt that, looking for an heir apparent to MJ, the Bulls would have grabbed up Kobe. And guess who else the Bulls picked that year: Ron Artest. What a young tandem to build around. The group leads the Bulls to a couple more wins than the 17 they managed, finishing with about 27 wins or so. Still they land a mid-lottery pick and grab Joel Przybilla.
With a capable center, the Bulls get about 35 wins the next year, landing late in the lottery for 2001, where the Lakers package Kukoc and the 10th pick and send them to the Hawks for Pau Gasol.
That's right, the Bulls would look a little bit like the Lakers with Artest, Bryant, and Pau as a core.
As for the Lakers, without trading for Kobe in 1996, they keep Divac and suffer another subpar year. However, in the 1997 draft, the Lakers pull off a similar trade, sending Divac to the Raptors for another high schooler....Tracy McGrady. The Lakers eventually taste some of the success they did, winning a title in 2001. However, the 2000 Blazers and 2002 Kings both get rings, giving the likes of Chris Webber and Scottie Pippen a ring.
But Kobe skipped college, brought Duke fans hearts, but became one of the greatest NBA players of all-time. He certainly wouldn't be that with college, but it's fun to dream, right?