04:39 PM ET 10.30 |
Well the World Series is over, and it is about time for everyone to guess who is going where. I figured I would throw my hat in the ring. I took at look at 13 players that are either free agents, could opt out of a current contract, or just rumored to be traded. While I do not claim to be an expert here, this is where I see everyone going.
Lets start with Miguel Tejada, the word is that he will be one of the first guys to be moved from the O's this off-season. While Tejada has been almost a complete bust in Baltimore I can see the Boston Red Sox rolling the dice on this one. Before the post season started I could have seen the Sox trying to improve at both the SS and CF position this off-season. Now that Elsberry has looked like he can fill that spot in CF look for the Sox to upgrade at SS. As for that guy playing for their rival, don't even think about it.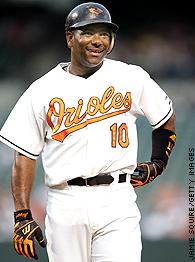 Verdict- Tejada traded to Boston

While we are on the Red Sox there has been a ton of speculation as to where Mike Lowell will play next season. Lowell has said himself that he has never hidden the fact that he love playing for Boston. And it seems like every time you get him together on a team with Josh Beckett it is World Series or Bust. Boston is a team that is known for spending, and I really have a hard time seeing this franchise letting the World Series MVP go. Just can't see it.
Verdict- Lowell stays in Boston
This may be a little bit of a shot in the dark, but I can see Boston adding one more player this off-season. Sox fans used to love him, then they didn't like him, then they hated him, right now they despise them, and in 2008 they will love him once again. The man I am speaking of is the Rocket himself. Roger Clemens has hinted that he would like to come back for one more season. The Yankees have done everything to rub all of their veterans the wrong way, and to be honest with you I just do not see him fitting into their plans next season. As for Boston, while they may not NEED Clemens they would love to see the guy that came up with Boston finish there.
Verdict- Clemens finishes up a long long career in Boston
As for the Evil Empire, they claim that they are going to try and cut back on all of the overpaid veterans. That said I'm not completely buying it. They will need to fill that open spot at 3B. While A-Rod is out of the question they will go for the next best thing. Miguel Cabrera is a very talented young 3B, and he is getting to the point that the Marlins have to pay him more than the $6.75/ hour that they are willing to pay their players. Cabrera will give the Yankees something that they never had with A-Rod, multiple hits in the post season.
Verdict- Miguel Cabrera is the next 3B for the Yankees
Staying in NY the Yankees pitching was a little suspect this past season, but they found some young pitchers at the end of the season that may give them hope for the future. With the loss of Roger Clemens they will once again look towards the next best thing. Which in this case will be Kerry Wood. Kerry will come at a huge discount because he has had so many injury problems. The Yankees will take a shot on the guy because if he finds a way to stay in the rotation they will hit the jackpot on this one.
Verdict- Kerry Wood signs with the Yankees
Jorge Posada's contract is up this season. Posada is a life long Yankee, and while they are looking to make quite a few changes I just can not see Posada playing anywhere else. Also you have to take into account that not only is this a team willing to pay to win, but they are going to lose touch with their fan base if they allow Posada to walk. He is almost at Jeter status, and I do mean ALMOST. While he may never be #2 he will be a Yankee next season.
Verdict- Posada stays right where he is
When talking about the Yankees there is one more player I can see coming to the Bronx next year. It is a little bit of a stretch, but when you think about it maybe not. While Giambi will most likely be dropped this off-season and Alex Rodriguez will be off to another team as well this leaves the Yankees with one huge need. That is to have someone hit the ball out of the park. You see they can preach this "we are going to bring up our own guys" and the "this is a new team" stuff all day long, but bottom line this is a business. And in the business of baseball 2 things put people in the seats, winning games and hitting home runs. With all of the changes winning games may not be immediate, so to keep the fans happy the Yankees will bring some power to their lineup. They will bring the career homerun record back to New York by sighing Barry Bonds. I know it seems crazy, but just think. Barry can DH, so he doesn't have to kid himself by hobbling out to LF and jogging after triples that should have been routine outs. Bonds also gets a short porch in RF so he can add to that HR number. And the Yankees get that power hitter that will keep the fans interested.
Verdict- "Now batting for the New York Yankees Number 25 Barry Bonds."

Ok I talked about the Sox and the Yankees so I have fulfilled my duty in writing a blog on baseball. So, lets move to some other clubs.
The Angels have been trying to get someone to protect Vlade in the order for the past few seasons. They will put in a ton of effort in the Alex Rodriguez chase, but in the end I see them falling just short. So in a desperate attempt to find some extra power for that lineup they eventually pay Boras' asking price for Andruw Jones. While this may give the Angles the best defensive OF in the league they will want that $20 million back come the end of the season when they paid about a million dollars for ever 10 points in Andruw's batting average.
Verdict- While they save $10 million by signing Andruw Jones over Alex Rodriguez, they don't get what they want when Jones finishes the year batting right around .200.
When it comes to center fielders none will get more attention this off-season than Tori Hunter. Tori will add a great deal to whatever team that he goes to. While he would be a perfect fit in Atlanta the Braves will not be able to afford him and expect to keep Tex past 2008. Philly would be another great place for Tori, but expect the price to get a little too rich for them as well. The only team I can see willing to shell out for this guy is the Mets. Now the Mets need pitching more than anything, and by the logic they have used in the past they will sign Tori Hunter. He will allow them to move Beltran to LF and will make this stellar line up even better.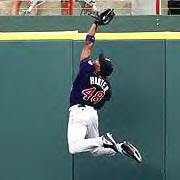 Verdict- Unless Tori learns to pitch he will not be nearly as valuable to the Mets as he would be to someone else. But that's life.
The Braves will still be left with a hole in CF. And with all of the attention surrounding Hunter and Jones they will be able to snag Aaron Rowand under the radar. Rowand will be a complete change of pace from Andruw Jones. It will take Braves fans a little while to get used to seeing a CF run to get a ball, and not just lightly jog and dive at the last minute. While Rowand may not be a long term fix for the Braves he will be a great addition.
Verdict- Look for Atlanta to keep Rowand to a 1-2 year deal, he will do just fine and be somewhere else in a couple of years.
Sticking with the Braves they have not been close out games since Smoltz returned to the rotation. As for sending Smoltz back to the pen, don't hold your breath. And as far as I am concerned when someone like Smoltz has done what he as done for that team and the local community, as well as staying in Atlanta despite larger offers from other teams. He can do whatever he wants, and he was one of only two solid starters for that team last year. Now back to the issue of a closer, after Gonzalez had surgery, Wickman showed everyone he can pitch BP all day long, and anyone else that filled in was just sub par Atlanta could make a move for yet another closer this year. Soriano or Gonzalez will be the long term fix at closer, but look for Atlanta to bring in Marino Rivera to fill that position for the time being. He will put away all doubt when Atlanta has the lead in the 9th inning.
Verdict- This team needs pitching, Rivera will help, but they need a lot more than just that.
Tom Glavine has done everything but offer to play for free in his attempts to rejoin the Braves. This season look for Atlanta to take him up on that offer. Glavine would love to finish his career where he started, and he should. A move back to Atlanta would also allow Tom to spend more time at home with his family (who still lives in the Atlanta area). The Braves would get a number 3 starter and a lefty out of the deal. Seems like a win win to me. The only issue I have here with the Braves is that Leo Mazzone has been released by the O's and Atlanta has not made a single move to bring him back. Leo was a large part of the great stretch the Braves had, and just getting him back in this clubhouse will repair a lot of their Pitching issues.
Verdict- Glavine finally gets his wish to pitch in a Braves uniform again.
The Tigers were quick to jump the gun and add Edgar Renteria to their lineup as soon as the World Series ended. They also have opted to keep Pudge around as well. Detroit is out of the cellar for good, and will make a few more moves to battle in what may be the tightest race in baseball for the AL Central crown. I can see the addition of Yankees soon to be exile Jason Giambi. I know he has been hot and cold, but a move from the bright lights of New York will do this DH/1B a whole lot of good. While he may never be the star he was in Oakland he will defiantly be a good addition to an already great team.
Verdict- The Yankees will let Giambi go, but he will have his best season in quite some time for the Tigers.

Well, that is how I see it breaking down for now. I may be wrong I may be right, and I am sure this will stir up some great comments. I will try to respond to them all. 2008 will turn out to be a huge off-season. Where the pieces fall may determine who is celebrating this time next year.

Wait, did you really think I would write this whole thing and not put in my input on Alex Rodriguez?

Alright, here is my take on how the A-Rod saga will play out.
The way I see it New York and Boston are out right off of the bat. The Yankees want nothing to do with Alex, and the Red Sox just won it all without him. While he would improve an already amazing Red Sox line up, he just is not worth $30 million to that franchise. They will still sell out every game without him, and they will still contend for the title without him. They also do not want to add someone that is a proven choke artist in the post season.
Now as I see it this leaves the Angles, White Sox, Cubs, Dodgers, and the Mets.
While the Mets love to throw money around, I just can not justify adding A-Rod to a VERY talented and VERY young left side of the infield for the Mets. He just does not fit in that lineup.
From there it will just be a bidding war between the four teams from LA and Chicago. In the end I say that he holds out on signing so long that he allows the Cubs to get a new owner. On the off chance that that owner is Mark Cuban I will give it a 100% chance that Alex Rodriguez is playing his home games at Wrigley this season while Cuban watches with the bleacher bums.
Verdict- Cuban buys the Cubs. Rodriguez is their new SS.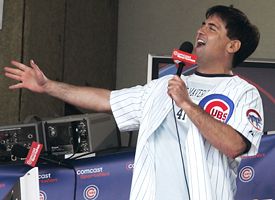 Well, that is actually it for me. These are just a few of the names that have come up, I am anxious to hear everyone else's thoughts