01:58 PM ET 11.08 |
Recently, the Detroit Tigers added veteran shortstop Edgar Renteria to their roster, a move that will allow them to switch their 2007 shortstop, Carlos Guillen, to first base. Renteria is not a bad player, in fact, I believe he is one of the best shortstops of this generation. However, I have noticed a few things that caught my eye, and make me wonder WHAT IN THE HELL THE TIGERS WERE THINKING!
First, I will start off with Carlos Guillen. He has been one of the better shortstops in the league for quite a few years, but at first base, he isn't nearly the offensive threat he was at shortstop. I say this in the sense that his numbers will be closer to league average at first base than at shortstop. While it is obvious that his production will exceed that of "no pop" Sean Casey, he will not be an elite offensive first baseman. All of that aside, it is evident that he is aging very fast, and his numbers have been dropping year after year. In his last three full seasons(2004,2006,2007), his SLG has declined every year, peaking at .542 in 04, and hitting .502 in 2007. He did post a .400 OBP in 06, but that can be credited to his career high 71 walks(his next highest total is 55), and in 07 his OBP was the lowest it has been since 2002. Guillen can play, but he won't be one of the better first baseman in the league, and he is rapidly declining. By the way, he is 32.
Now, on to Renteria. Looking at Renteria's career stats, he seems pretty freaking good, which he is. He has amassed a .291 AVG, .349 OBP, and .407 SLG. average. He doesn't have the big stick, but he adds a lot of offense to a historically defensive oriented position. Now, you may be asking yourself that why would I say it is a bad move if I believe he is a great shortstop, but then again, maybe you aren't. Anyway, I will answer the question you have been dying(or not), for me to answer.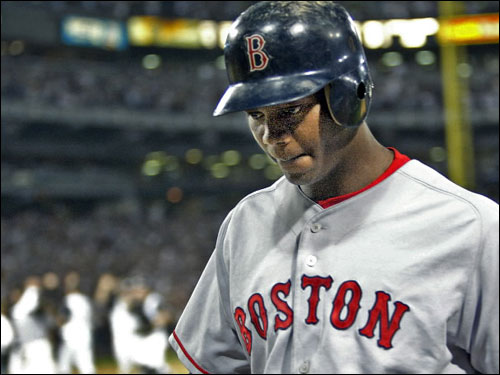 If you aren't blind, you see that picture above. This was taken in 2005, Renterias sole year with the Boston Red Sox. Not only was this his only year with the Sox, it was his only year in the American League. That's right, he has played his entire career, albeit that one year, in the Senior Circuit. So, what?, you may ask yourself(or me). I'll freaking tell you so what! In that lone year in the AL, Renteria played downright awful. He had a .335 OBP, .397 SlG, and struck out 100 times for the second time in his career. When he was faced with the more dominant pitching of the American League, he simply couldn't keep up. Not only can he not hit in the AL, he isn't exactly gettin younger, as he turns 33 next year. As age catches up to him, it is evident that his fielding is taking a hit, as his Range Factor has decreased every year since 2004. The guy he is replacing at short, Carlos Guillen, had a range factor .15 higher than Renteria's in 07, which means there were balls Guillen was bringing in that Renteria couldn't get to.
Good player, bad fit for the Tigers. I see this move hurtin them more than helping.