04:31 PM ET 01.27 |
We've reached that point in the NFL season where you start hearing the cliches from every which way: "Hey, you never know." "Well, I might as well give it a shot." "Who knows what's going to happen." "Take a chance."

In many instances, those people are talking about the Super Bowl itself, of course. But for those in the betting public, those phrases are usually attached to the proposition bets and the other non-traditional wagers associated with the big game.

With more than a week before the super showdown, let's take a glance at the top six favorites for the Super Bowl MVP award and why they should win, as well as why they won't.

Hopefully, one way or the other, it helps to plot out your betting strategy for the season finale, because with so many crazy options, it's a jungle out there. Trust me.

But "hey, you never know," right?
Aaron Rodgers, Packers quarterback (+175)
Why he should win: He's the best player on what is perceived to be the best team. Knocking off the Eagles, Falcons and Bears - all on the road - and doing it in style, Rodgers can complete his coming-out party in super fashion. Plus, as the Jets' tandem of Mark Sanchez and Santonio Holmes proved last week, if the Steelers' defense can be beat, it'll happen through the air. Sanchez threw for 233 yards and two touchdowns. You can bet Rodgers saw those numbers.

Why he won't: Steelers ball control. If Pittsburgh can grind out the clock and stockpile first downs, like they did versus the Jets, Rodgers won't be able to see the field much. He can't kill you from the sideline, after all. Keep in mind, the Steelers had 23 first downs and 34:41 of possession time versus New York. If that happens again, Rodgers can kiss this award goodbye.
Ben Roethlisberger, Steelers quarterback (+350)
Why he should win: Because the guy just makes plays when he has to. He can escape pressure, he can run much better than people give him credit for and he flat-out wins. He's 11-3 this year and has posted four straight victories. And when you win, as a quarterback, you'll always have a chance to win the prize and get the girl. Wait, this is Roethlisberger we're talking about, right? Forget we said the girl part.

Why he won't: Well, there's always that chance that people take a look at the numbers more than the intangibles. And while there are some great statistical games on Roethlisberger's resume, there are also some duds. Take a look at last week, for instance, when he posted a 35.5 quarterback rating. He won the game, sure, and that's what is most important. But 35.5? Wow. He does that again and he can forget about this award
Rashard Mendenhall, Steelers running back (+750)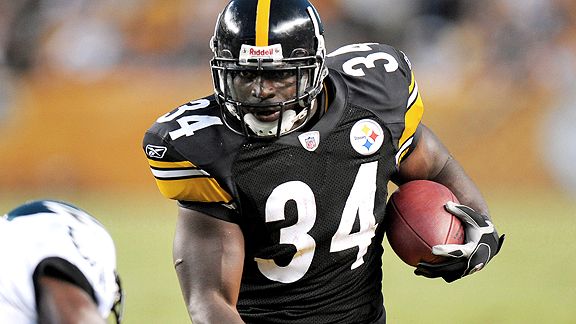 Why he should win: Momentum. Mendenhall has to be oozing confidence after taking the Jets for 121 rushing yards and a touchdown in the title game. A quiet force in the backfield, Mendenhall doesn't get a lot of attention in the media and that may help you grab some value here. Popular or not, the guy can run the football. He'll have a chance at that MVP podium, one way or the other.

Why he won't: The Green Bay defense. With all due respect to Matt Forte and what the Bears tried to do on the ground last week, but we never really got the feeling that Forte was having a good game. He finished with 70 yards, yes, but it didn't feel like it to us. The Packers defense had something to do with that and the strategy is going to resurface in Dallas.

Greg Jennings, Packers wide receiver (+1,200)
Why he should win: The most complete receiver on the Packers. Jennings gets down field with the best of them. He's not afraid to match up with the opposition's best defensive back. The guy had 1,265 yards and 12 touchdowns during the regular season and already has two 100-yard games in the postseason. This is tremendous value for a player of this magnitude.

Why he won't: The Packers' depth at his position. It's flat-out unreal how many receivers Green Bay has. Donald Driver, James Jones, Jordy Nelson and then all of the tight ends. It might be too many receivers for Rodgers to choose from and could be a detriment before all is said and done, certainly when one is on an award quest.

James Starks, Packers running back (+1,400)
Why he should win: Well, he'll get the majority of the workload out of the backfield and if the Steelers pay too much attention to Rodgers and the passing game, the holes might just be there. He had 74 yards and a score versus Chicago last week and while those numbers won't get you many awards, it's all about timing in the Super Bowl. A big run here, a tough first-down run there and maybe a touchdown along the way, and Starks might just be in line for the hardware.

Why he won't: Rodgers' running ability. The way this guy can scramble and make something out of nothing leads us to believe that the QB is the best running back on Green Bay's roster. He ran for 39 yards and a touchdown versus the Bears and has 56 yards rushing and two scores in the postseason. If he gets those legs a moving, it might be tough for Starks to get ample carries for this award.

Troy Polamalu, Steelers safety (+1,500)
Why he should win: He's overdue. Let's face it: He did not make many plays versus the Jets, meaning the percentages say he's going to reverse that against the Packers. One of only a few defensive players that will move a line in Las Vegas depending on his health, Polamalu maybe is saving himself for the final stage. If that's the case, you might want to grab him at this price.

Why he won't: Game film. If Jets coach Rex Ryan found a way to make Polamalu a non-factor, something tells me that Green Bay coach Mike McCarthy has already watched that film a few times. Polamalu had only four tackles versus New York. He'll need at least double that and some timely, critical ones in that mix for this award.