11:52 PM ET 11.22 |
In a recent blog it was suggested by BSchwartz that we do a roast in this group. It sounds like a fitting event to take place in a group that is the humor check on a site where people take things way too seriously. So the first question you might have would be:
Essentially a roast is where people will gather to honor a person and have some good, clean fun making jabs at this one person as well as each other. Usually there are several guests who stand up and make jokes, anectdotes and such to make fun but also honor the roastee.
So the next question might be, who's going to be our first roastee?
BSchwartz is a good choice for so many reasons, but first and foremost because he's the creator of the group, as well as a guy who can give us plenty of fodder for roasting. Pun intended by the way.
As Drew Rosenhaus would say, "Next Question"....how in the wide, wide, world of sports are we going to "gather" if this is the Internet? Glad you asked. We are going to do this in the form of a blog. We need five bloggers each week to not only roast the roastee, but also come up with some funny jokes about their co-roasters. One roaster will write a blog a day until the following Sat. or Sun. the roastee will make the final speech and take shots at the roasters or whatever he/she wants to say.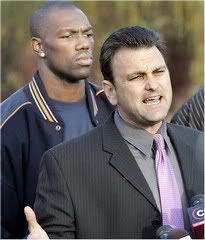 *New proviso for the roast.; if you want to be roasted, please sign up to blog one of our roastees. Then we will make a list of who is up each week. We will also need organizers as BS and I won't be able to do it alone.
We already have 2 roasters this time, with another pending. But you can still put your hat in the ring if you're interested. Back-up options are always helpful should one of the roast bloggers be unable to fulfill their duties. So add your name in the comments if you'd be a good candidate for some good, clean humor and fun. Candidates will be cleared by BS and myself for the first week. We may wind up making a committee later.
So what will be in the blog? Glad you asked.
Roast your co-roasters with pictures, jokes, stories, or comments. Keep it clean and in good fun. No insults or over the line burns.
Roast the person of honor. If you have to, ask some unique questions about the roastee. BS is a Broncos fan, so you could make some shots about them, or about his dislike of the SEC and their fans. You decide. Also, quoting comments from TD's, blogs, articles are always good as you may have read from my "Here's your sign" blogs.
Finish up with a witty comment or picture to round it all out.
So who's in? You don't have to blog, roast, or be roasted to participate. See how it goes and read in. This is new, so we'll work the bugs out as we go. Any suggestions are welcome. Also, if you want to be a future roaster or roastee then drop a fanmail to BS or myself. But wait on that until Wed. next week before we get that going. Does it sound fun? It should Ferris Bueller's teacher thought so...