12:16 AM ET 11.24 |
It occurs to me that we are in a unique community here. I try to explain the fun that I have on FanNation to family and friends. But it's just inexplicable, or as a friend in high school used to say, "It's a context based reference" (You had to be there).
Yet I try to figure out what draw this site has for me and I am flummoxed to arrive at a reason why. Then I think about my childhood and I realize that my formative and adolescent years were filled with sporting and athletic events. I'll show you a family album below to illustrate my point. Once you see my album, you'll understand full well why I love sports, and why FanNation is such a habit forming activity.
It all began when I was but a wee little cub of six years of age. Dad signed me up for the local soccer league in the next town over. You see, we had to do that because there was a glacier in the middle of our town's field. Needless to say, I wasn't fit for many positions besides goalie. Here you can see me making a big save. Only thing is that they had to replace the ball when I was done with it.
Since soccer didn't work out, dad put me in tee ball and little slugger league. Baseball has to be the sport for me I reasoned. What with my size and strength, I figured I'd be the next Sultan of Swat. The problem is that with my size and lack of mobility, they put me in right field. You know, where no one but the left handed hitters shank the ball. I was crestfallen to say the least. Of course there was another downside to my size; I had an enormous strike zone! I think I intimidated most of the other kids when I wielded that Louisville Slugger too. Maybe I should have collected for a local bookie instead. LOL
As I grew older, I tried my hand at basketball. We had a hoop out back just like any other American family. I'd pretend that I was in the big game playing for the Sixers, "Oso lines up for the freethrow...It's good!" Buzzer beater and all that. While my size wasn't a problem getting on a team, coach just wasn't too crazy about me biting the ball to dribble.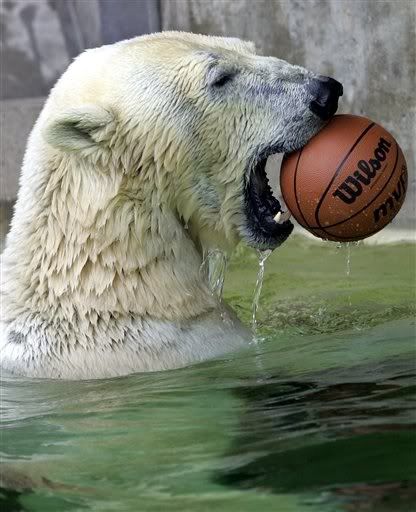 As I reached my adolescent years, I discovered ice hockey. I know, Polar Bear and ice hockey, who woulda thunk? I revisited my role as a goalie, but was also good as a defender. My hipchecks were brutal, and I had a mean wristshot that would make Brett Hull's look tame. Here you can see me with my pals on the frozen Trinity River. Ah the good old days.
Once I was getting older, I tried my hand at MMA. I figured, bear wrestling was a sport back in the barrio, so why not go pro? Well evidently in some leagues mauling is illegal and not considered a technique. But I say if I guy can try to sissy kick my shins I should be able to swallow some limbs for crying out loud.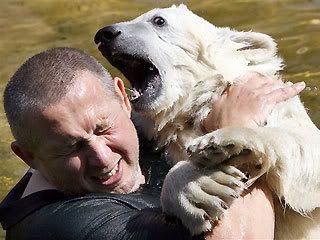 So if all these sports weren't working out because of my size, strength, and lack of mobility, I figured, "If it works for Tiger, why not Oso?" Yep. I picked up those funny little sticks and took up golfing. Of course in the Artic Circle, it's real windy. If you wait for the right gust, it's possible to get at least 700 yards on a single drive! Unfortunately, my petition for a PGA tournament in the North is still pending. Maybe I can give Tiger and Greg "The Shark" Norman a call. They could help out, right?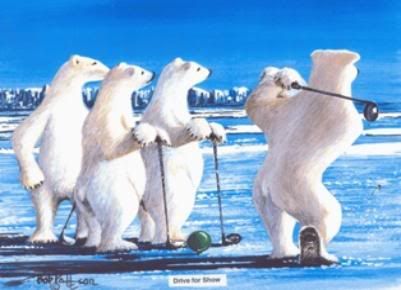 Well, now that I'm older, I like to still talk and read about sports, but I just don't have the energy to actually do them as much anymore. Have you tried playing a round out in sub-arctic weather? Brrr! I don't care how much fur you have, it's freezing! That's why I like to sit back and chill out.