01:53 PM ET 05.11 |
this university of Michigan alum was a frkn BEAST..
Tractor had one of the widest bodies in nba history.. Oliver Miller might have had him but you know.. lol
He was the 6th overall pick in the '98 draft.. Traylor was drafted by Dallas and traded to the Bucks for Dirk Nowitzki!!!!
Traylor made Barkley look like a pencil.. lol
He was very fun to watch but didn't pan out like he was supposed to in the long run.
Traylor's current coach told The Associated Press that Traylor had been talking by phone to his wife in Chicago when the connection was suddenly cut off. She called team officials Wednesday and they checked on him, Perez said courtesy of espn.com
Traylor was found dead in his home in Puerto Rico today..
"He was a leader of the team," said Jose Carlos Perez, the Cowboys' manager. "He was very, very friendly. He got along very well with everyone. The fans loved him, idolized him." -espn.com
*Tractor was selected as 2010 Defensive Player of the Year of Baloncesto Superior Nacional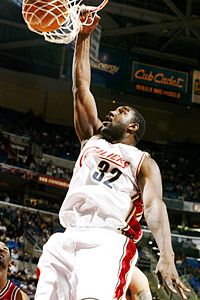 I was personally a fan @ Michigan and rooted for him to hit his potential in the nba.. Robert "Tractor" Traylor couldn't help but grab your attention with his unbelievable size. The guy was fun to watch dunk.. He looked top heavy, but he really wasn't..