07:24 PM ET 07.02 |
Let me start off by saying, what a production! George Foreman walked Wladimir out, and Lennox walked out his fellow brit, David Haye. The weather in North Germany was wet and cold, and the fight itself was outside. The fight started off pretty good. We could see Wladi getting a little frustrated with Haye's quickness. But by the 5th round, Wladi was accumalating rounds on Haye. Haye was looking for the money maker at the beginning, actually the whole fight. Haye didn't box, he was trying to pin point, and that doesn't work on Wladi. Haye got some solid rights on Wladimir during surges of aggression, but nothing too heavy. Wladimir couldn't find Haye as much as he would've liked, because of Haye's head movement and motion. Wladi cruised on a decision victory however. Wladi outboxed Haye, and Haye didn't put himself out there enough in the fight. There were no huge risks taken by Haye. Haye's gameplan.. KO him or nothing.. Haye goofed around during the fight, talking smack to Wladi, and flopping around. The infamous "HAYE FLOPS" .. You will hear about this from anybody that watched the fight. He had to have fallen down 10 times, acting like Wladi pushed him down. Wladi probably pushed him down half of those 10 times. lol Haye is indeed a character.. His performance was shabby, but he wasn't beat bad enough to rule out a big bro fight, Haye vs Vitali. Winter time, maybe? I like Vitali to win that fight in a 9 rd KO, if it happens.
Hats off to Wladimir Klitschko, another belt under the notch. Here's the punching stats.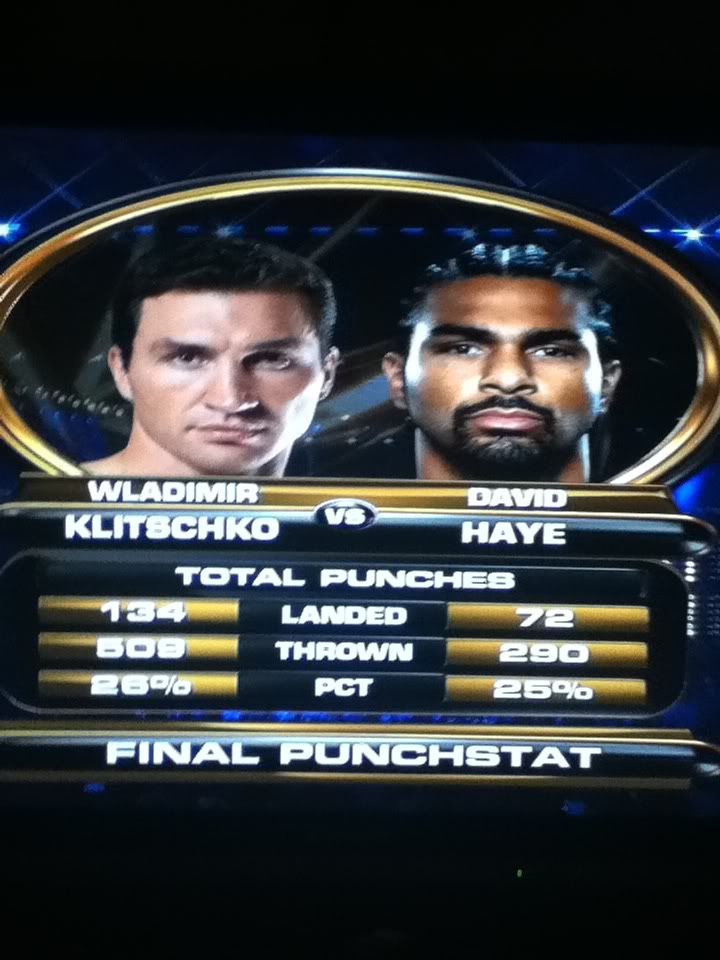 I'd give the fight an overall grade of D+/C-, can't figure it out. 11th and the 12th round below: WATCH!
youtube courtesy of emutant01
FACES AFTER THE FIGHT:
HAYE: BIG BRUISE ON HIS FOREHEAD
WLADI: NOSE BUSTED UP, BUT NOT BAD
NO biggies
I'd also like to say.. GO TITO ORTIZ, i'mpressive win "BAd Boi".. hahaha