04:02 AM ET 07.24 |
Hey whats up people its been a while since I have been on here. I am going to make a prediction on what the roster is going to look like this year but keep in mind that the Cap got dropped down to $120.4 Million so Huff and Asomugha may very well be in another team already. Here goes. I will start off with athletic positions then linemen on both sides last. QB: Jason Campbell, Kyle Boller, Charlie Frye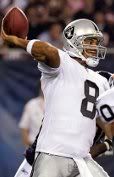 I like Campbell as the starter but as far as Boller and Frye we need a better quality backup i hope we pick up Terrelle Pryor in the Supplemental draft. The fact that Boller was a first round pick and isnt a starter is the main red flag and Frye i dont want to go there. RB: Darren McFadden, Michael Bush, Rock Cartwright, Marcel Reece, and Taiwan Jones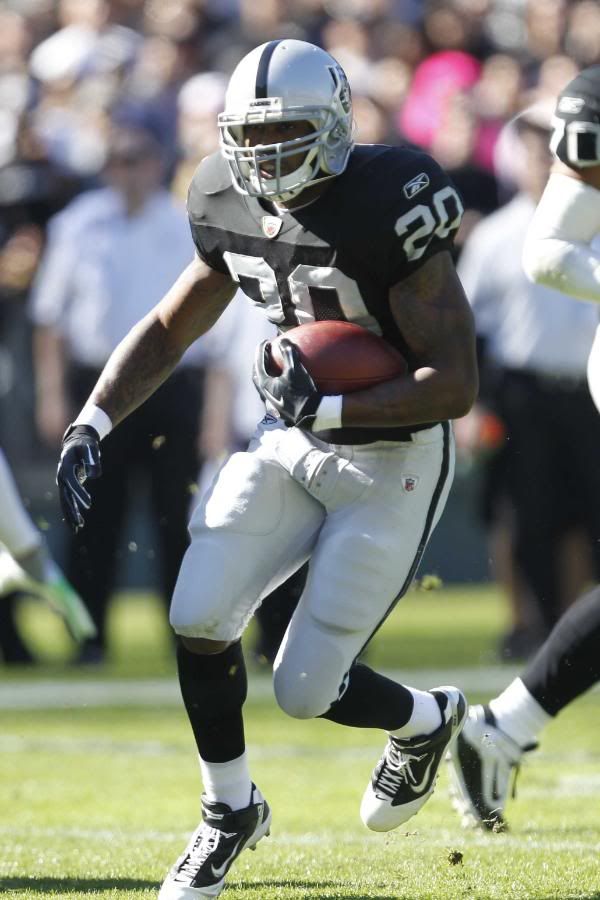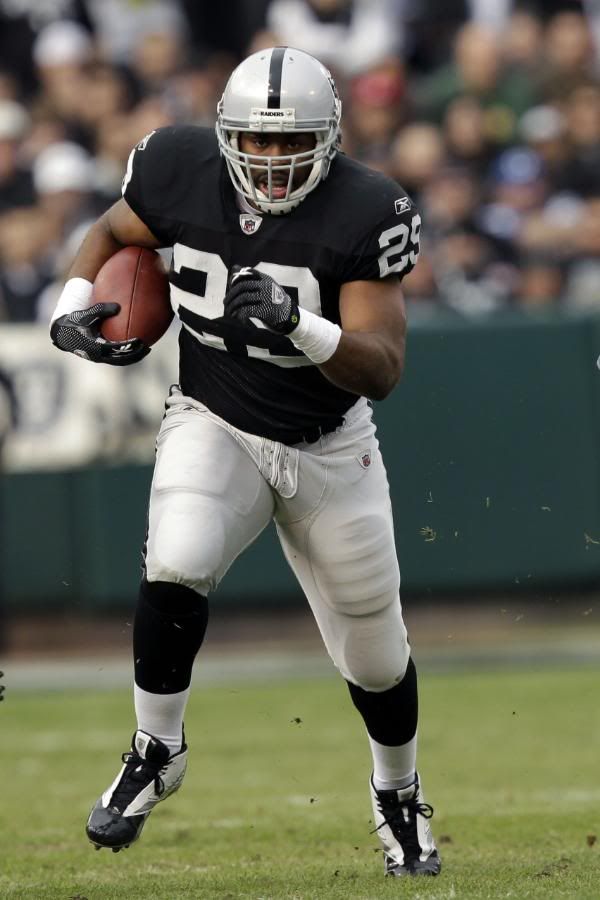 We have a good backfield with McFadden and Bush I dont think we will carry a fourth HB this season because we may not need one seeing as how Hue Jackson uses Reece in this system. I also like Louis Rankin because he has speed. TE: Zach Miller, Brandon Myers, Richard Gordon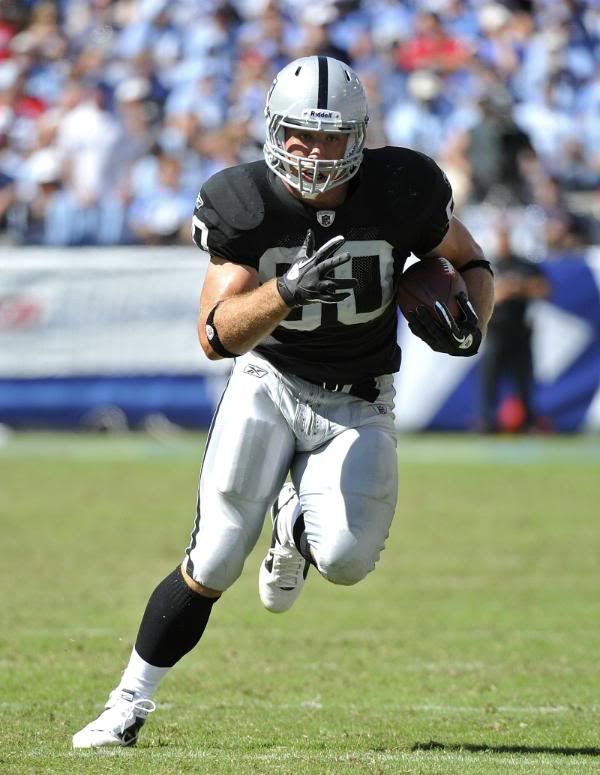 We are already solid with Miller more consistency out of Campbell and he will solidify his spot as a top 5 TE this year. Myers fills in good for Zach whenever he needs a breather. Richard Gordon is a project but he played some Wideout in college so he has hands. WR: Chaz Schilens, Louis Murphy, Jacoby Ford, Darrius Heyward-Bey, Nick Miller, Denarius Moore, David Ausberry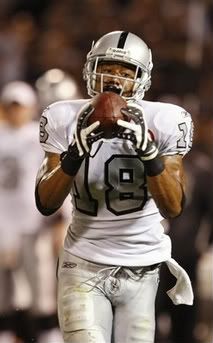 Murphy and Heyward-Bey are expected to be the main contributors this year and hopefully DHB plays as he is getting paid because he has been a disappointment so far. Hopefully Chaz Schilens can stay healty this year he made Russell look good last preseason against the cowboys. Ford showed up well last year and hopefully he will continue to blossom. Miller is the same thing as Schilens they need to stay healthy but he is a wide out that can play in the league. Moore and Ausberry are rookies and they have speed and size hopefully they can play the position. CB: Stanford Routt, Chimdi Chekwa, Jeremy Ware, Walter McFadden, DeMarcus Van Dyke,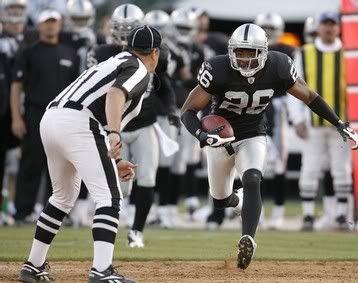 Routt is the best corner we have and with the new cap i doubt we will be able to sign Asomugha, Routt seemed to finally get "it" last year hopefully it wasn't a result of playing next to Nnamdi. Johnson will be cut if he doesn't take a pay cut so i see him out of the fold already leaving the other four corners battling for the #2 spot i see Chekwa winning the #2 spot with Ware as the #3 corner and McFadden and Van Dyke make good depth. S: Tyvon Branch, Hiram Eugene, Mike Mitchell, Stevie Brown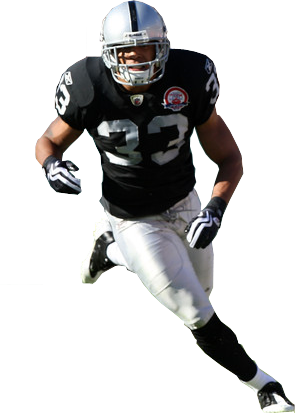 I think this year Mitchell may be moved to the FS spot. Stevie Brown looked good back there last year i hope he snatches the spot Huff will be gone because the new cap. LB: Rolando McClain, Kamerion Wimbley, Travis Goethel, Ricky Brown, Quentin Groves, Jon Condo (LS) and the other one is up for grabs
McClain was a solid last year he was amazing in his first year in a 4-3 system. Wimbley was also a standout with 9 sacks last season and helped out in the run setting the edge. Groves I didn't like at weakside but word was he won the spot because Goethel got injured. We need better depth at the LB positions I am not sold on Groves and Condo is strictly a special teams player. DL: Richard Seymour, Tommy Kelly, Matt Shaughnessy, Lamarr Houston, Trevor Scott,John Henderson, Desmond Bryant, Jarvis Moss
This line will bring fear into opposing offenses this year as last year they had 28.5 sacks. Richard Seymour is Richard Seymour. Tommy Kelly shed some weight last year and helped out with 7 sacks a career best. Matt Shaughnessy filled in well with the loss of Scott and racked up 7 himself with Scott back this year the D should be more feared as they can switch off when they tire out. Houston was solid against the run and also got 5 sacks he will only get better too. OL: Jared Veldheer, Daniel Loper, Stefen Wisniewski, Bruce Campbell, Joseph Barksdale, Samson Satele, ??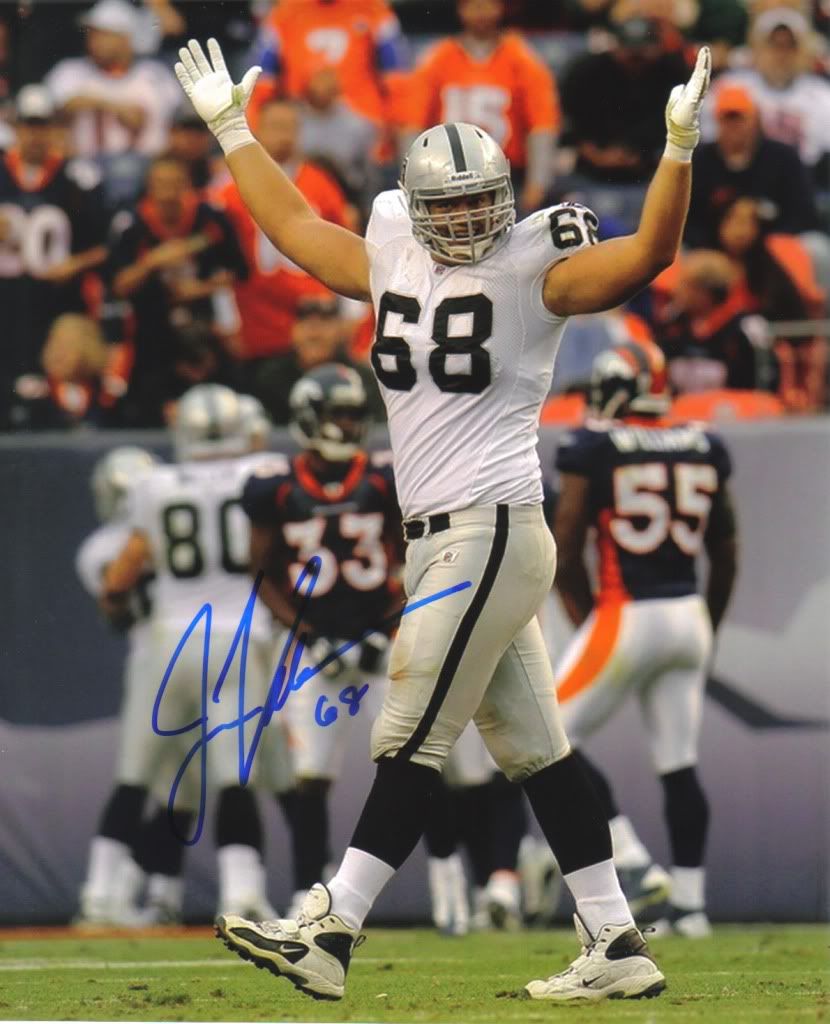 We will keep 8 linemen at most and im clueless as to who will stay after Satele. Carlisle will be cut due to the cap. Stefen is expected as the starter at C. Veldheer is the only sure starter and Loper played good in place of Gallery last year. Its a young O line and we are gonna play the power o now instead of the Zone blocking scheme.
Allright Ladies and Gentlemen this is what i think the opening day roster will look like let me know what you think and who you think where and y?