02:15 PM ET 09.05 |
It took longer than fans may have wanted, but the lockout ended, football started, and everything is right in the world. Training camps might not have been as involved and any rookie this year basically got screwed, but it was possibly the most exciting free agency period ever. What normally takes 3 months was done in 2 weeks. They should do that every year.
But now, after all that, we'll finally have football starting Thursday. With that, let's predict some standings and records for this year. And I'll start with some homerism (Note: Records may not be exact. I'm not going through every team's schedule and predicting games).
NFC NORTH
1. Packers 12-4
2. Vikings 9-7
3. Bears 8-8
4. Lions 7-9
I don't think the Packers will run the table and are unstoppable like some people think (mainly Packers homers), but they are a solid team and will easily win the division. Then come the Vikings. Call me a homer, but I don't think they'll be as bad as people predict. I think McNabb will have an above average season this year.
And the one everyone will be talking about. The Bears just seemed too flukey for me last year and seemed to get lots of breaks. For example, they benefitted from the infamous Calvin Johnson TD now. Both teams seasons may have been drastically different had that been called right. But the Bears just always seemed to get the breaks. I don't think the breaks fall their way this year.
Lastly, the Lions. I like the way they're going and they are making tons of progress, but drafting Nick Fairley didn't help the huge holes they have in the secondary. And their QB still has to prove to me that he isn't made of glass. Until that happens, they aren't completely over the hump.
NFC EAST
1. Eagles 12-4
2. Cowboys 11-5
3. Giants 6-10
4. Redskins 5-11
I'm not totally sold on the Eagles and the "Dream Team" moniker as they have a swiss cheese offensive line. But with Vick back there, he can buy team, scramble around, and make plays. And if Steve Smith is healthy soon, their offense becomes super dangerous.
The Cowboys are my surprise team in this division. I like the Rob Ryan hire, I like the Jason Garrett hire, and I like the Cowboys. Tony Romo is vastly underrated and Miles Austin, Dez Bryant, Jason Witten, and Felix Jones all provide him tons of weapons. They have a pretty easy schedule, getting the Giants and Redskins twice, the NFC West, and Miami and Detroit.
The Giants are falling apart the longer the season goes on. Come middle of the season, they may not have 53 walking players at their current rate. And the Redskins are putting all their eggs in the John Beck basket. 'Nough said.
NFC SOUTH
1. Saints 13-3
2. Falcons 11-5
3. Bucs 10-6
4. Panthers 3-13
This conference is usually one that completely flips each year. However, I don't see that happening as much this year. I do, however, like the Saints additions on defense and replacing Bush with Sproles on top of drafting Mark Ingram. They have put themselves back into contention for the Super Bowl with those additions.
The Falcons adding Julio Jones really helps their offense, but I'm not sold on the defense. They still have a little bit of helping there before they get over the hump. They'll take the wildcard spot this year, but they still need to make some improvements.
The Bucs are everyone's underdog pick, but I don't see it this year. They have a tough schedule in getting the NFC North, AFC South, and Dallas. It isn't set up for them to take a step forward. They are close, but they aren't mature enough to handle this schedule, in my opinion.
The Panthers need no explanation. They'll be an intriguing team with the maturation of Cam Newton, but they won't be a good team. 3-13 might be best case scenario for them.
NFC WEST
1. Rams 10-6
2. Cardinals 9-7
3. 49ers 7-9
4. Seahawks 5-11
I can tell you right now, after week 5 or 6, people will be all over the Cardinals bandwagon as they have a much more favorable start to the season. But the Rams, over their last 9 games, St. Louis gets all 6 divisional games, at Cleveland, hosting the Bengals, and at Pittsburgh. The only game I don't see them winning there is Pittsburgh.
As for the Cards, I'm not sold on Kolb, although he has looked good. But regardless of Kolb, they still don't have a defense. I think they gave up too much for Kolb as their secondary is super weak outside of Peterson.
The 49ers very well may turn to Kapernick before the season is over. Alex Smith has already shown his regular inconsistencies and Troy Smith isn't there to save him this year. I can't imagine the leash for Smith being long, so I can foresee the change to the rookie being imminent.
As for the Seahawks, I said it when they did it and I'll say it now: their signings of Jackson and Rice were incredibly overrated. Given that they have Darrelle Bevel's offense (who was the coordinator in Minnesota) and given that Jackson and Rice didn't succeed there, I don't know where the experts were basing some of their predictions off of.
NFC PLAYOFFS
1. Saints
2. Eagles
3. Packers
4. Rams
5. Atlanta
6. Dallas
Wild Card Round
3. Packers vs. 6. Cowboys - Packers 24-14
4. Rams vs. 5. Falcons - Falcons 24-21
Divisional Round
1. Saints vs. 5. Falcons - 31-14
2. Eagles vs. 3. Packers - Eagles 27-24
NFC Title Game
1. Saints vs. 2. Eagles - Saints 27-24
AFC NORTH
1. Ravens 12-4
2. Steelers 12-4
3. Browns 6-10
4. Bengals 4-12
The Ravens finally get over the hump this year. I really like the way they're set up this year. Ray Lewis and Ed Reed have one more shot at this and the offense is set up to succeed. I love the Lee Evans addition and the Ricky Williams one.
As for the Steelers, they won't take a step back, just the Ravens a step forward. They didn't have any significant additions, but they didn't lose anyone. It's just that the Super Bowl runner-ups always seem to have a down year the next year.
The Browns are heading in the right direction, but have 2 things going against them. First, they lost Rob Ryan, who really gave their defense energy. Second, Hillis was on the cover of Madden. Believe it or not, but it seems to have an effect.
The Bengals have the right pieces in place, but they won't be good this year, nor in the near future. But I really like the Dalton to Green connection for the future.
AFC EAST
1. Pats 13-3
2. Jets 11-5
3. Dolphins 5-11
4. Bills 4-12
The Pats additions of Haynesworth and Ochocinco are going to pay them huge dividends. I think both have big years and reinvent themselves with the Pats.
The Jets didn't do much to improve themselves from last year. They lost a couple of pieces defensively and offensively, so I think they take a step back this year. Until Sanchez proves that he can lead this team and not just manage it, they won't go any farther than they have.
The Dolphins and Bills are basically at the same point going different ways. I think the Bills are improving while the Dolphins are falling fast. Ryan Fitzpatrick is a vastly underrated player who can actually win the Bills a couple games. As for Henne, he's the opposite, someone who will definitely lose the 'Phins some games.
AFC SOUTH
1. Texans 11-5
2. Colts 7-9
3. Titans 7-9
4. Jags 6-10
The Texans finally do it this year. Manning won't be playing anytime soon and the Texans are going to jump all over them early. I'm not sure Manning will ever be in the zone this year and I think they'll suffer, possibly falling to the 3rd spot. But the Texans helped their biggest weakness with the signing of Jonathan Joseph and have a solid run game to go with Johnson and the pass game.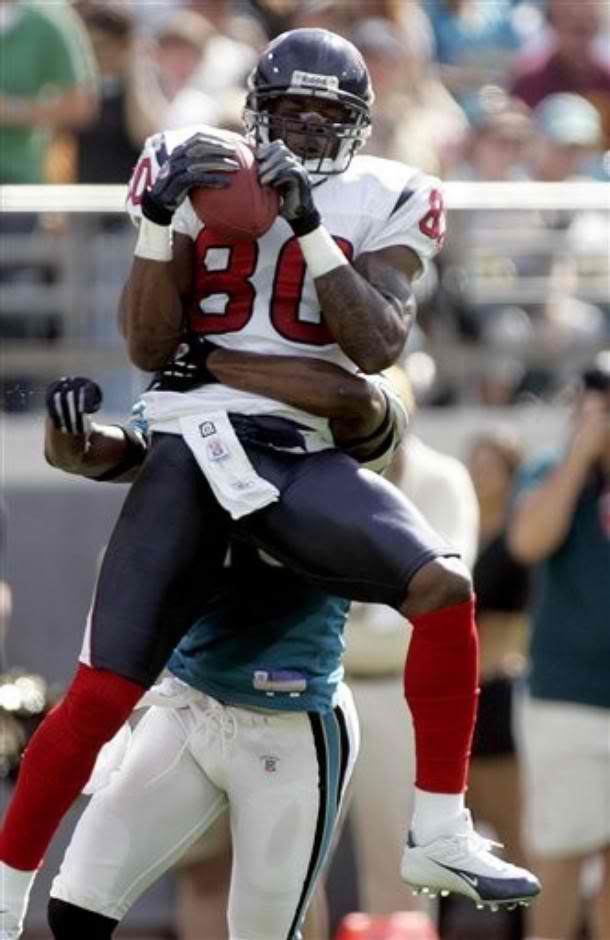 The Colts have a suitable back-up in Collins, but he won't win games like Manning and Manning won't be there any time soon. TheColts are going to struggle for the first time in a long time. The offensive line isn't good, the defense isn't good, the run game isn't good. It's going to be a long year in Indy.
The Titans may have signed Johnson, but they still are a subpar team. Locker has looked solid in the preseason, but he can't work miracles and the Titans are rebuilding for right now. I also don't expect Johnson to have big numbers in the first half of the season with all the time he missed.
The Jags are a confusing team. Garrard has been a solid player in Jax but they drafted Gabbert and he appears to be solidly in the competition for starter. Regardless, things are a mess down there and I think Del Rio loses his job this year.
AFC WEST
1. Chargers 11-5
2. Chiefs 7-9
3. Raiders 4-12
4. Broncos 4-12
The Chargers are going to have all their weapons this year and I think they'll benefit from it. Having someone like Vincent Jackson out half a year kills your team, but they won't have to worry about that this year.
The Chiefs have a brutal schedule and Matt Cassell may miss some time at the beginning of the year. That spells doom for a team that snuck into the playoffs last year. I like the addition of Steve Breaston, but I don't think they'll be able to repeat last year.
The Raiders were finally building some momentum and looking like a team that could compete, then lost their best defensive weapon and fired their head coach. I'm convinced they won't be successful until Al Davis is no longer running the team.
The Broncos are a mess right now. Orton is a solid player, but all the controversy and what not is going to leave that team a mess. And Orton isn't someone who wins you games. He can pass the ball when your losing and put up big numbers, but that's it.
AFC PLAYOFFS
1. Pats
2. Ravens
3. Chargers
4. Texans
5. Steelers
6. Jets
Wild Card Round
3. Chargers vs. 6. Jets - Chargers win 28-17
4. Texans vs. 5. Steelers - Steelers win 24-10
Divisional Round
1. Pats vs. 5. Steelers - Pats win 24-21
2. Ravens vs. 6. Chargers - Ravens win 27-13
AFC Title Game
1. Pats vs. 2. Ravens - Ravens win 21-17
SUPER BOWL
Ravens defeat the Saints