11:25 PM ET 09.08 |
COWBOYS ride WILDCATS
By:Jeff Hostetler
Did you watch the game? If you did, it made you wonder if Arizona even showed up to the game. Did Arizona not remember the Alamo Bowl? Arizona showed up for the coin toss and then after that pretty much sat in marvel of Boon Pickens Stadium expansion. Pac-12 commisioner Larry Scott might want to add Oklahoma and Oklahoma State after watching the Pokes Aerial attack take charge.
Brandon Weeden made it look easy. By the end of the night I thought I could throw for 300+ yards vs Arizona. Weeden was able to complete over 40+ passes setting a new Oklahoma State records. Weeden and the Pokes jumped out to a 21 point lead before Arizona decided to start playing but by then it was to late. Also give alot of credit to the rest of the team. The O-line gave him all night to throw and the WR group caught everything thrown their way. Because the Passing game was clicking so much, the run game was able to flow. Great overall performance for the Pokes offense tonight.
Justin Blackmon had another 100+ yard recieving night along with a pair of TDs. He is a highlight reel. If you like watching a WR do his "thang" and put up some great numbers then he is your man. He alsmot reminds me of a video game. On a football video game you just keep throwing to your best WR and he has HUGE stats by the end of the night. This is how Weeden and Blackmon do it.
On a side note Nike Foles threw for over 400 yards. What a night for him but none of it translated into enough first downs or touchdowns for his team. He will put enough alot of big numbers but will it translate into wins? Should be a long season for Arizona!
Mike Stoops will have to start wondering if his brother Bob Stoops will have a job opening for him on his staff after this season if the whole season was anything like tonight. With the way Mike Stoops yells along the sideline you think he is doing his best "Bo" Pelini impersonation. Wow does that guy have some veins!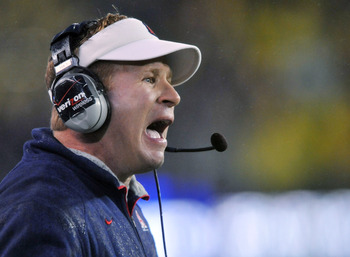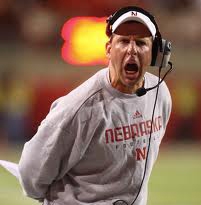 What a game tonight. It should be interesting to see how things play out in the BIG-12 (while it lasts). Oklahoma State showed that it's offense will keep it in any game. Arizona showed that they just want to get 6 wins and goto a bowl game this year.
Also get ready for a great weekend of games. No fashion show of uniforms this weekend when BAMA takes on PENN STATE. We should know who the starting QB will be for both teams by half time hopefully. I hope Brian Kelly does not yell as much this week as much as he did last week.
Any thoughts? Leave some comments. Love to hear back from the readers!