04:55 AM ET 12.20 |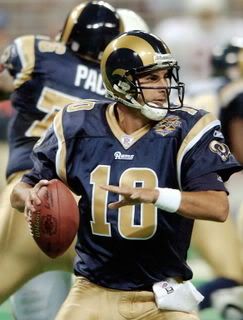 The Pittsburgh Steelers (9-5) travel to St. Louis this Thursday Night to battle the Rams (3-11) @ 8:15pm EST (NFL Network/KDKA Pittsburgh). Both squads have alternated victories over the past 6 match-ups. St. Louis leading the series w/ 15-5-2. The Steelers are seeking a much needed win as the AFC North Division has yet to be clinched (the only division left to be determined to date)... The Rams & the Steelers are both coming off losses last week. Promises to be an AFC-NFC Match-Up your grandchildren will be talking about someday.....
Rams Offense: In recovery mode after suffering many players to injury thus far. Lead by QB Marc Bulger. He is a local Pittsburgh Native who went to H.S. @ Pittsburgh Central Catholic (Quad A PA State Champs this year). The very same H.S. as Dan Marino. He has been injury stricken most of the season & has 7 TD's & 11 picks thus far... Ground attack c/o RB Jackson. Also injured early this year. Has power, good hands, & very cabable of rushing in & outside. Has 5 TD's to his name... Holt & Bruce are the two main WR's. Have a combined total of 10 TD's between them. Class all the way...
Rams Defense: Injuries, injuries, & more injuries... Glover is a talented tackle w/ 4 sacks... Witherspoon plays MLB. Very important for the Steeler Offense to know where he is and track his every move during the game. He is Big Ben's biggest threat.....
The Rams will be very comfortable playing @ home this week... They have been steadily improving over the year... Jackson & Bulger played tremendous games the past few weeks as well... Meanwhile, the Steelers are facing a "do or die" situation this week... A loss would result in a Wildcard bid & probably an away game in San Diego vs. the Chargers (worst case senario)... Steelers must prove their 9-5 record is NOT tainted... Physical play is key for the "Men of Steel".
"Yinz gotta luv dem Stillers!!!!! GO Black n' Gold....." (NEW Poll---Check It.....)