03:13 AM ET 12.29 |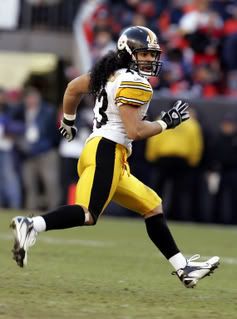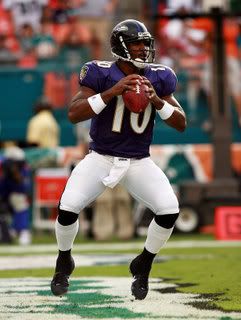 The Pittsburgh Steelers (10-5, AFC North Divisional Champs) travel to Baltimore this Sunday to do battle w/ the Ravens (4-11, last in AFC North) @ 4:15pm EST (CBS & KDKA-TV)... The Ravens have not won a game since Oct 14th vs. the Rams & are hungry for victory. The "Men of Steel" are also in the zone & searching for a perfect 6-0 record vs. their divisional AFC opponents. Note: The Steelers have won 15/17 last games vs. divisional rivals going all the way back to 2003... You definately don't want to miss this hard-hitting final regular season game...
Ravens Offense: Have struggled as of lately. May be led by Rookie QB Troy Smith out of Ohio State or 5th year QB Kyle Boller... Smith has great escapeability. He went 16/33 w/ 1 TD pass & 2 interceptions in his last outing. He is riddled w/ talent & possibly the future franchise QB for the Ravens... Mike Anderson (RB) has been making heads turn as of lately. Anderson is a large veteran quality RB. He has 15 rushes for a total of 62yrds w/ an average of 4.1yrds/carry... Derrick Mason (WR) leads the squad w/ 97 catches this year... Mark Clayton (WR) is the number 2 WR w/ half as many catches as Mason. Clayton is often used in 3rd down conversions.....
Ravens Defense: Plagued w/ injury. Kelly Gregg (NT) has been playing incredible. He has 75 tackles & 3 sacks this year... He will be Steeler Center Sean Mahan's biggest challenge... D. Martin (DB) is a problimatic secondary threat. He is a young buck & picked off Hasselbeck last week... Also,... You can't leave out Suggs & Lewis. Two of the best in the NFL...
Final Statement: ALL Steeler Fans are encouraged by "Mike Tomlin" himself to make the trip to Baltirmore this Sunday to root on our Steelers... The More Fans... The Better... The More It Will Seem Like A Home Game For The "Black n' Gold"...
"HERE WE GO STEELERS..... HERE WE GO!!!!!"
(Pic of Polamalu and Rookie Ravens QB - Troy Smith above)
New Poll - Check It.....