12:37 PM ET 01.02 |
It hasn't been officially stated yet, but the word out of Indianapolis is that the Colts' Bob Sanders has been made the highest paid safety in the league by signing a 5 year extension worth $37.5 million with a guarantee of $20 million. This deal pays him a million more than Pittsburgh's Troy Polamolu and a higher guarantee than Ed Reed recieved when he signed his contract extension.
``I got a call late in the evening yesterday from my agent and he said he was hoping to get it done,'' Sanders said. ``I'm excited, very excited about it - knowing they want me around here makes me happy.''
It takes a special player to be a defensive leader from the safety position. Normally, the leader of a defense is a linebacker or possibly a defensive end. That's what makes Sanders so special. He is all those positions rolled into one player.
Best of all, the former Iowa Hawkeye is a quality individual. You know when he makes headlines, it is for his play on the field. Not for any arrests off it.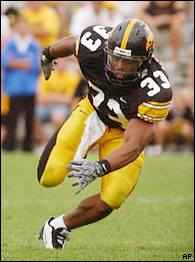 Congratulations Bob. Go Hawks, Go Colts!!