SI.com recently ran a special section on the favorite venues of some of its writers. I had written one awhile back for the section, here's what I wrote about my favorite venue: Dodger Stadium.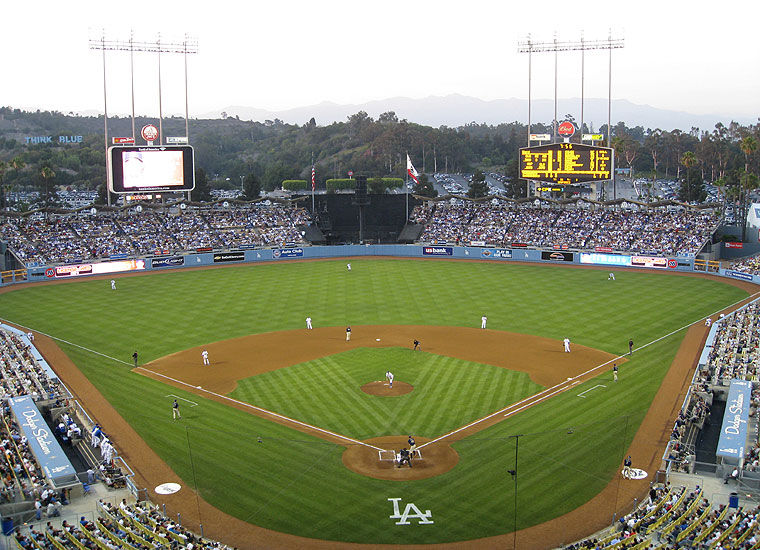 Everything about Dodger Stadium is distinctly Los Angeles. The multi-colored beach ball flying over your head, the topless sun bather with his feet propped up on an empty seat in front him getting grilled like Dodger Dog, the bleach blonde beauties swigging back long necks as they squeal when Russell Martin come up to bat and, of course, the sprawling views everywhere you turn. Downtown to the south, the San Gabriel Mountains to the north and the greenery of the Elysian hills all around.
It's been called "Blue Heaven" and if the after life has a ball park as divine as the one that sits on Chavez Ravine, we will all be so lucky. In a town where makeovers and face lifts are the norm, Dodger Stadium remains the one beacon of hope that Botox and liposuction isn't always the answer. Sometimes all you need is quality time with an old-timer, wrinkles and all, to feel young again.
Dodger Stadium hasn't changed much since opening its gated doors in 1962. It has never altered its capacity (a conditional-use permit limit its capacity from exceeding 56,000), the wavy steel paneled roof atop the pavilion in the outfield, which may have been in fashion along with Tie-dye shirts and bellbottoms, still remains and the façade of the ballpark has gone untouched except for its annual new coat of paint. Oh and how can we forget about those delectable Dodger Dogs? No trip to see the boys in blue is complete without consuming at least one foot-long frank wrapped in a steamed bun.
As a child I never knew when I would be going to the ballpark because my father would always conveniently leave out the "ball" in front of the location he was driving me to. Loving surprises, he would simply say he was taking me to Elysian Park to play catch. Although the traffic streaming past the park and the ticket scalpers offering up cheap duckets would usually give away his surprise. "Let's just go to the game," he would say as he pulled out a pair of tickets from his back pocket. "We can play catch there."
It would be understandable for that boyish exuberance to wane now that I am a somewhat seasoned professional but I am not ashamed to say it hasn't. I still get giddy as I drive up the tree-lined hills of Elysian Park and see the interlocking blue LA logo painted on the back of the diamond shaped scoreboard. I still get nervous as I walk past Tommy Lasorda in the dugout and walk onto the lush green grass before a game. And I still get speechless when I see Vin Scully in the press box before the game as he prepares to let fans know that it's "time for Dodger baseball." That's when I suddenly become that kid again whose happiness centered on playing catch with dad in the parking lot before the game and I am once again reminded why they call this place "Blue Heaven."