NEW ORLEANS -- So this is how it ends for me - sprawled in the back of a Grey Goose Rolls-Royce Phantom, with a beignet in one hand and a café au lait in the other while listening to Harry Connick Jr.'s version of For Once in My Life.
If there's a better way to end my magical three-year ride on the party beat, I'm not aware of it.
Yes, I'm hanging up my dancing shoes and party spread sheets for the mundane drudgery of press boxes, locker rooms and story deadlines. I know that's what I signed up for when I joined SI, but somewhere along the way I lucked into the greatest beat ever - a veritable whirlwind of Playmates, star-studded soirees and hazy memories that I was supposed to cover like playoff game.
I've been teased that I'll break my retirement faster than Keith Van Horn the next time I get invited to the Playboy Mansion or an equally exclusive shin-dig. We'll see. As Michael Jordan said after the first time he retired, "I'm 99 percent sure, but I'll keep the one percent. It's my one percent. Never say never."
With that said, here are some of the highlights from The Big Easy during NBA All-Star Weekend.
EA Sports NBA Live All-Star Challenge
Two of the biggest power couples in sports and entertainment spent Valentine's Day focused on video games. Tony Parker and Eva Longoria got together with Reggie Bush and Kim Kardashian at the EA Sports NBA Live All-Star Challenge, an eight-player video game tournament that Parker won with Longoria sitting besides him on the couch and cheering him on. "[The players] were saying she would be bad luck but obviously she was good luck because I won," said Parker. "I tried to make wifey happy. You always try to do something special on Valentine's Day."
NBA Cares All-Star Day of Service
Not a party, but easily my favorite event during NBA All-Star Weekend. Yao Ming and Jet Li, along with several other NBA All-Stars, gathered at Capdau, a grade school damaged by Katrina, to help re-sod the playground and put in a new basketball court during the NBA's All-Star Day of Service. "This is the first time I've seen this side of New Orleans and it was shocking and sad," said Ming. "During the season we don't go out so all I knew about New Orleans was the French Quarter so this was a good lesson for me and everyone else that we still need to help out. We only did a little bit today but we need to do more."
Big Easy Billiard Bash Hosted by Shaquille O'Neal & Reggie Bush
Reggie Bush and Shaquille O'Neal teamed up to host the Big Easy Billiards Bash and Welcome to New Orleans party. During the event, the crew from Keeping Up With The Kardashian filmed Khloe Kardashian beating O'Neal in a game of pool while her sisters cheered her on. "I brought my sisters here for the first time after coming here about once a week to see Reggie," said Kim. "I've been trying to cook for Reggie since we've been here. Reggie has a chef and I'm having him teach me a different meal every time I come out. Tonight I learned how to make him ribs and he loved it."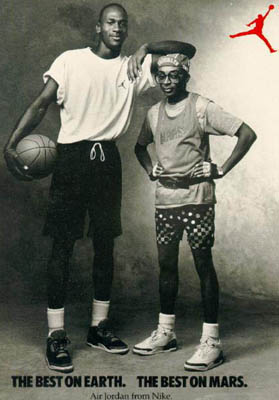 Michael Jordan House of XX3
Michael Jordan celebrated the launch of his Air Jordan XX3 shoe by throwing a party at the Board of Trade in New Orleans, which was converted into the House of XX3 for the night. Jordan spent most of the night tucked away in his private VIP booth but stepped out to greet Magic Johnson and Spike Lee when they arrived and shared a drink with them next to his table. Jordan continuously teased Lee about the Knicks and put his arm around Johnson as he talked about Isiah Thomas. "They should have fired him by now," said Jordan. "I said they should have fired him last year."
Doublemint Two Kings Dinner & Party Hosted by LeBron James & Jay-Z
The kings of sports and entertainment, Jay-Z and LeBron James joined forces to host the exclusive Wrigley's Doublemint Two Kings Dinner after All-Star Saturday night. The dining room at Generations Hall was a collection of who's who as James and Jay-Z sat at a table flanked by Beyonce, Spike Lee, Gabrielle Union and Ludacris. "I've known LeBron since high school and he's become a little brother to me, I try to mentor him and give him advice when I can," said Jay-Z. "We're brands but we're human beings first and we don't want to be hawked so we gathered some of the most powerful people in sports and entertainment to break bread and start a conversation on how we can be partners." While Jay-Z was busy talking shop, James handed his friend a glass of champagne and gave him a toast, saying, "I don't know about you but I've been waiting to dance for the past 25 minutes."
Playboy Presents the Crown Royal Barbershop Lounge
I ended up missing one of the hottest parties of the week, the Crown Royal Barbershop Lounge presented by Playboy. It may be the only time in my life I've ever flaked on a party thrown by Playboy Playmates. Some of the guests much smarter than I included Terrell Owens, Kenny Smith, Corey Webster, Rashad McCants, James Laferty and Zack Gilford. Those in attendance were given complementary haircuts from celebrity barber Darryl Thomas while enjoying DJ Irie on the ones and twos and sipping on Crown Royal XR and Cask No. 16. Even though I missed the party my girls at Playboy have promised me that they'll make it up with an invite to the next soiree at the mansion. OK, maybe they didn't, but maybe they will now that I've thrown that out there. You never know. It's worth a shot.