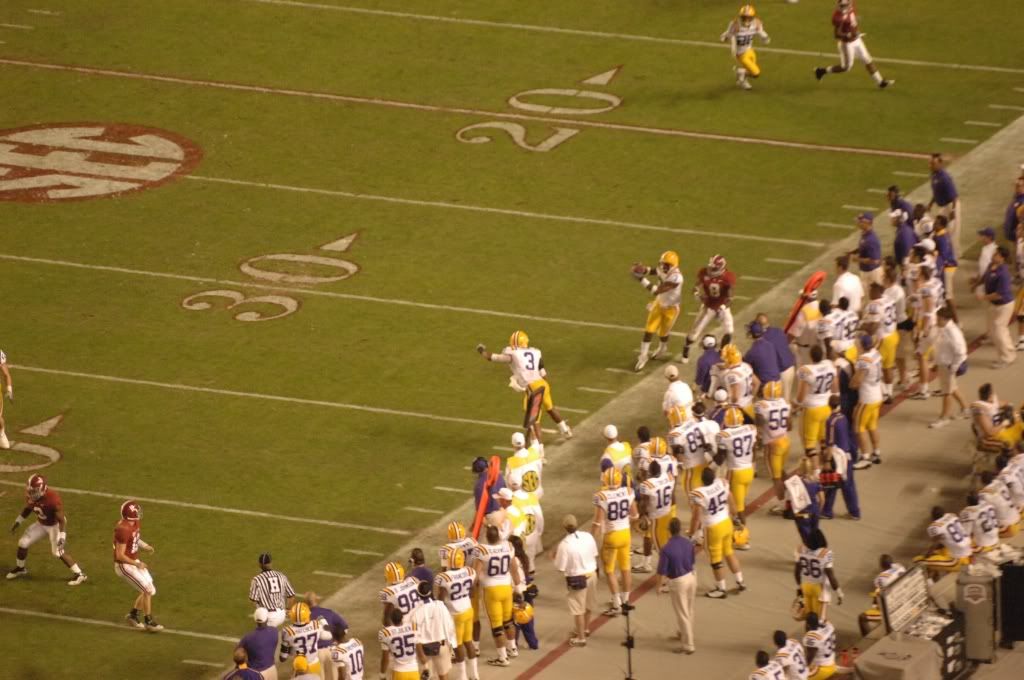 This photo made the rounds on the Internet on Tuesday. The play in question was reviewed using standard defninition.

One more thing about officiating in the SEC, and then I swear I'll leave it alone - at least until the next egregious call. Jon Solomon of the Birmingham News wrote a fantastic story Tuesday about the state of officiating in the SEC. In the story, national coordinator of officials David Parry reveals that the lack of high-definition sets in replay booths is a concern. Solomon asked SEC director of officials Rogers Redding about this, and Redding not only admitted the booths in the SEC don't have HDTV, he said the current equipment is fine - though he wouldn't oppose an upgrade.
Now, let's stop right here and acknowledge that Rogers Redding is a lot smarter than me. Unless you work for NASA, he's probably also a lot smarter than you. The guy is a retired physics professor. But he's wrong in this case. He needs to demand an upgrade before one of his replay officials misses another call.
Whether you agree that replay official Gerald Hodges erred when he didn't overturn the interception/incompletion call in the fourth quarter of Saturday's Alabama-LSU game is irrelevant. The fact of the matter is that a conference that just signed a pair of contracts that will pay $3 billion over the next 15 years is forcing its heavily scrutinized replay officials to work with substandard equipment.
I'm not sure what kind of setup Redding has in his living room, but I have a 50-inch plasma in mine. When I watch a game in HD, I can see individual blades of grass - much like the ones between Patrick Peterson's feet and the sideline on Saturday. When I watch in standard definition, I see an amorphous blob. No wonder Hodges didn't overturn the call. He couldn't see what millions of people at home could.
It's probably not as simple as going to the local big box store and buying a bunch of flat screens. The DVSport replay system used by most of the major conferences utilizes a touchscreen system that allows replay officials to review multiple angles quickly. The expense to upgrade may be significant, but the SEC and the other BCS conferences can afford it.
If a doctor who performs minor knee surgeries made full incisions because he was too cheap to buy an arthroscope, he'd lose all his patients and possibly his medical license. In every industry, it's always best to use the most precise technology. As someone with a scientific background, Redding should understand that. With millions of dollars in BCS bowl money potentially on the line during SEC football games, why not make sure the replay official has the best equipment at his disposal?
Until the conferences upgrade, I'm willing to do whatever I can to help. If it would help the replay official get the call correct, I'd be more than happy to hold the rabbit ears.